For the fictitious robot in Robot Wars: Arenas of Destruction, see Loki
Loki is a heavyweight robot designed by Team Kernow, which attempted to enter Series 9-10 of Robot Wars. However, it was not selected to compete in either series and is still under construction as of August 2018.
Design
[
]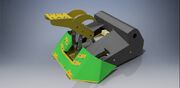 Loki uses a unique shape, defined by a large green wedge at the front, also featuring exposed wheels on top. Its primary weapon is a yellow four-bar flipper, firing forwards like the four-bar lifter of Storm 2. The top of the flipper is decorated with two 'horns'.
Series Record
[
]
Outside Robot Wars
[
]
In addition to the heavyweight Loki, Team Kernow have created featherweight versions of the robot, which feature similar designs and four-bar weapons to their larger counterpart and compete in various events organised by Robo Challenge and Roaming Robots. The original Loki was a two-wheel drive robot armed with an electric four-bar lifter - a weaponless version first competed at the 2013 Robot Wars Portsmouth event, appearing in six battles.[1] Loki was subsequently redesigned to incorporate four-wheel drive and a wedged box-shaped design; it competed in this form at the 2014 Featherweight Championships (with two drive motors removed due to weight restrictions) and the 2014 Robo Challenge Yeovil event.[2][3]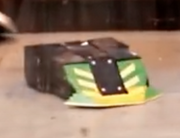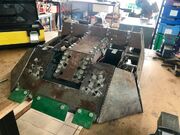 The next version, Loki 2, reverted to a two-wheel drive configuration, and was the first to be armed with a four-bar pneumatic flipper. It made its debut at the 2015 Featherweight World Championships, finishing 47th in the competition.[4] In 2016, Loki 2 reached the top 12 in the FRA Featherweight International Championships, before losing to Amnesia in a head-to-head and again to Omega and Night Fury.[5] Most recently, it attended the Extreme Robots Portsmouth event in May 2017, fighting in several featherweight battles. A third version, Loki 3, entered construction, and as of February 2017 existed as an MDF mockup[6], and as of September 2018, existed as a metal chassis.
References
[
]
External Links
[
]