"Dr Rogers is a Mechanical Engineer, business and technology communications specialist and author of It's Only Rocket Science. A Fellow of the Institution of Mechanical Engineers, The Royal Astronomical Society and the British Interplanetary Society, she has used her love for the Raspberry Pi to 'Hack' full sized Animatronic Dinosaurs that can interact with humans at Blackgang Chine, a theme park on the Isle of Wight. Lucy is the Director of Makertorium Limited and is currently attempting to positively affect the lives of a billion people by working on how to save the world from Space Debris and training people how to build the Internet of Things. She attended Singularity University graduate studies programme at NASA – aimed at solving some of the world's largest problems."
— The Robot Wars website on Dr Lucy Rogers
Dr Lucy Rogers is a chartered engineer, who appeared as a judge in the three most recent series of Robot Wars, alongside veteran Professor Noel Sharkey and fellow judging newcomer, Sethu Vijayakumar.

Dr Lucy Rogers featured as a judge in all three of the Robot Wars reboot seasons, newly appointed for the role alongside fellow newcomer Sethu Vijayakumar, and returning judge Noel Sharkey. Rogers' role in Series 8 was first revealed on March 4th by a tweet from BBC Two[1], and she confirmed her involvement in Series 9 over Twitter[2].
Her first (non-televised) contribution to Robot Wars was in the Series 8 pilot episode, where she was able to award her first victory via Judges' decision to Turbulence over Merlin. Her first televised Judges' decision was Behemoth vs Nuts, and the first to be filmed was Chompalot vs Ironside3 vs Pulsar vs Thermidor 2. Series 8 featured two split decisions, and both Series 9 and 10 featured one more each, though Rogers' position on these battles is unclear.
In Robot Wars: Battle of the Stars, Rogers wore a festive jumper and a Santa hat, to celebrate the Christmas air-date of the specials.
Lucy Rogers would also be interviewed by Dara Ó Briain or Angela Scanlon in short educational segments throughout Series 8-9:
Series 8, Heat 3: Rogers demonstrated the workings of animatronics to Dara Ó Briain, with the help of a miniature animatronic dinosaur based on those used at a theme park in the Isle of Wight.
Series 8, Heat 4: Dr Lucy Rogers talked to Dara Ó Briain about the supportive nature of the roboteering community, as well as sharing her opinions on online communities, internet communication devices and affordable electronics such as the Raspberry Pi computer.
Series 9, Heat 4: Angela Scanlon asked Lucy Rogers about the available armour choices for competing robots, and Rogers introduced the primary options, also inviting Scanlon to test their effectiveness using a hammer and a grinder. Rogers suggested that her ideal robot would be armoured in a combination of HARDOX and HDPE.
Series 10, Heat 3: Angela Scanlon consulted Lucy Rogers on the purpose of the House Robots as hazards and safety features, and the Fog of War.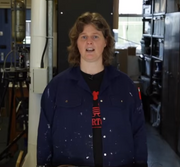 Dr. Lucy Rogers is a Chartered Engineer, and holds the position of Fellow of the Institution of Mechanical Engineers, the Royal Astronomical Society, and the British Interplanetary Society, and is a member of both the Association of British Science Writers, and of the Women's Institute. Rogers also attained a City and Guilds qualification in Woodturning. On the Dr. Lucy Rogers website, Rogers claims that she was "given a doctorate for playing with bubbles".
Rogers released a book titled "It's ONLY Rocket Science – An Introduction in Plain English", which was published by Springer.
Her current projects focus on reducing the damage of space debris.
Following the BBC's decision to cancel Robot Wars in 2018, Rogers published an article on the topic, praising the show and hoping for its return[3].
In September 2019, Rogers joined Team Cyberwar, builders of Deadlock, and made her first appearance as a roboteer at that month's FRA UK Championship in Stevenage.[4] Deadlock reached the quarter-final stage of the main championship, before being thrown out of the arena by Manta.
Personalities
Presenters
Pit Reporters
Commentators
Foreign Dub Presenters
Judges

Noel Sharkey

(

Series 1

-

10

,

Extreme 1

-

2

,

US 1

-

2

,

Nickelodeon

,

Dutch 1

-

2

,

German

) •

Eric Dickinson

(

Series 1

-

2

) •

Adam Harper

(

Series 1

-

3

) •

Martin Smith

(

Series 3

-

7

,

Extreme 1

-

2

,

US 1

-

2

,

Nickelodeon

,

Dutch 1

-

2

,

German

) •

Myra Wilson

(

Series 4

-

5

) •

Mat Irvine

(

Series 5

-

7

,

Extreme 1

-

2

,

US 1

-

2

,

Nickelodeon

,

Dutch 1

-

2

,

German

) •

Sethu Vijayakumar

(

Series 8

-

10

) •

Lucy Rogers

(

Series 8

-

10

)

Other
Community content is available under
CC-BY-SA
unless otherwise noted.