"The McBride family here have overdriven wheelchair motors for the power. An aluminium, 2 wheel-driven box-shaped robot with spike weaponry. It is robust, but the tyres are exposed."
— Jonathan Pearce describes Malc 1.5
Malc 1.5 (also referred to as Malc 1½ on TV) was a middleweight robot that exclusively fought in the second series of Robot Wars Extreme. It was eliminated in the first round of the Middleweight Championship after one of its wheels fell off while fighting Steel Sandwich.
Malc 1.5 had previously failed to qualify for Series 5. The team later competed in the Series 7 Middleweight Championship with Phoenix.
Malc 1.5 was an invertible box-shaped robot with two outside rear 15" wheelbarrow wheels powered by overdriven wheelchair motors and armed with four static spikes at the front. The robot also featured aluminium armour and small side blades which were intended to prevent it from being stranded on its side when flipped. While robust in construction and displaying good pushing power, Malc 1.5's armour was easily damaged and its wheels were exposed, which contributed to its loss in its only battle.
Malc 1.5 attended the Series 5 qualifiers, simply known as Malc at the time. In its qualifier, it fought an as yet unknown opponent described as having a resemblance to Armour-Geddon. The battle was reportedly very dull, with the heavily underweight Malc struggling to push its opponent and moving very slowly across the arena. Malc also spent a considerable part of the battle getting pushed around by Dozer.[1]
As a result, Malc failed to qualify for the Fifth Wars.
"Hopes of winning, out of 10? I'd give it 1.5."
— Jonathan Pearce as Malc 1.5 enters the arena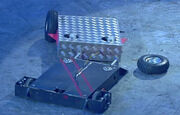 Competing in the Middleweight Championship, Malc 1.5 faced reigning middleweight champion Typhoon, Steel Sandwich and Broadsword in the first round. It began by spinning around and staying out most of the early action, until it was hit by Typhoon and rammed into Steel Sandwich after driving over a flame jet. Malc 1.5 kept spinning close to the wall and CPZs, and was eventually attacked by Dead Metal and Shunt, both of whom sliced and pierced through Malc 1.5's top armour before Shunt propped it against the wall. Malc 1.5 escaped and slammed into Steel Sandwich, but its left-hand wheel fell off, severely hampering its mobility as it caught its spikes against Steel Sandwich's wheel guard and pushed it into another CPZ. Steel Sandwich escaped, but Malc 1.5 spun close to the wall, allowing Dead Metal to pin it against an angle grinder and attack again, before Malc 1.5 impaled itself against the wall with its spikes. Malc 1.5 was counted out by Refbot, eliminating it from the Middleweight Championship.
Community content is available under
CC-BY-SA
unless otherwise noted.