This article is about the British robot that attempted to qualify for Series 8. For the American entrant in Robot Wars: Extreme Warriors, see Manta.
Manta was a heavyweight robot that attempted to enter Series 8 of Robot Wars. It was submitted for qualification alongside Team Shock's other heavyweights Maelstrom and Shockwave, but was not selected, with Shockwave ultimately being chosen to compete in the series. Prior to this, Manta had enjoyed considerable success at Robot Wars Live Events, and other live robotic events, including a win at the 2013 Winter Tour, and second place at the 2013 UK Championship, later becoming an FRA UK Champion in 2017.
Design
[
]
Manta is a wedge-shaped robot painted blue and silver, and armed with a full-pressure pneumatic flipper. For its small size, Manta's flipper is more than capable of throwing other robots over and out of the arena in live events, and it can reach high top speeds.
Robot History
[
]
Series 8
[
]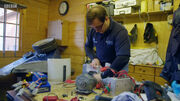 Although Manta was not selected as an entrant in Series 8, it made a cameo appearance during Team Shock's VT before Shockwave's battle with Foxic, sitting on a workbench while Will Thomas was engineering.
Series Record
[
]
NOTE 1: Will Thomas also competed in Battle of the Stars as the mentor of Soldier Ant.
NOTE 2: Will Thomas' students entered Series 10 with Track-tion
Outside Robot Wars
[
]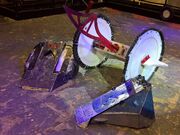 In 2013, Manta earned second place in the UK Championship and European Championship that year, as well as first place at the Roaming Robots Winter Tour. Manta followed this up with third place in the 2014 UK Championship.
In October 2016, Manta fought at a Robots Live! event in Stevenage, competing in the 2016 FRA UK Heavyweight Championship. It finished runners-up to eventual champion Gabriel, flipping robots such as Dystopia out of the arena along the way.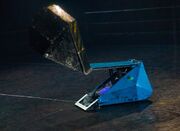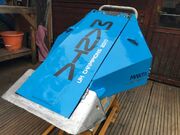 In 2017, Manta fought at Extreme Robots in Guildford, and repeatedly challenged Eruption to head-to-head battles, but did not emerge victorious. In Gloucester, Manta fought Thor, Deadlock and The Saint. It later immobilised Vortex and Two-Headed Death Flamingo, also winning that particular battle over Tauron. It then won a battle against ThunderChild and Rattler outright, by flipping the former over and pitting the latter. In a head-to-head battle with Eruption, Manta pitted its foe, but Eruption self-righted out of the pit, and then Manta fell in itself. It closed out the show with a full battle against Ripper. It fought Eruption several times in Maidstone, at the last Extreme Robots of the year, also battling robots such as TMHWK, Weird mAlice, Saint and Iron-Awe 5 and 7.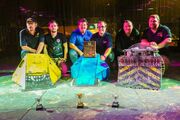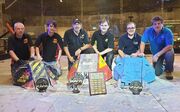 Manta achieved its biggest success in October 2017, winning the FRA UK Heavyweight Championship in 2017, defeating Iron-Awe 5 in the Grand Final. It was repainted in celebration, branding the robot's name and its new title on the flipper, also using the same shade of blue seen on Aftershock's disc. Manta continues to be a regular participant at live events, its most recent appearance being at the Robots Live! Burgess Hill event in April 2018. It won the event outright, doing so by defeating Eruption in the final.[1] Later that year, it finished second in the 2018 FRA UK Championship at Stevenage, relinquishing its title to Eruption.[2] In the 2019 championship, Manta was knocked out by the eventual champion Iron-Awe 6, but defeated YOTON to finish in third place.
In 2021, Manta received a new black paint scheme and a host of internal upgrades ahead of its reappearance at the Robots Live! Crawley event that October alongside Team Shock's new machine Tectonic. However, its run of success was limited following recurring reliability issues with the new internals.[3]
A featherweight version of it called Mini Manta was built in 2012 and competed until 2015, where it was retired until it was sold to Team Azur in early August 2021, where it was repainted orange and renamed to Fanta after the orange drink.
Robot Wars Live Events
[
]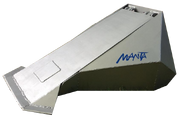 Manta made its debut on the live circuit in 2013. Manta's greatest achievement in 2015 was reaching the semi-finals of the Robot Wars World Championships in Colchester. Manta won its first round in impressive fashion, first throwing DTK out of the arena, and followed this up by flipping Titan and Apex out as well. In the second round, Manta flipped Dystopia out of the arena, allowing it to win the resulting Judges' decision over Iron-Awe 7. Manta promptly flipped Tough As Nails out in the quarter-finals, but eventually fell to the same method against the eventual champion Toxic 2 in the semi-final.
Manta was one of the two main mascots of Robot Wars live tours, as there was a regular part of the show where half of the audience were told to cheer for Team Ripper, while the other half cheered for Team Manta. Audience members on Team Manta had the opportunity to win a Team Manta cap, or any audience member could purchase one from the merchandise stall.
References
[
]