"They'll be praying their hydraulic crusher and lifter works."
Mantis was a competitor robot that solely took part in Series 7 of Robot Wars. Mantis reached the second round of the main competition and also won the Crusher Crunch Up special event.
Design
[
]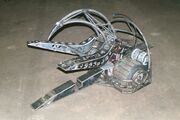 The robot itself was quite quick and had three long lifters, with a massive lift capability, and a hydraulic crushing beak, meaning it could lift and crush simultaneously in a similar fashion to Tetanus. The main tactics were to grab hold of opponents and then drop them in the pit, out of the arena or give them to the house robots, but it never succeeded in either. Also, the exoskeleton could be easily hooked, and the wheels were unprotected which cost it against Kat 3.
Etymology
[
]
Its name is derived from the praying mantis insect.
The Team
[
]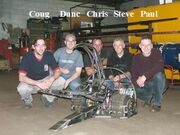 Mantis was built by Team Remove-All, from Balderton in Nottinghamshire. The team captain was Duncan Chan-Pensley, who was joined by Jonathan Leversedge and Chris Barber on television. They were also assisted by friends Paul, Steve and Coug during the build process. The team had first seen Robot Wars during its very first series, but it took them many years to design Mantis.
"Mantis was a long time coming ... about seven years in reality, but from the very first time we watched a new program called "Robot Wars" we knew we had to have a go. 5 years later, the Friday night pub banter had got us nowhere, just a few slurred concepts, one or two out of focus ideas and a misguided conviction that "...we could do better than that, no sweat". Then in a frenzy of organization a Robot Meeting was called; "Right you lot, be round at Paul's flat, bring your ideas and NO alcohol until later" was the battle cry."
— The team website on the origins of Mantis[1]
Robot History
[
]
Series 7
[
]
Mantis competed in Heat K of Series 7 and its first battle was against fellow newcomers Jabber (who was also from Nottinghamshire, the same county as Mantis), veterans Infernal Contraption and the twelfth seeds Bulldog Breed.
"New to Robot Wars, they better start praying."
— Jonathan Pearce as Mantis enters the arena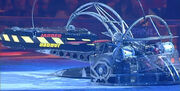 Mantis started the battle near the pit and banged into the Refbot. It then drove towards the rest of the competitors, deciding on which one it would attack. It chose to go for Jabber, piercing it and hoisting it into the air. Mantis then pushed Jabber above an angle grinder and almost out the arena. Mantis, failing to do so, carried Jabber around the arena and slamming into Bulldog Breed.
"...and still, Mantis can't finish Jabber off. So we know Mantis can clutch and lift a machine up off the arena floor, but can they dump? Can they release a machine?"
— Jonathan Pearce as Mantis carries Jabber around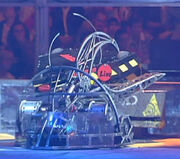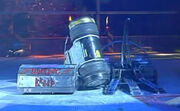 Mantis, still holding Jabber, attempted to take on Bulldog Breed with Jabber already on its beak and Bulldog Breed drove away. Mantis then drove away near the bottom right CO2 geyser. Bulldog Breed attacked them and tried to flip Jabber off Mantis's beak. Infernal Contraption also bashed into Mantis. Mantis then carried Jabber over to Sgt. Bash's CPZ and Jabber finally got out of Mantis's grip.
"What is Mantis going to do eventually with Jabber? Drop it is the answer."
— Jonathan Pearce questioning the tactics of Mantis
Because of this attack, Jabber had lost drive on one side so Mantis attempted to attack the other two robots. Infernal Contraption separated from the group and Mantis tried to grab the nimble Bulldog Breed. Bulldog Breed then pushed Mantis into the pit release button. At that moment, mesh came out of Bulldog Breed and trailed across the arena floor. Mantis tried to harass Infernal Contraption but it got away. In the dying seconds, Mantis got a last attack on Bulldog Breed, lifting it clean off the ground. Bulldog Breed flipped itself free but then the battle ended. All four robots survived to a judges' decision and Mantis qualified for the next round along with Bulldog Breed.
Mantis went on to face Kat 3 in the second round of the heat.
Jayne Middlemiss: "How are you going to deal with Kat 3? They've got a big axe, and your bodywork's pretty exposed."
Duncan Chan-Pensley: "Not really bothered about the axe, too much, we'll try to keep out of the way, but we can't necessarily use what we've got to effect, because it's low to the ground, so we don't know whether we can get under it. We've got other tactics."
Jayne Middlemiss: "What are your other tactics?"
Duncan Chan-Pensley: "We're not sure yet."
— Pre-battle interview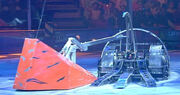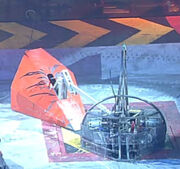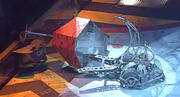 This battle was very close. Kat 3 first missed two shots with the axe before landing a third, the spiked axe head catching in Mantis' skeletal frame. Kat 3 landed a further blow before Mantis adopted a more erratic driving style and the two chased each other. Mantis managed to get under Kat 3 and topple it but the axe-wielding robot was able to self-right. Kat 3 retaliated by once again striking Mantis' exposed innards.
"Mantis' weapon, the actual claw part of the weaponry, isn't doing great work, but the hydraulic lifters are."
— Jonathan Pearce as Mantis turns Kat 3 over again.
Mantis turned Kat 3 over again, having failed to grapple it with the claw, the latter self-righting just before time ran out. Kat 3's axe blows counted against Mantis and it lost the judges decision from lack of return damage, eliminating it from the main competition.
Mantis also took part in the Crusher Crunch Up which was broadcast as the special event of Heat H, three heats before the heat that Mantis competed in and here, it fought against R.O.C.S. and Pinser.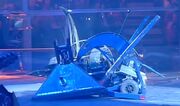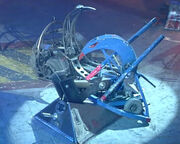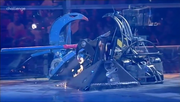 It shoved R.O.C.S. into the side wall where it was attacked by Mr. Psycho. Mantis was then attacked by the other two, but its wide frame gave Pinser nothing to damage. Pinser roasted Mantis over the flames, but Mantis survived whilst the other two attacked each other, nearly going down the pit at one point. As Pinser immobilised R.O.C.S. with its crusher, Mantis shoved Pinser over the flames, where the hydraulic fluid under the machine burst into flames. All three machines then struggled to move off the hydraulic fluid which coated the arena floor.
"Who's alive out there? Mantis....yes, there's movement in Mantis!"
— Jonathan Pearce looking for survivors
As the three sat immobile, Mantis found enough traction to escape and celebrated a potential victory whilst the other two machines remained stuck near the flame jet. Mantis was named the winner on a judges' decision as the sole fully mobile robot.
Results
[
]
Wins/Losses
[
]
Series Record
[
]
Gallery
[
]
Outside Robot Wars
[
]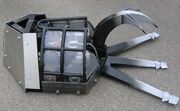 Since Robot Wars, Mantis was sold to Ade Sandercock in 2006 who then sold it in 2008 to Team RCC, a Dutch/Belgian team who competed in Dutch Robot Wars with RCC and Blackdevil Warzone, and have also owned Hannibal, Splinter and Obsidian at various points in time. Mantis has since been heavily revised in terms of armour and weaponry, still keeping the same design. Mantis fought in the 2011 UK Championships, where it fell in the heats.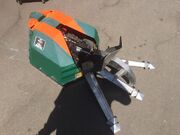 In June 2017, Mantis was reunited with Ade Sandercock, after nine years with the Dutch/Belgian team, with improvements including a HARDOX shell. In December 2017, the latest version of Mantis was sold to Alex Hall. Under this new captaincy, Mantis fought in five battles at Robots Live! in Grantham, towards the end of June 2018. However, it lost all of the battles, being thrown out of the arena on four occasions. Alex Hall continued to own Mantis for a few more years without competing, until passing the robot onto another owner.
Trivia
[
]
Before the team decided to build a robot with a crusher, they were planning to build a fast rambot with a scoop, based on the US machine La Machine.
Mantis' statistics board misspelt Jonathan Leversedge's name as "Lonathan Levereidge".
All of Mantis' battles featured Mr. Psycho as one of the House Robots.
All of Mantis' battles ended with a judges' decision. It shares this feat with The Grim Reaper.
Mantis is the only robot to have beaten R. O. C. S that has never been beaten by or fought terror hurts.
Both of Mantis' battles in its heat saw it fight a robot who fought in a first round melee of Heat K of the Sixth Wars.
Mantis was the only robot in the Series 7 Crusher Crunch Up not to have a separate self-righting mechanism.
The robot was only finished the night before the Series 7 qualifiers.
"I'd been following the forum on the UK Robot Wars site for some time looking for build tips etc. when news started to be posted about series seven, I told the lads and we agreed that if the opportunity came up we'd put in an application and see what happened. Eventually the details where posted, I downloaded the forms, filled 'em out and off they jolly well went. Large portions of nothingness went by, filming dates approached, there was no chance, oh well next year we'll have another go, hell we might even have built it by then. So I'm checking the post one morning hoping for DVD's I've ordered, when I notice a large envelope, I kid you not I had X-ray vision that day 'cos I knew what that was, you beauty. Slight problem though filming is in two weeks and we're NOWHERE near ready. Copious amounts of text messaging later ( I ran up about fifty quid on texts alone that month) and everyone's on board, we're getting this baby on telly make no mistake, we had a purpose and a vision nothing is getting in our way. Well not for a couple of weeks anyway, No Home life, no sleep, no nothing, I think we put in at least forty hours build time in that fortnight on top of our everyday jobs. We finished the night before qualification, not unusual in the robot fraternity, but it ain't ideal, I was stressed, I had backache and worst of all MY HANDS WHERE DIRTY, it had better be worth it !! So there you have it Mantis was complete. Ready for series seven. Well, ready as you can be in two weeks anyway, only we had no armour... not this time anyway., but like I said we will EVOLVE."
— Team Remove-All website[2]
External Links
[
]
References
[
]