Professor Martin Smith is a British professor of Robotics. He is best known for his appearances as a judge and competitor on the robot combat television series Robot Wars, and technical presenter on its spinoff series Techno Games.
Robot Wars

[

]
Smith's first appearance on Robot Wars was as a competitor in Robot Wars: The First Wars, where he entered his robot, Cruella. On his team, The Duellists, he was joined by his brother and team captain Philip Martin, alongside Kanesh Lingham. The robot performed adequately, reaching the Arena stage, but was eliminated by Robot the Bruce, the eventual heat winner. Cruella took part in the second series, but entered only by Philip Martin and his girlfriend Michelle Wheeley.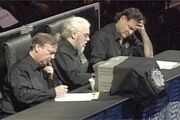 In Robot Wars: The Third Wars, Martin Smith took up the position of judge, determining the outcome of many battles. Smith held onto this position until the end of Robot Wars: The Seventh Wars, including appearances on all international series. Martin Smith did not return for any rebooted series of Robot Wars
Other televised media
[
]
Martin Smith held a prominent role in all four series of Techno Games, alongside Noel Sharkey, where he was given the title of 'techspert'. Philippa Forrester and Jayne Middlemiss would consult the two for opinions on the competing robots, and explanations on how they work, sometimes including predictions. Smith's role as a Robot Wars judge was commonly referenced on Techno Games.
Academic matters
[
]
Within robotics, Smith is most recognised for his contributions as the head of the Cybernetics Society, having previously worked as a professor at the University of Central England and University of East London, choosing to split his time between the Cybernetics Society and the Open University these days.

Smith holds a large collection of honours, including fellowships of the Institution of Electrical Engineers, the Royal Astronomical Society, the Royal Society of Arts, and the Royal Institution. He holds Senior Member status in the Institute of Electrical and Electronic Engineers (USA), and Memberships of the Institute of Physics, the Royal Television Society, the New York Academy of Sciences, and the American Association for Artificial Intelligence. He is a recipient of the Public Awareness of Physics Award from the Institute of Physics for his work promoting physics and engineering.
Previous professions include Research Team Leader and Principal Scientist at Dstl, Visiting Research Professor in Robotics at The Open University, and Professor at the Technology Innovation Centre, University of Central England in Birmingham.
In 2013, Smith took up his current profession as a Professor of Robotics at Middlesex University, London.
External Links
[
]
Personalities
Presenters
Pit Reporters
Commentators
International Dub Presenters
Judges

Noel Sharkey

(

Series 1

-

10

,

Extreme 1

-

2

,

US 1

-

2

,

Nickelodeon

,

Dutch 1

-

2

,

German

) •

Eric Dickinson

(

Series 1

-

2

) •

Adam Harper

(

Series 1

-

3

) •

Martin Smith

(

Series 3

-

7

,

Extreme 1

-

2

,

US 1

-

2

,

Nickelodeon

,

Dutch 1

-

2

,

German

) •

Myra Wilson

(

Series 4

-

5

) •

Mat Irvine

(

Series 5

-

7

,

Extreme 1

-

2

,

US 1

-

2

,

Nickelodeon

,

Dutch 1

-

2

,

German

) •

Sethu Vijayakumar

(

Series 8

-

10

) •

Lucy Rogers

(

Series 8

-

10

)

Other

Stuart McDonald

(Director/Announcer,

Series 1

-

7

,

Extreme 1

-

2

) •

Tom Gutteridge

(Director/Executive Producer,

Series 1

-

7

,

Extreme 1

-

2

) •

Stephen Carsey

(Director/Executive Producer,

Series 1

-

7

,

Extreme 1

-

2

) •

Bill Hobbins

(Series Producer,

Series 3

-

7

,

Extreme 1

-

2

) •

Andrew Robertson

(Executive Producer,

Series 8

-

10

) •

Matt Wilkinson

(Series Producer,

Series 8

) •

Henry Imbert

(Series Producer,

Series 9

-

10

) •

Robotics industry professionals