Mastiff was a robot from Italy which exclusively entered the Second World Championship, broadcast as part of the first series of Robot Wars Extreme and Season 1 of Robot Wars: Extreme Warriors. It lost in the first round after being flipped by Chaos 2 and pushed into the pit by Manta.
Design
[
]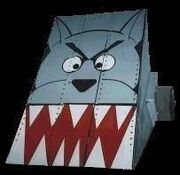 Mastiff was a steep grey basic wedge shaped robot armed with a flipping arm and two side spikes to prevent it from being stranded on its side when flipped. On its wedge, it featured the image of an angry dog's face, like that of Bulldog Breed, while the robot also had the capability of running on its back if it was flipped in that position. Despite being listed as having no self-righting mechanism, the flipping arm was capable of successfully self-righting Mastiff at least once, although Mastiff had a high ground clearance that was easily exploitable.
Etymology
[
]
The name Mastiff is derived from the mastiff breed of dog.
Robot History
[
]
Extreme 1/US Season 1
[
]
Mastiff faced UK Champions Chaos 2, US robot Manta and German robot Ansgar in the first round of the Second World Championship, broadcast during Series 1 of Robot Wars Extreme, and Season 1 of Robot Wars: Extreme Warriors, with this individual battle also airing during Heat A of German Robot Wars.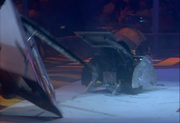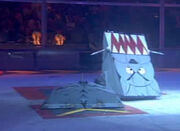 It was immediately targeted by Chaos 2, being flipped over before self-righting. Chaos 2 proceeded to flip Mastiff a few more times, before causing the Italian machine to become immobilised. The pit release was activated and Chaos 2 pushed Mastiff near the edge, flipping it onto its back once again. However, Chaos 2 tried to flip Mastiff into the pit, but only flipped it away and drove itself down instead. Mastiff was then swiftly pitted by Manta, eliminating them from the World Championship.
Results
[
]
Wins/Losses
[
]
Series Record
[
]
Trivia
[
]
Despite weighing a relatively light 85kg, Mastiff was still the heaviest robot in its only battle, being 1kg heavier than Manta, 2kg heavier than Chaos 2 and 11kg heavier than Ansgar.
The team could not speak English, thus pre- and post-battle interviews were nigh on impossible for Craig Charles and Julia Reed.
Mastiff is one of only two robots to come from Italy, the other being Zeus.

Both robots lost their only battles.
Both robots fought a German representative in their only battles.