"Inspired by the hit television series comes HEXBUG Robot Wars House Robot - Matilda! This infrared remote controlled battle-axe can scoop, flip or use the ruthless spinning disc to defeat her enemy! Steer across the ground and patrol Matilda's environment with two wheels able to grip almost any surface and use the flipping tusks of terror attached to the front of Matilda to launch enemies into the air. Recreate Matilda's greatest triumphs from the comfort of your own home!"
— Product description
The Matilda HEXBUG is one of three toys in the HEXBUG range which uses infrared remote control. At present, Matilda is the only remote controlled HEXBUG to be based upon a genuine televised robot, as opposed to an original design. Priced at £39.99, the Matilda HEXBUG is suitable for ages 8+, and is battery-powered, with the batteries included upon purchase.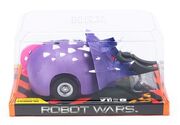 Matilda is scaled to match the other remote controlled HEXBUG toys, making it much smaller than the previous model of a remote-controlled Matilda, from the year 2000. It is controlled via a small infrared controller, included with the toy, which is consistent to match other HEXBUG infrared toys, including BattleBots competitors.
For weaponry, Matilda is armed with a flipping head at the front, controlled via button press, which is powerful enough to flip other HEXBUG toys over. The Matilda HEXBUG is also armed with a working replica of Matilda's vertical flywheel, which is turned on via the press of another button. For a toy, this spinner boasts a reasonable top speed, generating enough power to remove the detachable pieces from the Impulse and Royal Pain HEXBUG toys. Matilda is driven by two wheels, with reasonable acceleration, although her tusks are not flush with ground level.
The toy, along with other items in the HEXBUG range, were originally sold exclusively at Smyths toy stores from June 2018, before gradually being rolled out to MenKind, and later Argos. The latter erroneously posted an older design of the Matilda HEXBUG toy on its product page[1], using a darker colour scheme with only one button on the infrared controller.
References
Edit
External Links
Edit
Community content is available under
CC-BY-SA
unless otherwise noted.