"A metallic machine of mayhem based on the fearsome house robot known as Matilda. Build this warrior with real metal parts or use the customised extras to create a new robot of your own."
— Official description from the Robot Wars Online Shop[1]
The Matilda Pitstop Kit contained a model of the Robot Wars House Robot Matilda, which could be constructed from various interchangeable parts.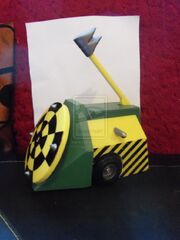 The set is a pullback model of Matilda with an interchangeable diagonal-mounted disc, a rear mounted axe and two alternate side panels. The disc could be wound up using one's finger and released to make it spin. To fit the disc, you need to take Matilda apart at the front and remove the tusks. The hornhead slips down be, then in order to fit the axeback, Matilda must be taken apart. When the axe is fitted, the spikes that are normally on her back must be removed. Matilda's axe is like X-Terminator 2's, in that it needs to be pulled down for it to fire. Like the pullback version, the Pitstop version's tusks are powered by the lever above the two horns.
It was intended for parts from the Sgt. Bash Pitstop toy to be usable on Matilda, although Sgt. Bash's Pitstop toy was not put into production. The back of the packaging for the Matilda Pitstop even advertises the unreleased Sgt. Bash Pitstop.
Item List
Edit
Matilda body right x1
Matilda body left x1
Rear disc x1
Tusks x1
Small wheel x1
Motor x1
Backspike right x1
Backspite left x1
Matilda left side x1
Matilda right side x1
Hornhead x1
Axeback x1
Spikespide right x1
Spikeside left x1
Long screws x6
Short screws x1
Spinning disc x1
The Matilda Pitstop Kit was not the last constructible Matilda toy to be released, with the Matilda Construction Set also being released in 2019.
References
Edit
Community content is available under
CC-BY-SA
unless otherwise noted.