"Radio Controlled Matilda Matilda, the scariest female on Robot Wars, is created as a 350mm long radio controlled toy. Each wheel is controlled independently by a uniquely designed Robot Wars handset which means Matilda can 'spin' just like the real robot. The handset has a special control that means her tusks can be raised and lowered."
— Official description from the Robot Wars Online Shop[1]
The Matilda radio controlled toy was one of six remote controlled robot toys released. It was one of the cheapest of the House Robot R/C toys at £29.99-£39.99. It is rather fast and has a recharge time of roughly five hours when the battery is completely empty. The toy's manoeuvrability is just as great as the real-life counterpart, as it can spin on the spot at quite a high speed.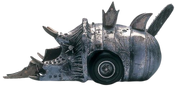 As the R/C house robot toys were meant for battling the other R/C house robot toys, they are strong and sturdy to reduce the risk of breakages. Like the other radio controlled house robot toys, Matilda has weaponry that is remote controlled. The interchangeable chainsaw and flywheel can only be moved manually, but the lifting tusks can be operated by remote and raise a few inches from their original position. The tusks make the toy good at pushing as they give a very low ground clearance. Contrary to the real robot, the toy's wheels are completely black.
Unlike the radio control Sergeant Bash and Tornado toys, the Matilda R/C toy doesn't have an immobilising hotspot.
As another remote controlled Matilda was released in the year 2018 by HEXBUG, based on Matilda's design from Series 8-10, Matilda is the only robot to have been created as a remote controlled toy twice.
Community content is available under
CC-BY-SA
unless otherwise noted.