For the German Series withdrawal, see Maverick (German)
"Will these newcomers use disciplined control from their two wheelchair motor drive, or a maverick approach from that front flipper? Tactical advice comes from team member Brett - he's ten!"
— Jonathan Pearce introduces Maverick
Maverick was the original Robot Wars entrant of The Mavericks, competing in Series 4. However, in its first battle against Suicidal Tendencies and Killertron, it was flipped over and left unable to self-right. It also finished in the Top 10 in the Sumo Basho.
After Series 4, The Mavericks replaced Maverick with the more successful Rick.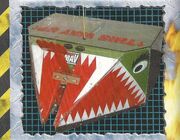 Maverick was a box shaped robot with a wedge shaped front. Powered by two wheelchair motors, Maverick's weapon was a pneumatic flipping arm, powered by a sodastream bottle and a truck actuator. Its plastic shell gave the robot a 6mm ground clearance.
Robot History
Edit
Maverick's only battle in Robot Wars was against the 32nd seed Suicidal Tendencies and former Grand Finalist Killertron, in the first round of Heat H.
"I am to Robot Wars what Michael Schumacher is to Formula One."
— Confidence from Francis Gallagher
Maverick started its first fight by attacking Killertron, but was unable to put its flipper into effect. Suicidal Tendencies then lifted up and pushed Maverick into a Corner Patrol Zone where Matilda lurked, but it managed to escape. Killertron axed Maverick as Suicidal Tendencies pushed both robots around. Suicidal Tendencies then lifted up Maverick with its forks, eventually flipping Maverick upside-down. Maverick was then axed several times by Shunt and thrown by the Floor Flipper which put Maverick back onto its wheels. Maverick was able to drive away, but it was already eliminated. Francis Gallagher said after the battle that one of the links had come loose and prevented the weapon from working.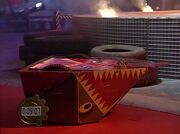 Maverick also fought in the Sumo Basho championship. It did not move at the start, which allowed Shunt to come in. It did eventually move, but very slowly, which allowed Shunt to get under its side and push it off. Maverick had lasted 9.07 seconds, placing 10th overall.
Wins/Losses
Edit
Series Record
Edit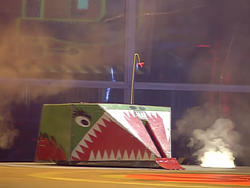 Francis Gallagher was the second child team captain in Robot Wars, after Joe Watts from Team Big Brother, and the first to both drive and captain the robot.
Maverick was the only newcomer in Heat H of the Fourth Wars and the only robot in that heat that never appeared in any other series. However, The Mavericks did return for Series 5, 7 and Extreme 2 with Rick.
Community content is available under
CC-BY-SA
unless otherwise noted.