"It's got extremely strong armour on the top, and its got this huge great disc. 16 kilos, 2000 rpm, it's going to do some damage!"
— Richard Wenham describes Mayhem
Mayhem was a heavyweight robot which exclusively competed in the seventh series of Robot Wars, where it was defeated by Supernova before losing alongside it to Storm 2 and Rhino.
Design
[
]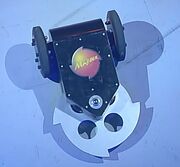 Mayhem was a black, invertible box-shaped robot with a front-mounted, 16kg, 2000rpm spinning disc, with four broad faces. The team had particular pride in Mayhem's top armour. It was deliberately designed with a high ground clearance and exposed rear wheels so the robot would be made difficult to get hold of but this proved to be its undoing, combined with its inexperience.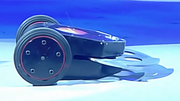 "They say the rear-mounted wheels and high ground clearance make this robot hard to get hold of, and the awesome weapon will cause severe damage. I say the wheels are exposed and the team lacks experience!"
— Jonathan Pearce describes Mayhem
Robot History
[
]
Series 7
[
]
Jayne Middlemiss: "What are you looking forward to in your first wars?"
Alan Wenman: "Getting through the first battle."
Jayne Middlemiss: "Do you think you're going to?"
Alan Wenman: "We didn't come here to lose!"
— Pre-battle interview
Mayhem participated in Heat I of the Seventh Wars. In the first round, Mayhem was placed up against the number 16 seeds Storm 2, Team Reactor's Rhino and the Sri Lankan representatives Supernova, a robot of a very similar design to Mayhem.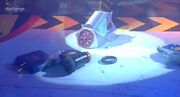 In the battle, Mayhem spun around in circles at the beginning of the melee, as it tried to attack Rhino, but Supernova then hit one of its exposed tyres, knocking it clean off. Supernova attacked again with its disc and ripped the other tyre from Mayhem. Mayhem was left with no traction on the arena floor and was counted out by Refbot.
"That's the end of Mayhem - tyre off... about to be re-tyred, I think... re-tyred into oblivion."
— Jonathan Pearce as Refbot comes in to count out Mayhem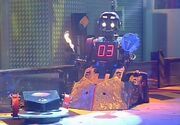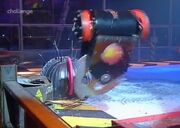 Sir Killalot came in and placed Mayhem onto the arena floor flipper. After being flipped, Matilda whacked Mayhem with her flywheel into the arena side wall, buckling one of the wheels and damaging its armour.
After Supernova was immobilised and counted out, cease was called and Mayhem was eliminated from the competition along with Supernova.
Results
[
]
Wins/Losses
[
]
Series Record
[
]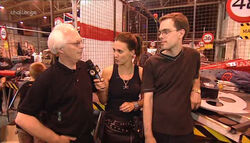 Outside Robot Wars
[
]
After competing on Robot Wars with the heavyweight Mayhem, team captain Richard built a wedge-shaped featherweight named Mayhem mk2 to compete on the UK live circuit[1].
Trivia
[
]

Mayhem was the only robot in Heat I of the Seventh Wars from a team that had not had any previous Robot Wars experience.

It was also the only Round 1 loser in that heat whose name did not start with the letter S.
References
[
]