"Rear rotating blades give Medusa her snake-like bite. The front can bulldoze and tip, electric power with a zero turning circle, oh, and if the lights go out, she probably glows in the dark."
— Jonathan Pearce introducing Medusa 2000
Medusa 2000 was a competitor robot that exclusively fought in Series 4 of Robot Wars. It reached the second round in its only series, before being flipped around and defeated by the reigning champion Chaos 2, who went on to win the series.
The original Medusa machine was intended to enter the Sumo event of Series 3, but the event was cancelled following a behind-the-scenes accident that caused delays in filming.
Design
[
]
"In 1999, Don Weir was watching an episode of robot wars series 2 with his kids, when suddenly Alex the youngest asked Dad if they could build a robot. At that point everyone started to get very exited [sic]. Next day Don started on the design of what was to become Medusa, the chassis began to take shape, 2 car ramps lay on their sides with angle iron welded between. At about this time Don realized that he could do with a hand as the robot would be too heavy to move with just the kids, so Graham Baron was approached a colleague from his previous job. Graham jumped at the opportunity and became a full partner in the venture. Medusa steadily progressed as did the cost Don did most of the design and procurement work Graham did the wiring. The metal work was a joint effort. After some re-designing and many burnt out mosfets we had a working robot."
— The origins and construction of Medusa, from the website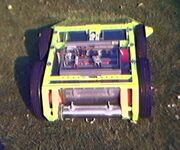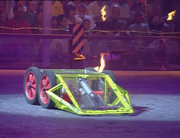 Medusa 2000 was an invertible, box-shaped robot mostly made out of recycled computer parts, with four outside wheels and painted fluorescent green, which the team cited as the robot's weakness. It featured a barbed drum at the back, and an electric lifter on the front wedge which operated by pressing down against the floor and raising the robot's front wedge up, hoping to lift other robots this way. Although fast, resilient and with a surprisingly durable chassis, Medusa 2000 suffered from a high ground clearance and exposed wheels, which were easily susceptible to damage. The robot cost £796 in total.
Etymology
[
]
The name Medusa 2000 references Medusa from Greek mythology, and the year 2000, in which the robot was built.
Robot History
[
]
Series 4
[
]
Medusa 2000 competed in Heat A, and was drawn up against the number 17 seed King B3 and fellow newcomer Attila the Drum in its first round. Medusa 2000 played little part in this battle, being shoved around the arena by King B3 in the early moments before getting underneath it as King B3 attacked Attila the Drum. After staying out of the action, Medusa 2000 slammed into King B3 after both it and Attila the Drum were trapped by Sergeant Bash, with one of Attila the Drum's wheels catching fire. After the three machines closed in on each other, Medusa 2000 appeared to struggle for traction, before ramming into Attila the Drum. The three robots again gathered together just as 'cease' was called, and the battle went to a judges' decision. The judges voted Medusa 2000 and King B3 through to the second round, much to the crowd's displeasure.
There, Medusa 2000 had a tough draw against reigning champion Chaos 2. Chaos 2 immediately charged into Medusa 2000 for a flip, but missed, before the two machines charged into each other close to the wall. Chaos 2 flipped Medusa 2000 onto its back, before pushing it towards the wall and nearly flipping it out, but instead tossing it towards Shunt's CPZ. Medusa 2000 recovered, only to be tipped onto its side after running up Chaos 2's front, and knocked back down to its wheels by Chaos 2. Another few flips from Chaos 2 nearly saw Medusa 2000 go out of the arena again onto the spotlights, but it fell back into Dead Metal's CPZ, where it was assailed again by Chaos 2 and Dead Metal.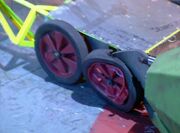 "Medusa 2000...hopelessly outclassed at this level."
— Jonathan Pearce
While escaping, Medusa 2000 backed into Sergeant Bash, who crushed one of its wheels with his pincers and pushed it over the Flame Pit into Shunt. Now immobilised, Medusa 2000 was pushed onto the Floor Flipper by Chaos 2 and flipped back upright, before taking more damage from Dead Metal and Sergeant Bash and having one of its tyres dislodged.
"I think it should be, re-tyred, so to speak... from the arena, that is."
— Jonathan Pearce after Medusa 2000's tyre falls off
Sir Killalot grabbed hold of Medusa 2000 by the tyreless wheel, and proceeded to carry it towards the pit before dropping it in. As a result of this defeat, Medusa 2000 was eliminated from the Fourth Wars.
Results
[
]
MEDUSA 2000 - RESULTS
Series 4
The Fourth Wars - UK Championship
Heat, Round 2
Heat A, Eliminator
vs. Attila the Drum, King B3 (17)
Qualified
Heat A, Semi-Final
vs. Chaos 2 (1)
Lost
Wins/Losses
[
]
Series Record
[
]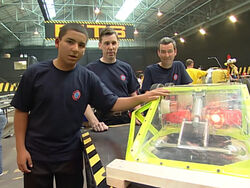 Trivia
[
]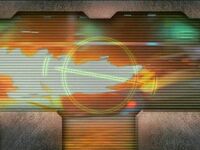 A clip of Medusa 2000 being attacked by Sergeant Bash was later used in the opening sequence.
External Links
[
]