Mega Melvin was an American robot from Brooklyn, New York which applied to compete in Series 9 and 10 of Robot Wars. However, it was not selected to participate in either series, despite footage of Mega Melvin appearing in a trailer for Series 10.
Design
[
]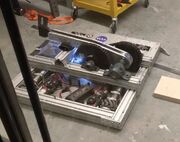 Mega Melvin was a silver box-shaped robot with a very low profile and height, and driven by four Mecanum wheels powered by Castle 2028 brushless motors. The wheels enable the robot to drive sideways as well as forwards and backwards, allowing Mega Melvin to drift around arenas while constantly facing its opponents. Mega Melvin featured two interchangeable axes as weapons; one allowing for short-range blows, while the other is double the length. The axe was chain-driven and powered by a brushless motor, while the robot also featured the NASA logo on its top-right panel.
"10hp peak but right now it is only running at around 2. We're getting a new ESC that will double the voltage, which should quadruple the power and put us closer to the max. We would have mounted a much heavier axe for RW, but instead will be redesigning the entire frame and arm for either Battlebots or Robogames. Same electronics though, but maybe double weapon motors."
— Bots FC on their weapon motors
Series Record
[
]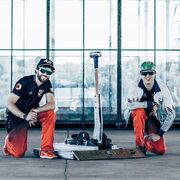 Outside Robot Wars
[
]
Shortly after construction, Mega Melvin fought at the Orlando Maker Faire 2016, competing in the heavyweight Sportsman Class. There, it fought several battles against opponents such as Old Iron and Witch Doctor (sporting a tyre in place of its usual spinning disc for safety purposes), with the event serving as a test session for the robot's drive systems and axe.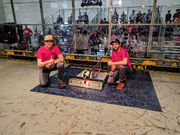 A second version of Mega Melvin, using the original robot's motors and gearboxes, was built for and entered into RoboGames 2017.[1] Equipped with a revised axe shaft/arm and sets of front and rear wedges, Mega Melvin lost its first battle to Polar Vortex and its second to Megalodon, ultimately being eliminated from RoboGames 2017 without a win.
"Our robot Mega Melvin worked decently at Robogames, but had exposed some flaws. April to October isn't much time, so instead of building an entirely new robot, we modified Mega Melvin into "Blue", our entry for King of Bots (we changed the name since "Mega Melvin" is a bit hard to translate, but the sarcasm of a pink robot named "Blue" seemed pretty universal)."
— Bots FC website[2]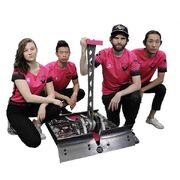 In late 2017, aired in early 2018, Team Bots FC were finally able to compete in a televised robotics show, travelling to China to compete in King of Bots. The team rebranded Mega Melvin into a new identity, Blue, while also carrying out revisions to its chassis, weapon and electronics following their experience at RoboGames.[3] In this guise, Blue reached the second round on its debut appearance, after initially defeating EarthShaker on a Judges' decision; its use of Mecanum wheels earned particular praise from King of Bots judge - and experienced Robot Wars competitor - Ian Lewis. In the second round, it defeated the promising vertical spinner of Thunderstorm by knockout. In the third round, it fought vertical spinner Two BBQ; despite surviving most of the latter's hits, Blue lost the use of its axe early on, resulting in it being left unable to self-right after driving onto the floor saws and getting flipped by Two BBQ's spinner. Blue also competed in a nine-robot Rumble and an unaired Tag Team battle - the latter while partnered with The Grubs - both of which it lost under varying circumstances.
In This is Fighting Robots, a Chinese show made by the same producers as King of Bots, an improved Blue competed. In a four-way group battle against Saber II, Wall Breaker and Thunder and Lightning, Blue advanced by self-righting from a precarious position, convincing celebrity Zheng Shuang to choose Blue for their team. In the main competition, it fought Bonfire, Griffin Mk II and Ninja, where Blue immobilised Bonfire, and survived until a Judges' decision against Ninja, where Blue won by a narrow margin. Blue was then required to battle Hunting Wind in a head-to-head battle, but the Chinese robot was non-operational, and Blue advanced by default. In its final battle, Blue won a three-way melee against Greedy Snake and Formula, but was still eliminated in this round, as Zheng Shuang was required to cull her team from five robots down to three.
Team Bots FC also designed a shell spinner named Doomba, which was designed to fight alongside two powerful wedge-shaped minibots[4]. This design was made in order to apply for the 2018 season of BattleBots, but it was not selected to compete. Team Bots FC have stated that they would have used this design to apply for future series of Robot Wars, if the opportunity arose[5].
Team Bots FC competed at RoboGames 2018 with an unequally weighted five-part multibot, Cluster Flock. However, the two largest segments were immobilized by the drum spinner of Echo, putting Team Bots FC into the losers' bracket. Cluster Flock gained a sixth segment in order to battle Nigel, although its 120lb wedge did not move during the match, with a 3lb segment also becoming immobile. The remaining segments of Cluster Flock survived until a Judges' decision, but lost on a 21-12 decision based on the immobility of the main segment.
Blue then competed in the 2018 Orlando Maker Faire where it got past the round robins, and proceeded to become the champion, beating Mammoth in the semi-finals, and Gruff in the finals.
Team Bots FC competed in televised BattleBots for the first time in 2019, competing with Shatter! in the fourth modern series of the show, a robot using the same hammer weaponry and omniwheel drive of Mega Melvin, but with a new ablative shell designed to "shatter" upon impact. It fought Witch Doctor in its first battle and drove defensively while sustaining damage to its armour and hammer, until Witch Doctor caught fire towards the end of the battle. The fight was sent to a Judges' decision, which Shatter! ultimately lost. The hammer of Shatter! was repaired ahead of its next battle against Wan Hoo, where it landed a vast number of blows on the Chinese robot and comfortably secured the Judges' decision. Shatter! then easily won its next match over Kingpin, which knocked itself out before the two robots even made contact. To conclude its Fight Night campaign, Shatter! was immobilised by Minotaur after a respectable performance, ending its season run at a 2-2 record without qualifying for the Top 16. Shatter! also competed in an untelevised battle against Kraken, losing on a Judges' decision.
A rebuilt Shatter! returned to BattleBots for the 2020 season, using a more billet-based chassis and reworked internals. It started the season strongly with a knockout win over former semi-finalist Ghost Raptor. In its next match, Shatter! disabled the spinner of Malice with its first swing, but its own axe was torn off in the process, which the Judges weighted more heavily when awarding the controversial victory to Malice. Its next fight saw Shatter! defeat Captain Shrederator on a judges' decision after disabling its opponent's spinner and landing several axe blows, meaning that Shatter! finished its Fight Night campaign with a record of 2-1, successfully qualifying for the main competition as the 19th seed. Shatter! started its main competition run strongly, scoring a knockout win over the experienced Lock-Jaw, before narrowly defeating Mammoth on a split judges' decision in a fight where both robots' weapons were disabled. Shatter! subsequently suffered a destructive defeat to eventual champion End Game in the Quarter Final, losing its axe-head and being rendered immobile after taking several attacks from its opponent.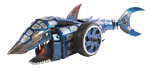 This section of article contains SPOILERS about the 2021 season of BattleBots.
Shatter! returned for the 2021 season with an optional sword-like hammer to prevent spinners from ripping the axehead off. Shatter! opened its season with a win over SubZero not included in the televised broadcast.
Trivia
[
]
Mega Melvin (alongside Mouse and the previously British Foxic) is the first known example of an American robot attempting to qualify for a UK series of Robot Wars since Series 3's Rolling Thunder 2, and with all being the first example of an American robot attempting to enter while the team were still located in the USA.
References
[
]
External Links
[
]