Mesmer 2 was an invertible antweight robot which competed in the Antweight Championship of the second series of Robot Wars Extreme. In its only appearance, it was swiftly eliminated from its heat after getting turned onto its side following a collision with Chroma.
Team MadScientists also entered the same Antweight Championship with the equally unsuccessful Buzzant, and had entered the previous series' championship with the clusterbot, Legion. They had also previously attempted to qualify for Series 3-5 with heavyweight robot UFO.
Design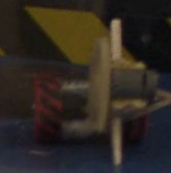 Mesmer 2 was an invertible two-wheeled robot armed with a vertically-mounted, two-toothed spinning flywheel. The robot had an unpainted wooden chassis with top and bottom stabilisers, a curved transparent rear panel and large red wheels with uneven treads; the flat sides of the wheels in particular made it very susceptible to side-stranding.
Etymology
Mesmer 2's name may have been derived from a shortened version of 'mesmerise', which means to 'hypnotise or fascinate', or may have been a reference to the 1994 film, Mesmer.
Robot History
Extreme 2
Mesmer 2 competed exclusively in the Antweight Championship, broadcast as part of the Robot Rampage episode. In its heat - which was only partially shown as a recap - it faced Hades, Chroma, Anty B, Anty Geddon and reigning champion Combatant.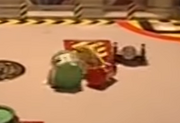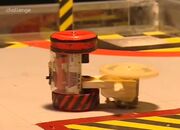 At the start of the battle, Mesmer 2 immediately drove forwards and attacked Chroma, but was turned onto its side and left stranded near the Floor Flipper. After Combatant deflected Chroma into it, it stopped and spun its flywheel up a few times in an attempt to re-right itself, but spun around aimlessly on its side as a result. Mesmer 2 played no further part in the battle as it kept spinning in circles next to the Floor Spinner, and was eliminated from the Antweight Championship. Its heat was eventually won by Anty B and Combatant.
"Mesmer 2 was spinning... out of control and going nowhere."
— Jonathan Pearce summarises Mesmer 2's performance in his recap
Results
Wins/Losses
Series Record
Outside Robot Wars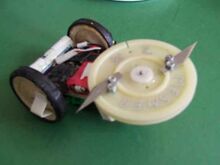 The original Mesmer was originally meant to enter the Seventh Antweight World Series but did not appear for reasons unknown. Mesmer then became "Mesmer 2.5" which was an invertable horizontal flywheel the debuted in the Eighth Antweight World Series where it was eliminated in the first round. The Mesmer 2 that appeared in Extreme 2, made an appearance in AWS 9 There, it reached the third round before losing to Hades.
External Links
Community content is available under
CC-BY-SA
unless otherwise noted.