"A one metre wide, three-sided bulldozer/flipper, with the large "shark fin" on top incorporating a second destructive weapon system. A srimech, sledgehammer-proof bodywork, "no known weaknesses" - they say!"
— Jonathan Pearce reviews the stats of Metalis
Metalis was Team Death's entry for Series 7 of Robot Wars. It was eliminated in the first round after being flipped over by newcomer Ceros.
Design
[
]
"New machine for an experienced team."
— Jonathan Pearce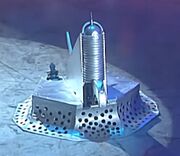 Metalis was an unusual triangular box-shaped robot with a distinctive 'shark fin' top section. Part of the robot's top armour was made from a sieve and claimed to be 'sledgehammer-proof', while its weapons were a small front crushing claw and a three-sided lifting scoop. Team Death described the latter as a 'full-body lifter', and claimed that it could act as Metalis' srimech if it was flipped. However, this failed to work during its only battle.
Qualification
[
]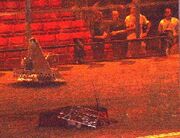 At the Series 7 qualifiers, Metalis fought I Bot One Beta, Skorpizoid and Dutch entrant and future Semi-Finalists Tough as Nails. It broke down in its qualifier battle after a collision with Tough as Nails, which also knocked the removable link out of Tough as Nails. Although Metalis had lost the battle which was eventually won by I Bot One Beta, Metalis was awarded a discretionary place in the main competition.
"We made the journey down to Nottingham and did the usual tech checks and were OK to play. Four robots entered the arena and I recall TAN (Tough as Nails) was one of them, we quickly got stuck on the arena floor due to lack of traction and found our CO2 had frozen in the tank pipe so we had no flipper, the only thing working was the claw so we tried pecking the floor like a bird to free ourselves-without success. TAN came along and managed to nudge us and we were off again, after a whizz round -it seemed to be all over -I think we were the last robot moving. We removed our robots from the arena and the producer said "that was boring guys". After pleading that our robot should have been so much better i.e. lack of traction and flipper not working, he seemed happy to give us another chance on the show itself (Series 7)"
— Colin Scott on the FRA Forum (edited)
Robot History
[
]
Series 7
[
]
"Our Robot- Metalis was ready, teething problems regarding the traction were sorted, we were advised at the auditions that shortening the pipe in the CO2 tank would prevent any freeze problems but I decided it was probably a one-off fault and shouldn't happen again. This new venue at Nottingham didn't seem to have the atmosphere previous venues had it was gloomy in fact, Channel Five were to screen Series 7 and we got the feeling, or was it the correspondents with Mentorn that hinted at this been the end of the road for Robot Wars."
— Colin Scott on the FRA Forum (edited)
Competing in Heat H of the Seventh Wars, Metalis went up against newcomer Ceros, former Dutch Grand Finalist Scraptosaur and the number fifteen seed Ming Dienasty in its first round melee. In the team's interview before the battle, Jayne Middlemiss noted the sieve atop Metalis, and Colin Scott offered to give her the sieve as a prize, if Metalis lost its battle.
"Our first round group included Scraptosaur and Ceros and by pure chance Ming Dienasty. We were placed in the same control booth as Ming D and decided to work together initially as we thought the other teams would do the same. All the robots drove out perfectly and things were looking good, I won't describe the battle in detail as you can see it in full on YouTube, but the fact that we didn't shorten the CO2 pipe came back to haunt us and froze again, leaving us with no claw function, no flipper and no srimech. Now doesn't it just annoy you when Jonathan Pearce says they can't self right, when you know you can if the blooming thing hadn't developed a fault."
— Colin Scott on the FRA Forum (edited)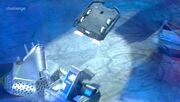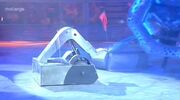 After Ceros had flipped over Ming Dienasty in the opening seconds, it then focused its attention on the nearby and sluggish Metalis, getting behind it and flipping it over. Metalis' CO2 supply had frozen due to a faulty tank, and this stopped both of the robot's weapons from working correctly - as a result, Metalis could not self right and it was counted out by Refbot.
"A shame we didn't see the crushing claw, really. Didn't see the flip-ability factor from Metalis, and they've gone. Drained away through the Robot Wars sieve to oblivion!"
— Jonathan Pearce as Metalis is counted out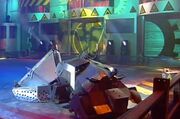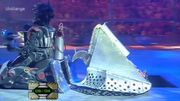 Metalis was righted by Ceros soon after being counted out, but was pursued across the arena floor by House Robot Growler, who slammed it into the arena wall. Metalis was eventually pitted by Refbot just moments before the other three machines went to a judges' decision.
"Another interesting thing was after we were counted out and then righted by Ceros I think-the organisers didn't seem to want us to participate in the rest of the battle and tried their best to disable Metalis including Growler ramming our robot into the arena sidewall at full pelt. I felt sure he would go through the polycarb. Thank you to Mario for saying "you built a very strong robot" at the end of the battle, just as the dump valve on Metalis released a full tank of the frozen CO2."
— Colin Scott on the FRA Forum (edited)
Results
[
]
Wins/Losses
[
]
Series Record
[
]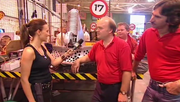 Although Team Death did not enter Series 8, Colin Scott's creation, Chimera, competed under ownership of a new team, who also entered Chimera2 into Series 9.
Trivia
[
]
Metalis was the only competitor on Robot Wars to be described as having a full-body lifter weapon.
At the start of Heat H of Series 7, Metalis was referred to as a newcomer, despite its team appearing in three previous UK Championships. Jonathan Pearce corrected this later on when it entered the arena.
Like Death Warmed Up, Metalis appeared in Heat H along with the Mega Hurts team with both losing in the first round of the heat.