Michael Meehan is an American stand-up comedian, actor, director and sketch artist who served as the presenter and announcer for the American Robot Wars 1996 event.
Robot Wars
[
]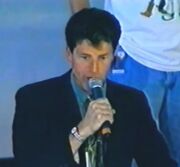 As the main presenter and announcer, Michael Meehan stood on a platform above the arena on the same level as the roboteers and provided a commentary throughout the event, such as counting down to start the battles and calling out the winner of the battles to the audience. He did not, however, provide a running commentary when the battles were in progress, instead only offering commentary when robots looked to be immobilised and asking if they were able to move to avoid elimination and when big attacks happened that caused exclamation from himself and the crowd.
Michael appeared throughout the VHS release, first being seen at the very beginning where he welcomed the audience and the viewer to the "Third Annual Robot Wars" and again to count down the battle between Agamemnon and Satoru Special 3. Michael described the UK vs. France Grudge Match as a "continuation of the Hundred Years War" and was also seen counting down to the start of the Heavyweight and Lightweight melees. At the conclusion of the Heavyweight melee final, Michael entered the arena to ask the audience who they thought won, with La Machine ultimately being decided as the victor. Michael's commentary could be heard throughout the VHS release, prominently featuring when a battle had ended.
Outside Robot Wars
[
]
Michael Meehan served as the announcer for all four of the original American Robot Wars competitions, appearing in the 1994, 1995 and 1997 events. Michael is a native of San Francisco, where all the American Robot Wars competitions took place. Because of his consistant appearances, Michael was often referred to as the "Voice of Robot Wars".
Michael is best known for being a successful comedian, with thirty-five years experience at the SF Comedy College in San Francisco, California and occasionally does performances in the San Francisco area. He has appeared on many television shows such as The Late Late Show, The Dennis Miller Show, Comedy Tonight and A and E's Comedy on the Road. In 2014, Michael directed his first feature film, Hey Monster, Hands off my City, which starred many comedians from San Francisco.
Michael also taught flying trapeze at the SF Circus School for ten years and has used his skills in art to become a painter and mask maker. Michael also had a close relationship with the late Robin Williams and often served as an opening act for his shows.
Personalities
Presenters
Pit Reporters
Commentators
International Dub Presenters
Judges

Noel Sharkey

(

Series 1

-

10

,

Extreme 1

-

2

,

US 1

-

2

,

Nickelodeon

,

Dutch 1

-

2

,

German

) •

Eric Dickinson

(

Series 1

-

2

) •

Adam Harper

(

Series 1

-

3

) •

Martin Smith

(

Series 3

-

7

,

Extreme 1

-

2

,

US 1

-

2

,

Nickelodeon

,

Dutch 1

-

2

,

German

) •

Myra Wilson

(

Series 4

-

5

) •

Mat Irvine

(

Series 5

-

7

,

Extreme 1

-

2

,

US 1

-

2

,

Nickelodeon

,

Dutch 1

-

2

,

German

) •

Sethu Vijayakumar

(

Series 8

-

10

) •

Lucy Rogers

(

Series 8

-

10

)

Other

Stuart McDonald

(Director/Announcer,

Series 1

-

7

,

Extreme 1

-

2

) •

Tom Gutteridge

(Director/Executive Producer,

Series 1

-

7

,

Extreme 1

-

2

) •

Stephen Carsey

(Director/Executive Producer,

Series 1

-

7

,

Extreme 1

-

2

) •

Bill Hobbins

(Series Producer,

Series 3

-

7

,

Extreme 1

-

2

) •

Andrew Robertson

(Executive Producer,

Series 8

-

10

) •

Matt Wilkinson

(Series Producer,

Series 8

) •

Henry Imbert

(Series Producer,

Series 9

-

10

) •

Robotics industry professionals