Mick Foley (born 7th June 1965) is a professional wrestler, actor, writer and presenter of Robot Wars: Extreme Warriors for both of its seasons.
Robot Wars
[
]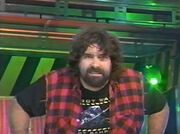 Mick Foley was hired by Viacom executives Albie Hect and Kevin Kay to host the two Extreme Warriors series. They felt he would be perfect for the role, as he would appeal to fans of the professional wrestling show WWF Raw Is War, which was soon to air on TNN.[2]
Foley was responsible for introducing the show, ending the show, recapping the battles, interviewing the roboteers and handing over to Rebecca Grant (Season 1) or Carol Grow (Season 2) in the pits and Stefan Frank in the commentary box.
As a presenter, Foley would often refer back to his wrestling career during intros and team interviews. He was not above playing pranks on the teams - on two occasions he revealed fake results of judges' decisions, only to reveal the real result whilst the team he'd tricked were celebrating.
In the book Gearheads: The Turbulent Rise of Robotic Sports, Foley admitted he lacked engineering knowledge. However, he soon began to learn various robot-driving strategies, and enjoyed pranking the contestants. He felt Robot Wars was unique, in that he could not compare it to other sports or entertainment. He also believed the Robot Wars audience was similar to wrestling crowds.[2]
Outside Robot Wars
[
]
Mick Foley is best known for his role as a professional wrestler under three aliases, those being "Cactus Jack", "Dude Love" and "Mankind". He was also notable for being a three-time WWE champion, and was famously involved in a "Hell in the Cell" match against The Undertaker, in what is considered to be one of the most well-known wrestling matches ever, a match which seriously injured Mick Foley. In 2000, after retiring from active competition, Foley became a storyline commissioner for WWE, before becoming a commentator for the franchise. In 2008, Foley left WWE and has only reappeared occasionally since then. Foley wrestled his final WWE match in 2012 as a participant in the Royal Rumble. He officially retired that same year after doctors wouldn't medically clear him for a match with Dean Ambrose.
Foley has also penned 3 memoirs, 3 books for children and two for adults, achieving varying success with each. Foley is also credited for a number of acting roles, and has cameoed in several films.
Personal life
[
]
Foley and his wife Colette have four children, three sons and a daughter: Dewey Francis (born in 1992), Michael Francis, Jr. (born in 2001), Hughie (born in 2003), and Noelle Margaret (born in 1993).
Trivia
[
]
During breaks in filming sessions, Foley would walk to his caravan, sit on a bench, and read a novel[2].
References
[
]
Personalities
Presenters
Pit Reporters
Commentators
International Dub Presenters
Judges

Noel Sharkey

(

Series 1

-

10

,

Extreme 1

-

2

,

US 1

-

2

,

Nickelodeon

,

Dutch 1

-

2

,

German

) •

Eric Dickinson

(

Series 1

-

2

) •

Adam Harper

(

Series 1

-

3

) •

Martin Smith

(

Series 3

-

7

,

Extreme 1

-

2

,

US 1

-

2

,

Nickelodeon

,

Dutch 1

-

2

,

German

) •

Myra Wilson

(

Series 4

-

5

) •

Mat Irvine

(

Series 5

-

7

,

Extreme 1

-

2

,

US 1

-

2

,

Nickelodeon

,

Dutch 1

-

2

,

German

) •

Sethu Vijayakumar

(

Series 8

-

10

) •

Lucy Rogers

(

Series 8

-

10

)

Other

Stuart McDonald

(Director/Announcer,

Series 1

-

7

,

Extreme 1

-

2

) •

Tom Gutteridge

(Director/Executive Producer,

Series 1

-

7

,

Extreme 1

-

2

) •

Stephen Carsey

(Director/Executive Producer,

Series 1

-

7

,

Extreme 1

-

2

) •

Bill Hobbins

(Series Producer,

Series 3

-

7

,

Extreme 1

-

2

) •

Andrew Robertson

(Executive Producer,

Series 8

-

10

) •

Matt Wilkinson

(Series Producer,

Series 8

) •

Henry Imbert

(Series Producer,

Series 9

-

10

) •

Robotics industry professionals