Mincer was a heavyweight robot which was built to enter Robot Wars: The Fourth Wars, but it did not qualify for the series. Mincer was the predecessor to the team's Series 7 heat winner M2.
Design
[
]
"The chassis was covered with 1.2mm mild steel sheet fully seam welded. The axles were specially made by BSA Regal of Southampton. The pneumatic wheels are from Machine Mart, their integral bearings was overcome by using an aluminium hub engaging with the plastic wheel spokes onto a square drive on the axle."
— Team Tristate website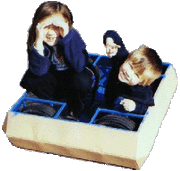 Mincer was a four-wheel driven robot, box-shaped in nature. Its sides were angled outwards for symmetry, which prevented Mincer from becoming stuck on its side, at the expense of a high ground clearance. Mincer was completely invertible, and was fairly well-armoured for its time, built from 12.5mm fully welded steel. Mincer used two Steatite 17Ah batteries for power, and Bosch motors for drive.
"It originally seemed a good idea to have a fully welded shell construction; on reflection removable panels would have made repairs far easier. Although rigid, it was susceptible to puncturing from opponents spikes. Due to weight limitations, the revolving wheel guards were dropped in favour of a 5mm thick solid rubber lining inserted between the wheel inner tubes and tyre."
— Team Tristate website
Mincer's weapon was a 5kg cutting drum armed with four cold chisels, which spun vertically at up to 3,200rpm. Unlike modern drum spinners, this lightweight weapon was designed to cut through armour, rather than deliver large impacts. The drum was reversible, so that when Mincer became inverted, the drum could still spin upwards for more effective contact.
"Two Bosch 750W are used for the main drive plus a further identical drive used for the weapon. The weapon can reach 3200rpm in less than 2 seconds with the to be fitted cold chisels tips travelling at 80mph. We have a video showing the cutter in action, it split a 5kg lump of garden stone into two, sending a lump of about 1kg clear out of the garden over the top of the bungalow behind into some fields - whoops!!"
— Team Tristate website
Qualification
[
]
"though we won our one and only round at Robot Mayhem, we were not successful in qualifying for the fourth wars. A huge disappointment but thanks to my mate Paul McQuaid in stepped into the team at short notice. Another disappointment was that the drum cutter failed to start. It had never failed before and has not since."
— Team Tristate website on the Fourth Wars qualification
Mincer attempted to qualify for Series 4 of Robot Wars, and attended the Robot Mayhem 2000 qualification tour. Mincer won its only battle at the event, but Mincer's weapon did not function in battle, and ultimately the victorious Mincer was not selected for The Fourth Wars. Team Technobots also failed to qualify for Series 5 with M2, before qualifying for Series 7 with the same machine.
"Considering Mincer was my first effort, I believe it was overall successful. Others may say that start small and work your way up to the heavy weight class, they may be right in some cases but it depends on your skills, resource and planning. Mincer was 2 months on the 'drawing board' and apart from some minor changes; the final build was exactly as intended. Good job too, finances would not run to costly rework"
— Team Tristate website on Mincer's competitive life
Series Record
[
]
Outside Robot Wars
[
]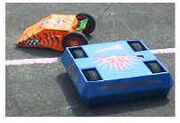 After its appearance at the Robot Mayhem 2000 qualification tour for Series 4, Mincer competed at the Uckfield Festival. Mincer encountered various issues at the event, after its chain links spring off the robot's drive system, and its aerial lead broke due to continual movement. Mincer's servo board also dislodged, and in battle, Mincer was filled with holes caused by the spear weapon of Destruct-A-Bubble. Mincer is also known to have fought Killer Carrot at the event, which pierced a hole in Mincer and removed one of its drum's chisels. Mincer found more success in the tug-of-war contest, winning its encounter comfortably.
"I took Mincer along to the Uckfield festival and had a great time. What it did prove was that Mincer had some minor weaknesses that soon became apparent. The chain links sprung off losing the 4-wheel drive, The aerial lead broke due to the continual aerial movement (self-righting aerial on a counter balance) and the servo board retained in a foam mount dislodged and fouled the self righting aerial counter balance. Thanks to Destruct-A-Bubble for leaving Mincer peppered with holes (see gallery) but hey, that's what it is all about. Mincer did prove unbeatable in the tug-of-war contest, the Bosch motors beat the Sinclair C5 motors without a struggle."
— Team Tristate website
Trivia
[
]
Both Mincer and M2 failed to qualify for series where the robots won their only qualifier battle, in Series 4 and 5 respectively.
The team decided to call Mincer's successor M2 after deciding that Mincer was 'not a great choice of name' for the robot.
"Our first robot was called Mincer as you know which was not a great choice of name because of different connotations to the meaning so quickly dropped. So its successor was simply called M2 and of course a very different machine."
— Paul Cooper[1]
References
[
]
External Links
[
]