More Panda Monium was a heavyweight robot which attempted to enter Series 3 and 4 of Robot Wars. It was not selected for the main competition of Series 3, despite completing its audition, and subsequently failed to qualify for Series 4 after replacing Team Panda's other entry, Big Pants, in the qualifiers.
Design
[
]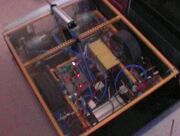 More Panda Monium was a two-wheel drive, box-shaped robot armed with two pneumatically-powered weapons: a lifting scoop and a spike mounted immediately on top of the scoop. The scoop was made from 2.5mm steel and was initially actuated by a pair of pneumatic pistons, giving it a lifting capacity of approximately 65-70kg. Following durability issues encountered between auditions and filming of Series 3, More Panda Monium's scoop was later modified to feature three pistons, increasing its lifting capacity to over 100kg.[2] The robot's spike was intended to pierce through opponents' armour, and could be positioned at various angles in order to reach robots of varying sizes.
More Panda Monium was made out of steel with polycarbonate top panels, and sported a yellow, black and white colour scheme. The robot cost almost £1,200 to build.
Qualification
[
]
More Panda Monium attended the auditions for Series 3, where it encountered minor control issues during the obstacle course.
Following feedback from the Robot Wars production crew, the robot was subsequently modified ahead of filming, although More Panda Monium would not be selected to compete in the main competition. Despite this, Team Panda expressed interest in taking part in the planned Tag Team competition which followed the main competition, Pete Collier offered More Panda Monium as a potential partner to other roboteers, and ultimately announced The Steel Avenger as their partner for the event.[5]
However, the competition was cancelled due to a behind-the-scenes accident in The Pits, where another spike-wielding robot injured a member of the production crew.[6] The incident caused numerous delays leading to the cancellation of other side events, and compelled Rex Garrod, a vocal critic of health and safety standards in earlier series of Robot Wars, to retire from the show altogether. More Panda Monium, meanwhile, went into storage when Team Panda received news of the cancellation.
After not being selected to compete in Series 3, More Panda Monium was initially replaced for Series 4 with Team Panda's newest machine, Big Pants. However, Big Pants failed to qualify due to the judges having doubts about its reliability, and Team Panda decided to enter More Panda Monium again while the qualifiers were still taking place. More Panda Monium was drawn against VIPER 01 for a qualifier battle, however the opposing team was forced to withdraw their robot due to technical difficulties, and was replaced by their middleweight machine Hard Cheese. Despite the weight advantage, More Panda Monium lost the fight, and neither robot qualified for the main competition. After this, More Panda Monium was finally retired from combat.
Series Record
[
]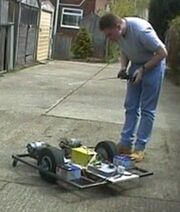 Outside Robot Wars
[
]
Following the Series 3 auditions, More Panda Monium attended the High Wycombe fete, where it fought Series 2 champion Panic Attack in one battle.[8] During the fete, it sustained damage to its scoop and rear motor mountings, prompting Team Panda to make repairs and modifications to its design before filming of Series 3 began.
References
[
]
External Links
[
]