"The most feared and technically advanced robot of the first three wars."
Mortis was a tracked robot which competed in the first four series of Robot Wars. Known for its innovative technology, it was one of the most advanced robots of its era, although its combat record did not always reflect this.
Mortis debuted in Series 1 and reached the Heat Final after completing the British Bulldog Trial and defeating Leighbot. There it lost a close battle with Recyclopse in the show's first-ever Judges' decision, but won the 'Best Engineered Robot' award at the end of the series. Mortis returned in Series 2, where it was seeded second (above all the Grand Finalists of Series 1 save Roadblock) and reached the Semi-Finals by defeating Rameses II and Oblivion in its heat. Its Semi-Final run attracted controversy, culminating in an elimination at the hands of eventual champion Panic Attack.
Mortis was unable to regain its pedigree following Series 2, as it was eliminated in the second round of Series 3 by Gravedigger, and lost in the Heat Final of Series 4 to Steg 2. However, it won the Series 4 War of Independence in its final televised appearance after defeating Panic Attack in a grudge match, and US representative frenZy in the final. After this, Mortis was retired from Robot Wars.
One of Mortis' defining traits was its perceived cost. The TV show claims that Mortis was made out of £40,000 worth of raw materials, with the robot being 'valued' at £250,000 towards the end of its appearances. In actuality, due to Mortis featuring a lot of donated parts from sponsors and other donors, the robot cost less than £500 to produce[1]. Nevertheless, Mortis remained very advanced for its time, with some of the strongest armour in the first few series, and was an early pioneer of brushless drive systems. It would also become the first robot to run Nickel-Cadmium batteries, which are still used in some combat robots to this day, and include a removable link as part of its internal circuitry, a safety feature which would be mandated in later series.[2]
Design
[
]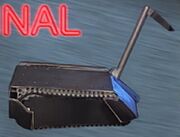 Mortis's design evolved throughout its appearances, being a tracked robot with a tank-like appearance, a top speed of 9mph (later 12mph) and an electrically-driven axe capable of firing quickly and causing tremendous damage to other opponents' armour. This axe featured a custom head modelled after Japanese tantō knives for optimal armour-piercing capabilities, and could strike up to three times a second with the equivalent force of a .38 Magnum rifle fired at point-blank range. According to the Robot Wars File, the tantō head was capable of puncturing 4mm military-grade titanium by the time of Mortis' last UK Championship campaign.[3] In the first series only a small, chunky spike was attached at the rear of the robot, for additional damage and defense. Being one of the most technologically-advanced competitors on the show, Mortis was made out of aerospace-grade materials, with its armour consisting of aluminium, carbon-fibre, Kevlar and laminated titanium in its appearances in Series 1-3.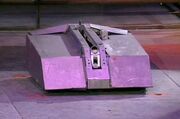 After having its tracks exposed in Series 1, Mortis was rebuilt and redesigned for Series 2, featuring a revised front end and newer, more angular armour which enclosed its tracks completely. The robot also received a faster and more reliable axe mechanism, a new transmission, and other general improvements; its colour scheme also changed from black and dark grey in Series 1, to all-over grey for Series 2. In both series, Mortis's drive and weapon systems used DC motors salvaged from mobility scooters, weighing 6kg each and driven by second-hand wheelchair controllers.[4]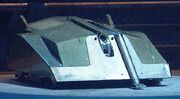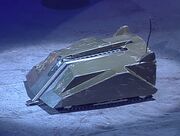 For Series 3, Mortis received yet another rebuild, with only its chassis remaining unchanged. The most significant alteration was the addition of an electric lifting arm mounted beside the signature axe, which allowed the robot to lift 100kg and self-right. Other key upgrades included new tracks featuring injection-moulded pads, more streamlined armour plating, new internals and a filtered air supply. Additionally, the original DC drive and weapon systems were replaced with a lighter and more powerful system, incorporating brushless servo motors donated by Swiss company Infranor and a custom three-channel brushless driver built by new team member Ben Gordon, likely making Mortis the first robot to use a brushless drive system on Robot Wars. These new motors necessitated a redesign of Mortis's axe mechanism, in order to cope with the improved acceleration they offered.[4] At 79.5kg, this incarnation of Mortis weighed slightly over the Heavyweight limit in Series 3. Mortis's armour and wedge were painted bronze-green and silver for Series 3 and its Series 4 War of Independence battle against Ghetto-bot, which was later changed to black, bronze-green and light grey for the rest of the robot's appearances in Series 4. Also in Series 4, its armour was coated in silicon carbide, which when used as an abrasive, is almost as hard as diamond. This effectively made Mortis diamond-coated.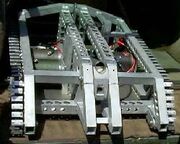 Like Firestorm in later series, Mortis remained roughly the same shape and design throughout the series, gradually being improved with more powerful motors, faster and more powerful weapon mechanisms, and what the team described as "better reliability". The axe and lifter combination it used in Series 3-4 was subsequently emulated by several other robots including Vercingetorix and its successor Comengetorix, Hydra, Oblark, Ripper and Hydrotec. However, while the tantō axe was effective and highly-regarded, Mortis regularly suffered from reliability issues with its tracks and weapon motors, which at one point resulted in the axe being converted into a ramming blade in Series 1. The robot itself also had a high ground clearance, and was vulnerable to having its tracks damaged by arena spikes/side bars in earlier series.
Etymology
[
]
The name Mortis is a conjugate of the Latin word for "death".
Controversy
[
]
Of all the competing robots, especially within the earlier series of Robot Wars, Mortis was one of the most fancied to win the UK Championship by the producers. As such, almost every defeat it took, even against a more successful or higher-ranked machine (e.g. former Grand Finalist Steg 2 in Series 4), was considered a shock by Jonathan Pearce and other Robot Wars personalities. This was notably emphasised in Series 2, with Mortis being consistently labelled as a championship 'favourite' and even being seeded second. This put it ahead of Series 1 Grand Finalists Bodyhammer and Cassius among the ranked seeds, in spite of its elimination from the heats of Series 1 by the latter's predecessor. Such were the producers' expectations for Mortis to succeed, that it was involved in one of the most controversial incidents in the show's history.
As expected, Mortis won its heat in Series 2 to reach the Semi-Finals, and progressed to the Pinball Trial after completing The Gauntlet there. However, its initial Pinball run ended with one of its tracks getting damaged by a floor spike, preventing Mortis from scoring any points. This should have eliminated Mortis immediately; however, one of the producers insisted that it would run the Trial again, leading to debates involving the production crew and Rob Knight. According to Tectonic Robot Wars, all roboteers had been informed beforehand that the spikes would not be used for the Pinball stage;[5] despite this, Rob Knight accepted that these hazards posed a major threat to Mortis' tracks.
"My recollection is that the spikes were a legitimate obstacle that exposed a weakness in using tracks but there is always a tension between running an actual competition and making an interesting TV show."
— Rob Knight[6]
In response to the producers' offer, Knight did not believe that the re-run would be fair to the other competing teams, and so refused to drive Mortis for the remainder of its main Series 2 run. Knight's response to the decision was substantiated by Tectonic Robot Wars and Oliver Steeples' run-downs of the Semi-Final 1 Pinball runs, the latter briefly stating that he was 'not happy' with Mortis being given a second chance.[7]
"Clearly it wasn't fair to be given another run so I refused to drive which caused a bit of a problem for the producers. Eventually we agreed to let Ben take the controls for pretty much the first time ever which is why Arfa and myself had a bit of a chuckle when he pitted out."
— Rob Knight[8]
Under the controls of Ben Impey, Mortis performed poorly in its re-run, attaining a score of 75 points by simply knocking down one set of bricks and barrels each. However, an extra 25 points were scored by the House Robots during this run, increasing its total score to 100 points. Even without these extra points, Mortis still scored enough to progress and eliminate Napalm, much to the disconsolation of the Dartford Girls Grammar team who initially believed that they would qualify due to the outcome of the former's first run.
These circumstances allowed Mortis to fight Panic Attack in the Arena stage. However, with Random Violence Technologies no longer willing to mount a serious challenge following the Pinball incident, it did not perform well, and was eventually pitted by the future Series 2 champion to their amusement.
"Mortis suffered damage, was given a second chance in the Trials by the adjudicators, and because of their decision and deliberation, Mortis went through..."
— Jonathan Pearce's recap of Mortis' aborted Series 2 Pinball run
Ironically, in the end-of-series Grudge Matches special, it was implied that Mortis' Judgement Day battle against Napalm resulted from Random Violence Technologies requesting the second Pinball attempt themselves, not the producers. This led to Mortis and the team becoming somewhat disliked in later series; in Series 3, both were jokingly booed by the audience and other roboteers throughout their appearances in the main competition. During the same series, Jonathan Pearce alluded to the altered view of the Pinball incident in Mortis' introduction, referring to Random Violence Technologies as 'the students who fumed when eliminated controversially'. In actuality, their relaxed reaction to Mortis being pitted by Panic Attack suggested otherwise, the team appearing to be indifferent towards the main competition of Series 2 following the Pinball controversy.
Rivalries
[
]
Rex Garrod
[
]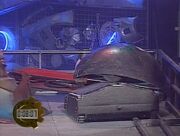 Mortis' Series 1 Heat Final against Recyclopse earned infamy as the first controversial Judges' decision in Robot Wars history. Despite its axe being converted into a battering ram, Mortis performed strongly, pushing Recyclopse around at various points until it immobilised itself on the side bars with the latter on top of it. The Judges, who initially considered making the battle a draw,[9] voted in favour of Recyclopse, to applause from other roboteers in The Pits and the dismay of Random Violence Technologies. Chris Sorsby in particular argued that Mortis was more aggressive and mobile throughout the battle, and that Recyclopse had become immobilised towards the end, despite the latter's attempts to drive off of Mortis.
Chris Sorsby: "They're not working – we're working. We pushed them out, so we had all of the attacks, and we think we should have won."
Rob Knight: "We'll have a rematch. Rematch is fine by me."
— Random Violence Technologies voice their disagreement against Mortis' elimination from Series 1
Such was the team's disagreement with the result that they attempted to appeal the decision according to Oliver Steeples, but this was unsuccessful.[10]
In a 2020 RoboNerd TV interview, Random Violence Technologies stood by their views on the Heat Final, believing that it was the moment in which they - and Mortis - started to be portrayed as 'bad guys' by the Robot Wars production team. Arthur Chilcott added that the moment in which Mortis drove onto the side bars actually occurred after the battle's conclusion, and that contrary to what was visible in the televised edit, Rex Garrod reportedly told him afterwards that both drive chains had indeed come loose from Recyclopse at some point. Rob Knight also recollects that after the final decision had been made, the audience was heard to chant "Rematch" in the full, unedited footage of the fight itself.[11]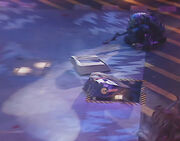 Mortis' opportunity to achieve vengeance came in the Series 2 Grudge Matches special, where it fought a Judgement Day battle against Recyclopse's successor, Cassius. Despite having one of its tracks damaged, it won the battle after Cassius accidentally drove itself into the pit. Although Random Violence Technologies requested another rematch, the result stood, with both teams equalising their grudge with one victory apiece.
With Rex Garrod retiring immediately after Series 3, the grudge between Mortis and Garrod's robots was never continued. Beyond their appearances on Robot Wars, Random Violence Technologies became good friends with Garrod when they both resided in Cambridgeshire.[12]
Qualification
[
]
Mortis attended the First Wars auditions with other fellow Series 1 competiors, four weeks prior to filming. It arrived in an unfinished state, lacking armour, weapons and parts of the chassis, however the tracks, internals and some of the chassis was completed.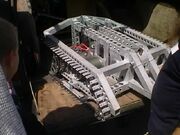 Mortis attended the Series 2 rehearsals, despite being seeded second for the series. Mortis was completely armourless but were impressive with their newly designed chassis and new axe. It was successful in qualifying.
Robot History
[
]
Series 1
[
]
Mortis made its Robot Wars debut in Heat B of the First Wars, and was the fifth robot in that heat to make its Gauntlet run.
"Very hard, very fast, very confident!"
— Jonathan Pearce as Mortis begins its Gauntlet run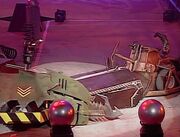 It immediately sped off the turntable, past Shunt and through the skittles as it chose the right-hand lane, only to bump into the railings. Mortis recovered to ram into Sergeant Bash, although the impact turned it sideways and appeared to damage its steering. It attempted to push Sergeant Bash away, but was unable to, and was soon blocked, axed and dragged back by Shunt.
"…and [Shunt's] axe goes in... and the axe, has trapped Mortis...."
— Jonathan Pearce as the House Robots attack Mortis
As Rob Knight looked on in dismay, Matilda and Sergeant Bash took turns to block Mortis' way, with Shunt's axe still holding onto it and Sergeant Bash shooting flames in its direction. Knight yelled at the House Roboteers to let Mortis go, but this was to no avail, as time ran out shortly afterwards.
"We're not going to let you go anywhere... we don't have to!"
— Jonathan Pearce responds to Rob Knight's yelling
Amidst an unfavourable reaction from the audience and comments from Jeremy Clarkson regarding Arthur Chilcott's beard, Mortis reached a distance of 7.40 metres, enough for it to share joint-third place on the leaderboard with Scrapper and to qualify for the Trial stage.
Philippa Forrester: "How seriously are you guys taking this?"
Rob Knight: "Err... probably a bit too seriously!"
Philippa Forrester: "A bit too seriously? Describe what you've done to this robot."
Rob Knight: "Erm, I think everything...."
Philippa Forrester: "Do you think you can win?"
Rob Knight: "I think we may have a chance, yeah."
— Rob Knight expresses confidence to Philippa Forrester about Mortis' championship chances
Mortis advanced to the Trial stage, where it entered British Bulldog, alongside Recyclopse, Scrapper, Leighbot and Detonator.
Mortis raced off the start line, overtaking Recyclopse, Scrapper and Leighbot almost immediately before stopping short of the spiked pyramids. It turned round to drive in between two of the pyramids, before passing Sergeant Bash and Matilda to reach the end zone within an exceptionally quick run.
"Oh, what a run-through by Mortis! And the boys from Jesus College, Cambridge are there already - that was stunning!"
— Jonathan Pearce as Mortis completes its British Bulldog run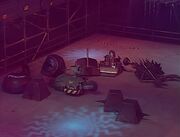 Even after finishing the course, Mortis proceeded to attack Shunt and Matilda, ramming the latter towards the railings. After a nudge from Matilda, it sat in the end zone with its axe partially raised, before approaching Matilda again. It proceeded to push and bump her onto Recyclopse numerous times, enabling the latter to throw the House Robot over with its flipper despite having lost a drive chain. Mortis was then attacked by Shunt, before being pinned between the latter and Dead Metal. 'Cease' was called, and even with Detonator failing to start at all, Mortis comfortably qualified for the Arena stage with a first-place finish.
Philippa Forrester: "I've heard a vicious rumour that says you think no one can beat you."
Rob Knight: "That is just so untrue. I reckon if twelve of them got together at once, we'd have a good chance!"
— Rob Knight jokes about Mortis' perceived invincibility
In its Semi-Final, Mortis faced Leighbot. During an interview shown on the First Great War video, Rob Knight revealed to Philippa Forrester that one of the welds in its axe motor had cracked, resulting in Random Violence Technologies having to re-weld the motor before the battle.
"So the quiet confidence seems to have disappeared from the Cambridge team!"
— Philippa Forrester upon being informed of Mortis' weapon issues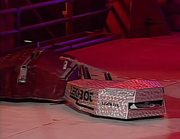 With these issues resolved, Mortis started tentatively, creeping across the arena before bumping into Leighbot's side. Despite Leighbot thrusting its own arm out, it turned slowly round, got underneath Leighbot, and began denting the latter's top armour several times with its axe.
"Oh, that's not too much of a weapon, is it really... oh, and that is! Look at that Japanese blade, thrusting down! Leighbot?! Pepper pot! You could pour pepper out of that Leighbot machine now! Look at the holes!"
— Jonathan Pearce compares the two competitors' weapons as Mortis uses its tantō blade for the first time
Mortis momentarily backed away, before pushing and axing Leighbot again simultaneously. It then retreated across the arena towards Matilda's CPZ, turned, and pierced through Leighbot's top armour again before backing fully into the CPZ. Mortis recovered to ram Leighbot again, this time getting underneath and turning it over onto a grille. With this, it emerged victorious, although Rob Knight admitted afterwards that he was surprised by the lack of power in the tantō weapon.
Philippa Forrester: "Guys, what has happened to Mortis?"
Arthur Chilcott: "We've broken the main shaft that drives our axe, so we no longer have our main weapon. We're going to actually try and modify the vehicle so we can use it as a battering ram instead. We don't know how successful it's going to be. It's just a case of 'suck it and see', basically."
— Mortis' weapon issues worsen
Prior to its Heat Final, against Recyclopse, Random Violence Technologies discovered that the main driveshaft for Mortis' axe had broken, so they sealed its axe shaft and repurposed its axe head as a ramming blade before entering the arena.
"If [Recyclopse] gets underneath us, we're dead, because it'll flick us in the air, but impact-wise... I reckon we're okay... because the armour... is bulletproof."
— Rob Knight assesses Mortis' straights and weaknesses against Recyclopse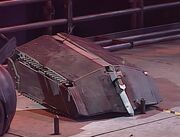 With Chris Sorsby at the controls, Mortis initially drove towards Recyclopse at the start, before suddenly turning to the right and stopping. It backed away towards a grille, avoiding Recyclopse's charge, but drove into Shunt before reversing into Recyclopse's side. Mortis drove away, then hesitated, before driving towards the edge of Matilda's CPZ, backing away from Recyclopse and spinning around. As Matilda attacked Recyclopse, Mortis darted back through the CPZ onto the arena spikes, exposing itself to a side-on attack from Matilda as the spikes lifted it off the floor.
"...and that's poor driving, and is poor steering, and that will count against the boys from Cambridge!"
— Jonathan Pearce as Mortis drives itself onto the arena spikes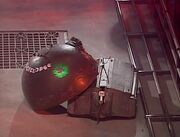 Mortis sustained light scratches as Matilda's chainsaw tried to damage its armour, with Recyclopse also coming into the CPZ to free it from the spikes. It finally drove away from the CPZ as the spikes retracted, and rammed into Recyclopse again, pushing Recyclopse over a grille in the process. The two robots locked together as a result, before separating and driving head-on into each other. Mortis backed away before getting underneath and pushing Recyclopse again, this time towards the side bars on the right-hand side. However, in an attempt to force Recyclopse onto the bars, Mortis drove itself onto them, damaging its right-hand track and immobilising itself in the process. With both competitors unable to separate themselves, Shunt pushed Mortis further onto the side bars, and tapped its armour with his axe while Recyclopse attempted to drive off.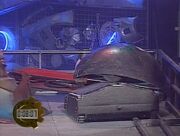 "What a baffling finish... and it goes to the Judges!"
— Jonathan Pearce at the end of the Heat Final
'Cease' was called, and the battle ended in the very first Judges' decision. The decision went in favour of Recyclopse, an outcome which Random Violence Technologies vocally disagreed with (see Rivalries). Needless to say, Mortis was eliminated from the First Wars, although it would later receive the inaugural 'Best Engineered Robot' award at the end of the series.
Series 2
[
]
A redesigned and upgraded Mortis returned for the Second Wars, seeded second in spite of being defeated in the heats in the previous series. Competing in Heat C, it was the second robot in that heat to attempt The Gauntlet.
"My tip for Mortis… use that blade on Arthur Chilcott's beard. Get a shave!"
— Jonathan Pearce jokes about Arthur Chilcott's beard as Mortis begins its first Series 2 Gauntlet run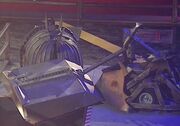 Mortis began its run by ploughing straight through the wall of bricks at the start of the centre route. Mortis used its axe to thrust one of the bricks away as it steadily drove up the see-saw ramp, although it eventually stopped and backed away due to the weight of the other bricks. Retracting its axe, Mortis charged up the ramp a second time, pushing the fallen bricks and clearing the ramp before ramming into Matilda. Matilda pinned Mortis against Sergeant Bash, but Mortis retaliated by axing her bodyshell several times, and with Matilda stuck on a brick, eventually passed her to reach the end zone after axing her tusks.
"He's over the finishing line. Now this is... an arrogance of power, taking on the House Robots, and they don't like it!"
— Jonathan Pearce as Mortis attacks – and is pitted by – Shunt and Matilda
However, Mortis proceeded to attack Shunt, getting its axe caught behind his bulldozer blade as he and Matilda nudged it over the edge of a nearby pit. After several seconds, both House Robots forced Mortis in, although this did not affect its Gauntlet performance as it had already completed the course. Its run was good enough for it to finish second on the results table, and to qualify for the Trial stage once again.
"We've proved that we've got a really destructive weapon here, I think it's the most awesome weapon on this site. I don't believe that anybody else has got anything this spectacular as this to look at."
— Arthur Chilcott touts the revised Mortis' axe following its attacks on the House Robots
For the Trial, Mortis competed in Joust, putting it head-to-head against Matilda on a long stretch of arena floor.
Mortis was the second robot to compete, and began by driving straight up the entrance ramp and ramming Matilda head-on. Matilda lifted Mortis up with her tusks, but Mortis shook itself using its axe, and the two robots proceeded to push each other around in circles on the platform.
"This is good work by Mortis; dancing and waltzing with Matilda!"
— Jonathan Pearce as Mortis jostles with Matilda in Joust
With both of its tracks still maintaining contact with the platform, Mortis survived until time ran out, achieving a distance of 6.1m and coming close to pushing Matilda off completely at one point. As a result of this performance, it finished the Trial first on the leaderboard, and qualified for the Arena stage.
In its Semi-Final, Mortis fought Rameses II, the successor to Skarab in its first combat battle of the series.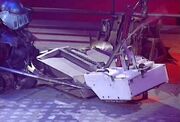 In the opening seconds, it drove steadily up to the sluggish Rameses II and axed its weapon mechanism a few times, all while being pushed back into the PPZ by Rameses II. Mortis withstood a few axe blows from Shunt before being trapped between the arms of Sir Killalot, but held Rameses II with its axe as the latter was being bounced by an arena spike. All four robots separated, with Mortis driving away and turning round as the House Robots ganged up on Rameses II. Rameses II was picked up, held over the Flame Pit and turned on its side by Sir Killalot after losing mobility, resulting in Mortis being declared the winner despite suffering from radio interference issues.
Craig Charles: "One more fight, and you're through to the Series Semi-Finals. You feeling confident?"
Rob Knight: "Err, we'd be more confident, but something's going wrong with the drive, so... it's getting really bad interference."
— Rob Knight reveals Mortis' radio issues in the post-battle interview
The Heat Final saw Mortis face newcomer Oblivion, a machine from Team Trinity. Prior to the battle, Arthur Chilcott provided Suren Balendran with extra titanium panels to protect the internals of his opposing team's robot; however, the televised episode did not acknowledge his role while Team Trinity were shown to be in the process of fitting those onto Oblivion's chassis.[13]
It darted from its starting position at the start, before hesitating as it lined up an attack on Oblivion. Mortis thrust its axe down on Oblivion's armour several times as soon as the latter drove into range, leaving a few dents before the two robots backed away from each other. As Oblivion attempted to turn away, Mortis briefly pushed it around from the side, eventually axing its top armour and wedge several more times while leaving holes in both.
"Certainly, the Cambridge University students have the upper hand with the weaponry. Perfection, perforation... oof, look at that! It's like a sieve!"
— Jonathan Pearce, observing the damage Mortis inflicts on Oblivion
One strike allowed Mortis to hold Oblivion by its left-rear, enabling it to push the latter across the arena. It then pushed Oblivion slowly from the rear and towards the pit, but backed away before axing Oblivion a few more times, even as Oblivion pushed it towards the PPZ and into Dead Metal's pincers. Both competitors survived the full duration even as they were attacked by Dead Metal and Matilda in the closing seconds; however, no Judges' decision was announced. Instead, Mortis was instantly declared the winner, putting it through to the Semi-Finals for the first – and only – time.
Philippa Forrester: "Who are you going to go for?"
Rob Knight: "Don't really think it's our choice, is it? We just kinda get who we get... we're gonna be through the middle as fast as we can."
Philippa Forrester: "Through the middle?"
Rob Knight: "Yeah... might have a go at that JCB digger."
— Rob Knight discusses tactics for the Semi-Final Gauntlet course
In Semi-Final 1, Mortis was the third robot to attempt the revised Gauntlet course. Before it began (as shown in Robot Wars Revealed, Episode 13), it was fitted with new rubber tracks made by Arthur Chilcott, as the original metal ones were deemed unsuitable to drive across the newly-repainted arena floor.
"Oh-ho, magnificent stuff! Evel Knievel!"
— Jonathan Pearce as Mortis tumbles off the ramp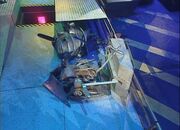 As in its heat, it chose the centre route, driving around the floor spikes to make a run up the see-saw ramp. Mortis sped up the ramp, off the edge and onto the railings, crashing back down onto the floor upside-down. Shunt and Matilda pinned Mortis against the railings as it tried to self-right using its axe, but Mortis succeeded in thrusting itself onto its side against the railings. After sustaining a few axe blows from Shunt, Mortis was dragged across the floor by the latter, and was eventually nudged back onto its tracks by Matilda as it attempted to axe Shunt's scoop. Once freed, Mortis turned and reversed into the end zone, before attacking Matilda and damaging her on-board camera with its axe. This run was sufficient for Mortis to finish third overall in the results table, and to qualify for the Pinball Trial.
There, Mortis was the fourth robot to begin the Trial. However, its initial run – shown as a recap in the Grudge Matches episode – was cut short when one of its tracks was damaged by an arena spike within seconds of starting. Immobilised on one side, Mortis was unable to score any points as a result, and would have been eliminated under normal circumstances. However, the producers decided to let it have a second run, despite Rob Knight's objections (see Controversy).
"They won't score points by hitting the see-saw with that blade... what are they doing here? They've not got enough points on the board..."
— Jonathan Pearce, bemused by Mortis' tentative Pinball start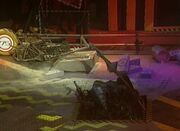 With Ben Impey taking over the controls from Knight, Mortis began its second Pinball run tentatively, passing the ramrigs before axing the see-saw ramp and attempting to drive up it. It was soon pinned against one of the ramrigs by Sir Killalot, before bumping into the sphere and driving straight into Dead Metal's pincers. Mortis attempted to axe Dead Metal, but was lifted by Sir Killalot's lance, before finally scoring points through knocking down some bricks and barrels. After this, it drove into the railings, allowing Dead Metal to momentarily grasp it before Mortis axed him in return. Just before 'cease' was called, Sir Killalot reversed himself into a nearby pit, and Mortis ended its run with a score of 75 points. However, its score was listed as 100 points on the leaderboard, putting it third overall and allowing it to progress to the Arena stage.
In its Semi-Final battle, Mortis faced newcomer Panic Attack, for a chance to progress to the Grand Final. However, the team were still in poor spirits following the controversy of the Trial stage, and Ben Impey remained in control of Mortis.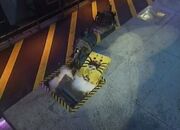 The battle started with both robots driving into each other and Mortis axing Panic Attack's top armour once. Mortis hesitated to attack any further following this, missing Panic Attack with its axe and electing not to pursue it around the arena. In doing so, it allowed Panic Attack to push it sideways towards the PPZ, which Mortis deliberately drove itself into seconds later. Mortis spun round, and was quickly rammed and pushed into the other side of the PPZ by Panic Attack; seconds later, the latter pitted Mortis with assistance from Matilda, while Random Violence Technologies nonchalantly watched on.
"Almost flipped – oh goodness me, what a surprise! Mortis has gone out! That's a huge shock!"
— Jonathan Pearce as Mortis is pitted by Panic Attack
As a result, Mortis was eliminated from the main competition of the Second Wars. However, it would make two more appearances during the end-of-series Grudge Matches special, fighting in both of the special's Judgement Day battles. The first saw it fight eventual Second Wars runner-up, Cassius, in a rematch of their controversial Series 1 encounter.
"Well, they've had to wait for it, but now's [their] chance."
— Jonathan Pearce as Mortis' first grudge match beckons
At the start, Mortis sped towards and away from Cassius, causing the latter to drive into Dead Metal. It capitalised on Cassius' mistake by getting underneath it, although without turning the latter over or using its axe effectively. After Cassius drove away, Mortis approached and pierced its top panel with an axe blow, although it was unable to strike Cassius again as the latter backed into Sergeant Bash. By this stage, it became apparent that Mortis could not drive in a straight line due to a damaged track, and was eventually left near the pit as Cassius attempted to nudge it in. However, Cassius suddenly sped itself into the pit a few seconds later, and was soon joined by Mortis, which was pushed in by Dead Metal and Sir Killalot. With its right-hand track almost completely dislodged, Mortis shook itself repeatedly with its axe as soon as it was released, only to be partially lifted out of the pit by Cassius. Needless to say, it was declared the winner.
Craig Charles: "...you were like a sitting duck there, weren't you?"
Rob Knight: "We must've got damaged when we went over the spikes."
Craig Charles: "Do you feel a bit vindicated, though, having taken on [Cassius]?"
Rob Knight: "Yeah... technically it means nothing to me. We're gonna fight it out, to the death."
— Rob Knight promises a second grudge match against Rex Garrod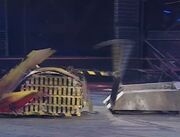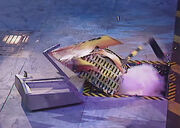 The second Judgement Day battle was fought against Napalm, in response to the latter's elimination from the Semi-Final Pinball stage (see Controversy). Immediately, Mortis drove underneath Napalm before turning round and slamming into its rear. Napalm responded by striking Mortis' armour with its mandibles, but Mortis backed away unscathed, pushing and bumping Napalm again before knocking one of its decorative spikes off with its axe. Mortis then rammed Napalm and axed it a few more times, knocking one of Napalm's top grilles off before the latter attempted to push back. It pushed Napalm one more time before backing away, after which Napalm turned and toppled into the pit.
"And of course, Mortis is the winner – and the roar, the bellicose roar of Rob Knight says "I want some of the House Robots!""
— Jonathan Pearce as Mortis makes yet another attack on Matilda
To celebrate its victory, Mortis charged into Matilda, axing and breaking one of her horns off, before being turned over by Sir Killalot's lance. Matilda lifted Mortis against the railings before dragging it back and turning it over. Mortis lay stranded on its back as Shunt axed and pushed it towards The Sentinel, which used its spiked club to ram Mortis' bottom panel multiple times. Sir Killalot picked Mortis up by its front and carried it over the Flame Pit, but Mortis was still victorious in spite of this. When speaking to Craig Charles afterwards, Rob Knight remarked that he intended to make Mortis' axe powerful enough to self-right in future series.
At the end of the Second Wars, Mortis was nominated for the 'Best Engineered' award – the same accolade it won in the First Wars. However, it lost out in this series to The Mule.
Series 3
[
]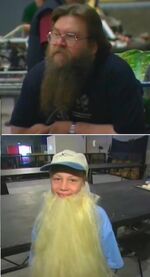 "Back again. The students who fumed when eliminated controversially in the last wars, Mortis has been expensively improved, the three hits-per-second hammer is hellish, and now there's also a lifting arm!"
— Jonathan Pearce introduces an updated Mortis in Series 3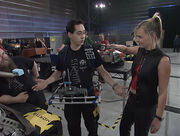 Equipped with a lifting arm in addition to its axe, and sporting more modifications and improvements, Mortis returned once again for the Third Wars, competing in Heat F. In its first-round battle, it faced series newcomer Ming; before the battle began, Rob Knight demonstrated his 'Hands-Free Operating System' to Philippa Forrester. Meanwhile, Andrew and Alexander Cotterell of Team Ming parodied Random Violence Technologies by wearing a replica of Knight's invention and a long white beard respectively; the latter imitating Arthur Chilcott's own.
"Mortis, confident, sure. Rob Knight is a gizmo king, playing with his joystick..."
— Jonathan Pearce prior to Mortis' battle against Ming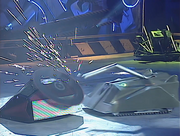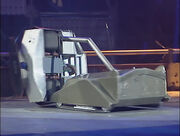 Amidst good-natured booing from the audience, Mortis began by driving into Ming and axing it once; it then attempted to lift Ming with its arm, but missed, eventually thrusting it down onto Ming's spinning blade. This initial attack appeared to immobilise Ming almost immediately, with Mortis giving the latter a nudge before turning it over using its lifting arm.
"Mortis, ready to come in on the attack and lifting, lifting Ming and down – ooh, the blade's gone! The blade's flown - there it goes... the hopes of Ming, shredded!"
— Jonathan Pearce as Mortis turns Ming over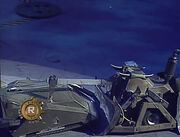 As it did so, Mortis caused Ming's blade to detach, where the blade hit the floor, rolled into the wall and flew across the arena. With Ming left upside-down on the spikes and unable to self-right, Mortis proceeded to attack Matilda, only to be caught by Dead Metal and pinned between him and Shunt. The two House Robots pushed and dragged Mortis across the arena, with Shunt repeatedly hitting Mortis' armour with his diamond-edged axe before lifting and turning it on its back.
"The audience want the end of Mortis... the audience loving this, the Pits loving this, and-and-and... I'm loving it too, Mortis, to be honest!"
— Jonathan Pearce as Mortis is attacked by the House Robots
Mortis re-righted itself using its lifting arm, before bumping into Shunt and attempting to axe Dead Metal. However, it was soon pushed and steered into the pit by both House Robots, although Mortis was still declared the winner anyway, to more boos and jeers from the audience and within the Pits.
In the second round, Mortis faced another newcomer in Gravedigger.
"Rising towards 'Bot-halla', robot heavens, Mortis and Gravedigger... come to duel."
— Jonathan Pearce prior to the start of Mortis' Round 2 battle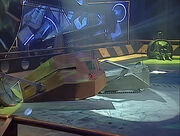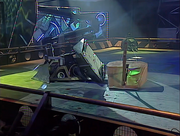 It immediately rammed into Gravedigger's side, axing its top armour three times before both competitors separated. Mortis continued pursuing Gravedigger around before bumping it towards Shunt and lifting it as the latter damaged Gravedigger's wedge. It pushed Gravedigger fully into the CPZ, allowing Shunt to cause more damage to its opponent, but was attacked by Shunt itself, and lifted by both his scoop and one of the arena spikes. This allowed Gravedigger to drive underneath and flip Mortis onto Shunt's scoop, before Mortis was pushed back upright by Shunt, and slowly pushed across the arena by Gravedigger. Mortis attempted to make a lunge at Gravedigger, but its right-hand track stopped working as it did so, leaving it driving around in circles while piercing a hole through Gravedigger's wedge with its axe.
"...again, slicing through that shell of Gravedigger. Almost as if it was paper, but – there's trouble here, with the Mortis team! Their right track has gone, look!"
— Jonathan Pearce spots Mortis' disabled track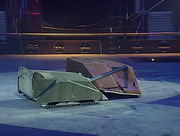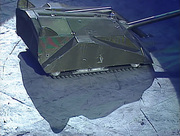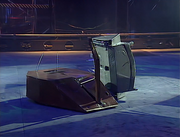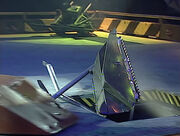 Unable to drive in a straight line, Mortis lifted its arm and fired its axe numerous times, before being tipped onto its side and back after two successive attacks from Gravedigger. While trying to self-right, it was pushed towards the edge of the pit by Gravedigger and levered itself in, to the delight of Arthur Chilcott.
"Mortis has a srimech. They can self-right themselves, BUT THEY'RE DANGEROUSLY TOWARDS THE PIT - AND MORTIS HAVE GONE!"
— Jonathan Pearce as Mortis self-rights into the pit following a nudge from Gravedigger
This resulted in Mortis being eliminated from the Third Wars, in what would be its shortest UK Championship run.
Mortis also entered the Pinball competition, and was the last competitor in the Third Wars to attempt its run.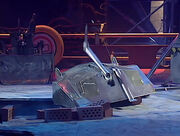 It immediately turned towards and drove around the right-hand stack of barrels, but slowly knocked the barrels down while Sir Killalot knocked the sphere into the nearby pit. Mortis manoeuvred around the empty CPZ to avoid Sir Killalot, before hitting and axing the multi-ball release. It drove away from an approaching Sir Killalot before knocking a few bricks down and ploughing through the other stack of barrels. Turning round and avoiding the floor spikes, Mortis then attempted to drive up the see-saw ramp, but turned left and fell off before it could complete the ramp.
"Taking on Killalot, that won't score you anything..."
— Jonathan Pearce as Mortis attempts to attack Sir Killalot during its Series 3 Pinball run
It attempted to attack Sir Killalot, but failed, and made a second attempt up the ramp, only to abort after getting stuck on the edge. Mortis backed into a CPZ, before slaloming its way across the arena, through the rest of the brick wall, and towards the car doors. However, its left-hand track caught the edge of the pit as it did so, leaving Mortis unable to drive forwards properly.
"...but if they back too far in – ooh, they nearly went into the pit! They've got themselves between a rock and a hard place, here... Rob's got himself into a real pickle here!"
— Jonathan Pearce as Mortis gets itself stuck on the edge of the pit
Despite using its axe to free itself, Mortis got its other track stuck on the edge as it turned round, and with a brick wedged underneath it, it went no further. Time ran out, with Mortis scoring only 60 points by the end of its run, and finishing joint eighth in the Pinball standings with Killerhurtz.
The First World Championship
[
]
Mortis would also appear in two international events filmed alongside the Third Wars, representing England in both. In The First World Championship, it fought the Australian entry, Terror Australis in the first round.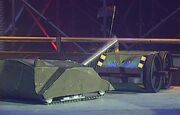 In the opening seconds, Mortis drove straight towards Terror Australis, which was unable to move at all due to an alleged clutch failure, getting underneath, but initial struggling to aim its axe properly. Eventually, it hit Terror Australis' front and top panels a few times, leaving two holes in between the latter's 'eyes'. Mortis got underneath Terror Australis again and lifted it, hooking its lifting arm through the gap in the Australian machine's front and tearing one of its front plates out of shape. It then pushed Terror Australis across the arena onto a grate with its axe, before spinning around in victory after 'cease' had been called.
In the Quarter-Finals, Mortis faced fellow English representative, Behemoth.
"The Mortis boys look confident, ... Mortis against Behemoth, an all-English affair."
— Jonathan Pearce just before the battle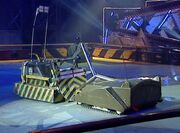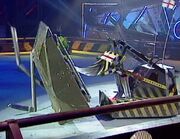 It immediately drove around and onto the lip of Behemoth's scoop, before dodging a flip and axing Behemoth's top. In response, Behemoth lifted Mortis off the floor, eventually turning it on its back and despite its attempts to self-right, Mortis was pushed across the arena largely upside-down.
"They look so cool!"
— Jonathan Pearce note's the Mortis teams nonchalance as Behemoth pushes the upturned Mortis
It was eventually manoeuvred towards the pit, and was pushed in by Behemoth as it tried to right itself using its lifting arm. With this, Mortis was eliminated from The First World Championship.
"What a surprise! Behemoth through, and the Mortis confidence misplaced!"
— Jonathan Pearce
The Ashes
[
]
Mortis' last appearance in this series came in the International League Championship, where it fought in a one-off Ashes battle against Terror Australis, this time adopting the guise of Nemesis, after Team Nemesis loaned their old machine to the Australian team.
"On paper, England should win the battle of The Ashes... but one never knows..."
— Jonathan Pearce as Mortis' second encounter with Terror Australis begins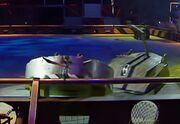 Immediately, Mortis approached Terror Australis, driving around it constantly while being held away by the latter's claws and spikes. The two robots nudged each other a few more times as Mortis missed Terror Australis with its axe, before pushing the Australian representative back. It then got underneath, lifted and pushed Terror Australis into the wall, before carrying and pushing it across the arena, beside a flamethrower and into Shunt's CPZ.
"...and at the moment, this is a good attack by Mortis of England, and The Ashes... are coming to English shores!"
— Jonathan Pearce as Mortis carries Terror Australis into Shunt's CPZ
Mortis held Terror Australis aloft with its arm as Shunt axed and lifted the latter onto it, before pushing it out of the CPZ and turning it over against the wall. It pushed Terror Australis further up against the railings, before backing away, raising its lifting arm and allowing Shunt and Dead Metal to attack its defeated opponent. Meanwhile, Mortis proceeded to drive into Matilda's CPZ and attack her, before getting underneath and attempting to turn Shunt over while Terror Australis was placed onto – and thrown by – the Floor Flipper. After both robots remained wedged against each other, Mortis was eventually separated, and declared the winner of The Ashes.
"The Ashes for England – I waited nearly all my life to say that. Wonderful... it's come in Robot Wars!"
— Jonathan Pearce as Mortis emerges victorious
Tag Team (Cancelled)
[
]
Arthur Chilcott confirmed via an archived Tinweb forum post that Mortis was due to compete in the show's first attempt at a Tag Team tournament, announcing Killerhurtz as its partner.[14] Confusion relating to how many robots made up a team for the event initially led Chilcott to believe they would form a three-way team which also involved Razer, however he later retracted that thought after receiving clarity on the event's rules. Regardless, the tournament was ultimately cancelled due to a behind-the-scenes accident.
Series 4
[
]
"Ever present through Robot Wars history, Mortis... is this their year?"
— Jonathan Pearce prior to the start of Mortis' Series 4 run
Seeded twenty-third, Mortis returned once again for the Fourth Wars, competing in Heat D. In its first-round battle, it fought series newcomers Iron-Awe and Mazakari.
"Mortis is now on Iron-Awe; could be the battle of the axes, and we're not talking about air guitar..."
— Stefan Frank during Mortis' first attacks on Iron-Awe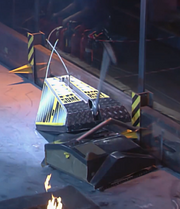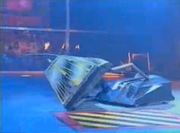 Immediately, Mortis drove under and pushed Mazakari into Sgt. Bash, leaving it with the House Robot as it proceeded to axe, lift and push Iron-Awe into the wall. It raised its lifting arm before turning Mazakari over, and withstood a side-on attack from Mazakari's disc. Again, Mortis got underneath and lifted Mazakari onto its side, but without turning it over, before withstanding a few axe blows from Iron-Awe. It responded to Iron-Awe's attacks by lifting it, before pushing the Somerset machine into Dead Metal's pincers. Mortis resumed its attacks on Mazakari, pushing it across the arena and into Dead Metal. The three competitors converged in the centre of the arena as Mortis lifted and withstood another attack from Iron-Awe, before lifting Mazakari again and carrying it around in circles towards Iron-Awe. In the process, Mortis' lifting arm became wedged through a gap in Mazakari's chassis, leaving both competitors stuck together as Mortis carried the latter close to a flame jet and into Sir Killalot twice.
"Mortis, underneath Mazakari once again... takes a grappling hold, turning and twisting..."
— Jonathan Pearce as Mortis and Mazakari become locked together
Neither Sir Killalot nor Refbot could separate the pair, with all three competitors meeting each other again near the closed pit. As Iron-Awe sat immobile, Mortis proceeded to hold Mazakari over a flame jet before Dead Metal left his CPZ attack the latter. With this, it carried Mazakari into Shunt's CPZ, and was lifted off the arena floor as Shunt axed Mazakari's top armour and dragged both robots back. Eventually, Shunt let go, but Mortis and Mazakari remained locked together until the very end. In the closing seconds, Mortis attempted to raise its lifting arm, but was dragged onto its side as Sgt. Bash grabbed and shot flames at Mazakari. 'Cease' was called, and the battle went to a Judges' decision in spite of Iron-Awe's prolonged immobilisation. The decision ruled that Mortis and Iron-Awe would be the two competitors to progress.
In the second round, Mortis faced former Series 3 Pinball competitor Crusader 2. Before the battle began, Rob Knight again demonstrated his 'Hands-Free Operating System' to Julia Reed, while also revealing that Mortis' axe was still not functioning as well as the team had intended.
Julia Reed: "How's your axe holding up?"
Rob Knight: "Well, it wasn't working properly in the last one. It's been working for months... and it's just started blowing up today."
— Rob Knight reveals new reliability issues with Mortis' axe
With its weapon issues rectified, Mortis began by dodging and driving into the front of Crusader 2, only to get itself lifted and pushed back by Crusader 2. It briefly pushed Crusader 2 sideways, before eventually bumping and getting underneath it as the two competitors drove alongside the wall. Mortis pursued Crusader 2 after the latter drove off its front and both robots pushed alongside each other, before firing its axe several times and piercing a hole through Crusader 2's top armour.
"...the axe is certainly working there, now they can drag Crusader... wither they want!"
— Jonathan Pearce as Mortis axes Crusader 2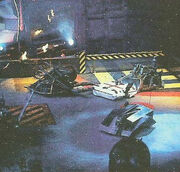 With this, it pushed and dragged Crusader 2 round in circles using the axe, while simultaneously being lifted by Crusader 2's lifter. Mortis responded by pushing Crusader 2 towards Shunt, who axed Crusader 2's top panel. With its opponent now immobilised on one side, Mortis got underneath Crusader 2 and pinned it against the entry gate, bending and tearing a strip of metal off the latter's underside in the process. It waited in the centre of the arena as Crusader 2 sustained more damage from Shunt, before ramming Crusader 2 once more and lifting it against a wall spike after the latter was attacked by the other House Robots.
Mortis progressed to the Heat Final, where it faced the seventh seed – and previous series Grand Finalist – Steg 2. Rob Knight revealed to Julia Reed before the battle that its axe broke during its previous battle, although it was modified and repaired in time to fight.
"Which is the fitter robot here, to survive the Heat Final?"
— Jonathan Pearce as Mortis' Heat Final against Steg 2 begins
Straight away, Mortis charged into the side of Steg 2, bumping it a few times before pushing it towards Dead Metal's CPZ. It dodged the flame jet before driving into Steg 2's front end and pushing it back a second time into the wall. As it did so, Steg 2 fired its flipper, allowing Mortis to get underneath and lift it against the wall before the two competitors separated. However, as it dodged Sir Killalot and pushed Steg 2 towards the flame jet, it became clear that Mortis' lifting arm had jammed open.
"Now the Mortis lifting arm is raised on high, and could well be jammed up there! We haven't seen the axe, either. Mortis has no weapons, it seems…"
— Jonathan Pearce spots Mortis' weapon malfunction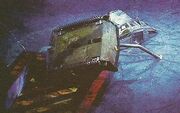 Mortis backed away from Steg 2 and slowly fired its axe, before approaching Steg 2 again and hitting the end of the latter's flipper with it. While attempting to lower its arm, it drove into Steg 2's front again with the axe in the fired position, which allowed Steg 2 to push back, get underneath and flip Mortis completely over. Mortis tried to self-right using its arm and axe, but was unable to, and was eventually left upside-down with its arm stuck open as before. It was eventually pushed towards – and into – the pit by Steg 2, and eliminated from the Fourth Wars in what would be its final main series appearance.
"And Mortis, once again... have bitten off more than they can chew here... in the pit say the audience. I will give them immense credit – Rob Knight, Arthur Chilcott, Paul Ford, the new boy – for coming back again. Robot Wars ever-presents... and they deserve our applause for that. But it's gonna be more disappointment... for the Nottinghamshire and Cambridge team. Not a lot to talk about... for Mortis! Steg 2 have won the heat!"
— Jonathan Pearce as Mortis is pitted by Steg 2
Mortis also made one final appearance in the Fourth Wars as part of the War of Independence, as one of four robots representing the United Kingdom. In its first-round battle, it fought American representative Ghetto-bot.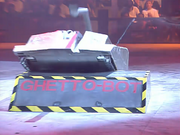 Mortis drove up the Ghetto-bot's front wedge in the opening seconds. Mortis drove off and turned round to attack Ghetto-bot, but struggled to aim its axe until it began punching holes through Ghetto-bot's top.
"Five, six, seven, eight, nine dents; but at the moment, they have yet to puncture Ghetto-bot!"
— Jonathan Pearce as Mortis repeatedly axes Ghetto-bot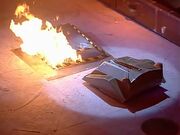 It was pushed back by Ghetto-bot, before pushing the American machine around the arena and towards the Flame Pit. After pushing and leaving Ghetto-bot fully over the Flame Pit, Mortis pushed it into Shunt, before both robots continued to damage Ghetto-bot's bodyshell with assistance from Dead Metal. For the remainder of the battle, Mortis attacked Sir Killalot, repeatedly hitting his head and sides with its axe before 'cease' was finally called.
"...and Mortis takes on Killalot! Well I tell you what, Rob Knight and Arthur Chilcott have always been great sports in Robot Wars, and they want a crack at the House Robots, 'cause they think Ghetto-bot is finished here! They think it's first blood to the Limeys..."
— Jonathan Pearce as Mortis attacks Sir Killalot
In the second round, Mortis fought fellow UK representative Panic Attack, in a rematch of their Series 2 Semi-Final encounter.
At the start, it backed away in an attempt to avoid Panic Attack, and dodged the latter's forks before it could be lifted. Mortis fired its axe several times – although without hitting anything – and dodged another push from Panic Attack before driving up to and hitting its left-hand side several times. Panic Attack lifted Mortis onto its side in response, where Mortis was pushed against the wall by the Series 2 champion. Mortis thrust itself back onto its tracks as Dead Metal grabbed Panic Attack, before bumping, axing and pursuing Panic Attack again. The two robots locked together, with Mortis pushing Panic Attack into Dead Metal and over the Floor Flipper as its axe became embedded in the Welsh competitor's lifting mechanism.
"The axe is... impaled on Panic Attack, right there in the very heart of Panic Attack!"
— Jonathan Pearce as Mortis and Panic Attack are locked together
Once both competitors were separated, Panic Attack got underneath Mortis again, and dragged it across the arena as Mortis remained stuck on its self-righting mechanism. Mortis tried to drive off, but was slammed into the wall and reversed into Sir Killalot, whose jaws clasped, lifted and paraded Mortis in the air. Mortis was eventually let go, landing with a thump and driving up Panic Attack's forks again. It was slammed into the wall again by Panic Attack, before driving up its forks once more.
"Don't panic! Don't panic, Mr Mortis!"
— A Dad's Army reference from Jonathan Pearce as Mortis and Panic Attack clash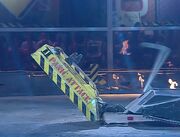 As this happened, Mortis repeatedly fired its axe, hitting Panic Attack's forks, srimech and front armour while simultaneously knocking the latter's red light off. It continued axing Panic Attack's linear actuators as it was being pushed into the wall again, before being lifted up and in turn lifting Panic Attack with its arm just before 'cease' was called. The battle went to an exceptionally close Judges' decision, which Mortis won by just one point, to a mixed response from the audience.
"What you see is edited, it was actually two fights, the judges gave it too [sic] us but production wanted PA. The judges argued with production so we went again, I still have the lifter actuator from PA that we destroyed."
— Arthur Chilcott[15]
Unmentioned on the televised broadcast, however, the battle between Mortis and Panic Attack was actually fought twice. Mortis won the Judges' decision in the initial fight, despite the producers' intention for Panic Attack to win. Following an argument between the Judges and the producers, the battle was fought again, with a similar outcome to the first. According to Arthur Chilcott, the televised battle consisted of footage from both battles edited together into one.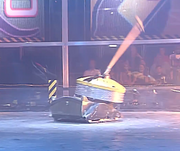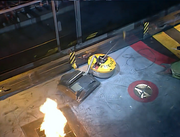 Needless to say, Mortis progressed to the War of Independence final, facing US representative – and seasoned BattleBots competitor – frenZy. It began by immediately driving towards frenZy and pushing it towards the wall, turning the American entry over with its lifting arm. Mortis fired its axe several times at frenZy as the latter self-righted and retaliated with a hammer blow of its own, before using both of its weapons to grab and turn frenZy over again close to Sgt. Bash.
"Look at the axes coming down – ooh, bang, a crash... the more frenzied attack comes from our very own Mortis!"
— Jonathan Pearce as Mortis begins its onslaught on frenZy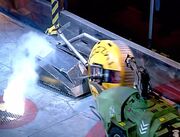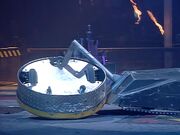 frenZy self-righted again, but Mortis immediately tipped it onto its side using its wedge before being cornered against the wall and axing frenZy's top again. Mortis eventually drove clear as frenZy hit Sgt. Bash with its meat tenderiser, before getting underneath, pinning frenZy against the wall and forcing the latter to throw itself over. After missing with a few more axe blows, Mortis pursued frenZy across the arena, only to repeatedly strike frenZy and push it around again using the axe. It eventually pushed and held frenZy near one of the side flame jets, before dragging and lifting it over once again. With frenZy's hammer disabled due to a broken motor magnet, Mortis repeatedly hammered and dented its base-plate with the tantō blade until Sgt. Bash and Sir Killalot intervened. Mortis was then cornered in a CPZ and attacked by Shunt and Sergeant Bash, but survived, and spun around in victory just after 'cease' was called.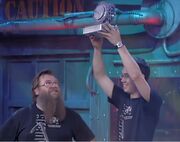 Craig Charles: "Yes! You've won a competition!"
Arthur Chilcott: "After all those years."
Craig Charles: "All those wars... flattered to deceive all the time, the great pretenders to the throne..."
Rob Knight: "It's finally perfected, and it's now retired."
Craig Charles: "...and you've won the War of Independence!"
— Craig Charles and Random Violence Technologies share their delight over Mortis' War of Independence victory
With this, Mortis was declared the War of Independence champion, with Random Violence Technologies revealing in the post-battle interview that it had already been retired prior to competing in the special. As a result, the War of Independence officially proved to be its final televised appearance on Robot Wars.
Results
[
]
MORTIS - RESULTS
Series 1
The First Wars - UK Championship
Heat Final
Heat B, Gauntlet
7.40m (3rd)
Qualified
Heat B, Trial (British Bulldog)
Completed (1st)
Qualified
Heat B, Semi-Final
vs. Leighbot
Won
Heat B, Final
vs. Recyclopse
Lost
Series 2
The Second Wars - UK Championship
2nd Seed, Semi Finals, Arena
Heat C, Gauntlet
Completed (2nd)
Qualified
Heat C, Trial (Joust)
6.1m (1st)
Qualified
Heat C, Semi-Final
vs. Rameses II
Won
Heat C, Final
vs. Oblivion
Won
Semi-Final 1, Gauntlet
Completed (3rd)
Qualified
Semi-Final 1, Trial (Pinball)
100pts (3rd)
Qualified
Semi-Final 1, Arena
vs. Panic Attack
Lost
The Grudge Matches
Judgement Day Battles
Judgement Day
vs. Cassius
Won
Judgement Day 2
vs. Napalm
Won
Series 3
The Third Wars - UK Championship
Heat, Round 2
Heat F, Round 1
vs. Ming
Won
Heat F, Round 2
vs. Gravedigger
Lost
Pinball Competition
Joint Eighth Place (with Killerhurtz)
Pinball
60pts
8th
The First World Championship
Representing UK, Quarter-Finals
Eliminator
vs. Terror Australis (AUS)
Won
Quarter-Final
vs. Behemoth (UK)
Lost
International League Championship
The Ashes, Representing UK
The Ashes
vs. Terror Australis (AUS)
Won
Series 4
The Fourth Wars - UK Championship
23rd Seed, Heat Final
Heat D, Eliminator
vs. Iron-Awe, Mazakari
Qualified
Heat D, Semi-Final
vs. Crusader 2
Won
Heat D, Final
vs. Steg 2 (7)
Lost
War of Independence
Representing UK, Champion
Round 1
vs. Ghetto-bot (USA)
Won
Round 2
vs. Panic Attack (UK)
Won
Final
vs. frenZy (USA)
Won
Wins/Losses
[
]
NOTE: Mortis' successful Gauntlet and Trial runs are not included
Series Record
[
]
Gallery
[
]
Outside Robot Wars
[
]
Mortis was one of several robots which travelled to the USA to enter BattleBots. Fitted with extended front and side skirts concealing its tracks, it first competed at the 1999 Las Vegas event, where it beat Monster and Tazbot to reach the quarter-finals of the heavyweight division, but lost to Voltarc there on a Judges' decision. The latter battle is notable for being one of only two occasions where Mortis self-righted successfully in a televised fight without being pitted, the other being in its Series 3 fight against Ming. Mortis also competed in the heavyweight rumble, which it lost after getting flipped over while its lifting arm jammed open; as with its eventual defeat in Series 4. At the end of the event, Mortis was awarded the 'Most Aggressive Robot' award by the BattleBots organisers, with Random Violence Technologies receiving a GoPed electric scooter as an additional prize.[16]
Sporting a revised paint scheme and decorative armour panels in addition to the skirts, Mortis later returned in Season 2.0, beating Berzerker 2000 by forfeit to reach the round of 16, but losing to Nightmare there. As in the Las Vegas event, Mortis also fought in the Season 2.0 heavyweight rumble; as before, it lost after getting flipped over by BioHazard with its lifting arm jammed open.
Following Mortis' retirement, Random Violence Technologies began building a new version of the robot with a planned entry into Series 5 of Robot Wars. The robot kept a similar shape and axe weapon to the original machine, while also featuring new tracks, a four-bar lifting arm and custom two-speed gearboxes for both the tracks and axe. Built by Arthur Chilcott, the gearboxes would have enabled the robot to reach a top speed of either 5 (first gear) or 30mph (second gear), and the axe to double as a lifter.[17] According to Chilcott, this version of Mortis was also planned to enter a future series of BattleBots as one variant of Maelstrom, with different axe and armour configurations. Random Violence Technologies ultimately did not complete or enter the new machine into any competition, due to various commitments outside of robot combat.[18]
In September 2009, Mortis, stripped of its motors and electronics, was given away to Team Bud, who began work on restoring it, Maelstrom (since renamed Rigormortis) and super heavyweight Minotaur to working condition. Since then, it has changed hands multiple times; at one point being given to John Findlay of Team Roaming Robots, then to Team Make Robotics, who currently own Mortis along with Maelstrom/Rigormortis. Maelstrom/Rigormortis' weapons pod was later reused for Make Robotics' ABC BattleBots entry, Radioactive.[19] Meanwhile, the Best Engineered Award earned by Mortis in Series 1 changed hands to Matthew Pearman.
Appearances in Merchandise
[
]
Trivia
[
]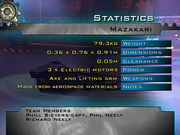 Mortis is one of nine UK Series Competitors to have fought in BattleBots, competing at the 1999 Las Vegas event and in Season 2.0.
Mortis was the first competitor in Robot Wars to feature a removable link, back in Series 1. This safety feature would become mandatory in all competing robots in later series of the show.[20]
Mortis is one of twenty-three robots to have completed The Gauntlet. Along with Dreadnaut, Nemesis and Roadblock, is one of only four robots to have completed it twice.
Mortis was profiled in Robot Wars: The Ultimate Guide, and was one of two robots profiled in said book that did not appear in Series 5 or Extreme 1, the other being Roadblock.
Mortis' depreciation from the second seed in Series 2 to the twenty-third seed in Series 4 was the highest decline in seeding of any robot, not counting robots that lost their seeding entirely.
Mortis was nominated for the 'Best Engineered' award in Series 2 after winning in Series 1, but lost to The Mule. Along with Nemesis and Chaos 2, Mortis is one of only three robots to be nominated for the award it held the previous year, and then not win it.
Mortis was one of four robots to fight in both Series 1 and 4. Coincidentally, the War of Independence marked the final appearance of another Series 1 debutant, Detonator, which first appeared in the same heat as Mortis (Heat B).
Mortis was the only seeded Semi-Finalist of Series 2 not to reach the Grand Final.
Mortis was the first UK robot to attempt to self-right with an axe, which it first tried to do so during its Gauntlet run in the Series 2 Semi-Finals.
Mortis and Plunderbird 1 were the only robots in Series 1 to use tracks as locomotion.

Mortis would later become the first known machine on Robot Wars to use a brushless drive system, the likes of which still remained uncommon even in the reboot, primarily pushed forwards by the likes of Pulsar and Big Nipper in this era.

Mortis was intended to be equipped with a lifting arm for Series 2 in addition to its axe; however the arm mechanism broke days before filming began and so was delayed until Series 3. The lifting arm is visible on Mortis during Arthur Chilcott's talking pieces during The Constructor's Guide, released as part of Robot Wars: The First Great War.
According to Rob Knight, Mortis was originally going to have a faster axe for Series 4, before Random Violence Technologies decided to use the weapon mechanism used in Series 3. The existing mechanism was slightly modified to enable the axe to strike faster.
Mortis and Killertron were the first heat finalists to become semi-finalists in subsequent series.
In its appearances in the main competition, Mortis was always placed in an early heat (Heat B of Series 1, Heat C of Series 2, Heat F of Series 3 and Heat D of Series 4).
In Series 4, a clip was used of Mortis entering the arena spotlight and spinning round before stopping.
Mortis was one of the few robots to only appear in battles where four House Robots were present in the arena.
In the introductions for its first round melee in Series 4, Mazakari, one of Mortis' opponents in the battle, also got credited with Mortis' stats by accident.
Mortis was one of four robots in Series 3 to compete in a trial event as well as the main competition. The others were Evil Weevil, Killerhurtz and Razer.
In 2003, Mortis received an Honorable Mention in The Combat Robot Hall of Fame, in recognition of its durability, versatile weapons and popularity with robot combat fans.[21]
Mortis was originally designed to feature two 'horizontally opposed ice axes' as weapons, but these were replaced with the familiar tantō axe due to weight restrictions.[22]
Following its Series 3 rebuild, Mortis became the first Robot Wars competitor known to have used brushless motors as part of its drive and weapon systems.
Mortis never appeared in a heat that did not feature a semi-finalist from the previous series (not counting its appearance in Heat P of Series 3 where it was in the Pinball).
Mortis is one of only four tracked robots to ever make it past the heats of a domestic championship, the other three being 101, Plunderbird and Slicer.
None of Mortis' defeats on Robot Wars were to a robot that never reached the Semi-Finals of a UK Championship, although all the teams whose robots defeated Mortis would go on to lose in their heat in a subsequent series.
Mortis' loss to Recyclopse in Series 1 was its only Robot Wars loss not to involve a pitting and/or a knockout.
In the odd numbered series of the main competition Mortis lost to a robot with a front hinged flipper /lifter whilst in the even numbered series it lost to a robot with a rear hinged flipper/lifter.
Honours
[
]
References
[
]
External Links
[
]