NAMAZU (styled on the battleboards as N A M A Z U) was a walkerbot that competed in the second series of Dutch Robot Wars, losing in the first round to Blackdevil Warzone. It was built by a group of mechanical designers, three of which were not present at filming.
Design
[
]
"We wanted to make something impressive that was different from the other robots. Something that was a real challenge. We decided to build a walker. Walkers are big, and an appropriate theme would be a huge monster like Leviathan or Kraken."
— Sander Weernink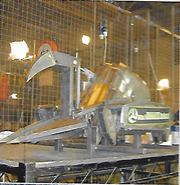 Weighing 175kg, NAMAZU was a domed robot with a wedge at the front, to facilitate the use of its weapon, a vertical crushing arm. It was reasonably fast for a true walkerbot, but its exposed legs proved cumbersome, not only as they were attacked in battle, but also because they dug into the wooden floor.
Etymology
[
]
The robot got its name from Japanese mythology, where a "namazu" is believed to be a giant catfish that lives underground and causes earthquakes. This name proved befitting, as NAMAZU shook the floor panels as it walked. The robot was designed to look like a deep-sea monster. The robot was officially styled as N A M A Z U on all of its battle boards, and its pit bench.
"A search on the Internet gave us the name of Namazu, which is a Japanese deep-sea monster that causes earthquakes. Our robot makes an incredible amount of noise and the arena shakes when it walks so this seems to be very appropriate. It might have been better to use a Dutch name but Namazu sounded cool."
— Sander Weernink
The Team
[
]
NAMAZU was built by a large team consisting of Sander Weernink, Maarten van Raaik, Robert van der Klooster, Berry Meems, Alwin Schulten and Niek Wellink. Of those, Sander, Maarten and Robert competed on the televised team. Team NAMAZU were supported by the University of Twente, the team's local university. The team were also sponsored by RAND Worldwide, CNC Speedform, Pijp-lines Supplies and MME Technology BV.
Prior to building NAMAZU, the group were known as the WildThing team, in reference to a previous combat robot project of theirs (not related to the British robot Wild Thing)[1].
Robot History
[
]
Dutch Series 2
[
]
NAMAZU competed in Heat A, where it was drawn against Team RCC and their robot Blackdevil Warzone.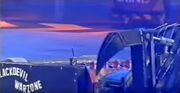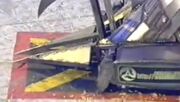 Blackdevil Warzone slammed into NAMAZU with its spinning drum at the start, and also attacked NAMAZU from the side and rear, which did little damage to the walker's armour. NAMAZU became immobilised on one side, the imbalance causing it to shred the arena floor beneath its legs. Because of this lack of mobility, it was counted out by Refbot. Growler seized NAMAZU and held it over the flame pit, before spinning it around and allowing it to be hammered by Mr. Psycho. Growler then dropped NAMAZU into the Pit.
"We have a lot of fun about this. It is madness! You work for a year on a robot and when you get out of the arena after it has been hacked to pieces in five minutes you feel it was worth every second you spent on it. Building and fighting with robots is the best thing I have done in years!"
— Sander Weernink
Results
[
]
Wins/Losses
[
]
Series Record
[
]
Gallery
[
]
Outside Robot Wars
[
]
Around the time of its televised appearance, NAMAZU made demonstrative appearances at the University of Twente[2]. NAMAZU was also represented at The Techni Show TradeFair in Utrecht via a scale model and poster, before the robot had even debuted on television.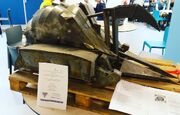 After NAMAZU, the team planned to build another walking robot named TKT (Tamon, Kashima, Taishaku), which was to be a clusterbot of three walking robots. The name was also chosen as it was made in co-operation with TNT (Technology Network Twente). At least one of the robots was to use a flywheel as a weapon, using an original construction. However, it is not known if TKT was completed.
As of September 2018, NAMAZU is still intact, and made an appearance as an exhibition piece at a Dutch event.
Trivia
[
]
NAMAZU was the only robot on the show to separate every letter in its name with a space, excluding names with numbers such as T 2.
The NAMAZU team were the only team in Heat A of Dutch Robot Wars: Series 2 not to appear in another series.
When design work commenced in late 2001, NAMAZU was originally to be called WildThing, however this was scrapped after the team decided it did not suit the robot.[3]

It is possible this decision was also made to prevent confusion between it and the Adams family's creation of the same name, which was already a UK series semi-finalist and had competed in an All-Stars tournament by the time Dutch Robot Wars was filmed.
References
[
]
External links
[
]