"...this one's going to be even harder, because it's Napalm, who - however rubbish they think they are - always seems to manage to get through!"
— Philippa Forrester speaks to the Jurassic Park team ahead of Napalm's Series 3 Heat Final
Napalm (also known as Napalm 2 in Series 5/Extreme 1) was a competitor robot from the Dartford Girls Grammar School, which fought in Series 2-3 and 5 of Robot Wars as well as the first series of Robot Wars Extreme. In its debut series, it reached the Semi-Finals of Series 2 after winning its Heat, but was eliminated in the Pinball Trial under controversial circumstances. Napalm's subsequent appearances in the main series of Robot Wars saw it reach the Heat Final in Series 3, where it lost to Steg-O-Saw-Us on a Judges' decision, and the second round in Series 5, where it lost to Wild Thing.
Napalm was especially notable for its fragile appearance, even from its series debut. This was often acknowledged by David Crosby and his students, who often discussed and joked about their robot's frailty with Robot Wars presenters and other roboteers. Of far greater concern to Crosby was the involvement of his students - Napalm notably became the most famous robot to be driven by women, with team members Clare Greenaway and Victoria Allgood driving the robot for most of its battles. Despite its reputation for being fragile, Napalm achieved a number of combat victories against more potently-armed opponents, partially as a result of its pushing power, front plough and the aggression offered by its rear 'mandible' weapons.
Versions of Napalm
[
]
"A large titanium-hulled, wedgie-thing with vicious snarling fangs... or so they tell me!"
— Jonathan Pearce introduces Napalm 2 in Series 5
While featuring slight differences in between series, all incarnations of Napalm featured essentially the same design – a two-wheeled, 'titanium hull' with a front ramming plough and a rear swinging weapon. The latter weapon featured one or more spiked axe heads (often referred to as 'mandibles', 'spikes' or 'fangs') on the end; while reliable, the weapon had limited damage potential and a flimsy construction, especially in earlier series. This flimsiness was also apparent in Napalm's armour. Made out of mild steel, the armour became notorious for flexing, detaching or hanging loose from the robot during competitions, leading to many comments about the robot's fragility. In Series 3, Daniel Forrester from the Robopig team once described Napalm as 'a pile of junk', a remark which David Crosby humorously agreed with.
Napalm (Series 2-3, Extreme 1)
[
]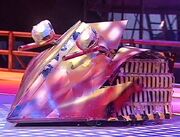 The original version of Napalm featured a tall box, beveled wedge-shaped profile with a red, orange, yellow and white 'flame' colour scheme, and weighed 84.1kg in its Series 2 debut. Its design included two large metal rods with headlight 'eyes' on the top of its plough, itself made from titanium which had been donated to the Dartford Girls Grammar team. Much of the robot's armour assumed the form of grilles, mesh and a hazard sign, all of which proved susceptible to damage throughout its appearances. The original Napalm featured a top speed of 15mph (quoted as 20mph in Robot Wars Extreme: The Official Guide), and was capable of pushing its own weight according to Jonathan Pearce.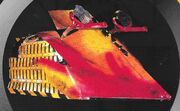 In Series 2, the arms which Napalm's twin 'mandibles' were attached to had a second function. When raised, they were intended to activate a micro-switch for the robot's main weapon - a 16-inch rear chainsaw.
"...the chainsaw was a cheap plastic one and was easily ripped off as it was only cable tied down."
— Oliver Steeples[1]
However, the mountings for the chainsaw proved fragile, resulting in the weapon being broken off by Sir Killalot during Napalm's Gauntlet run. Though the actual chainsaw itself was otherwise undamaged and retained by Dartford Girls Grammar for reuse in later stages,[2] it was never refitted. Thus, Napalm relied on its plough and 'mandibles' as its main arsenal for the remainder of its appearances. While neither weapon was effective for the most part, they gave Napalm the pushing power and aggression required for its successful run in Series 2.
"Napalm have done absolutely no modifications to the robot at all. The dents from the last War, you can still see them... and the scratches, and there's bits hanging off - and they're hoping to win!"
— Philippa Forrester examines Napalm at the start of Series 3, Heat G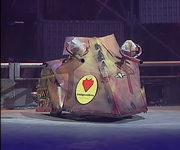 Napalm returned for Series 3 without any significant modifications from the previous series, with the plough and 'mandibles' remaining the robot's main weapons. Still featuring damage sustained in Series 2, and with its paintwork faded, the robot's only additions were sets of stickers stuck to its front and sides - one of which came from the Haardvark team. During its introduction in Series 3, Napalm was revealed to have cost £5000 to build. At 84.1kg in Series 2-3, the original Napalm weighed almost 5kg over the original Heavyweight limit.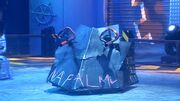 After being replaced for Series 4 by the Dartford Girls Grammar team's next machine, Shadow of Napalm, Napalm returned for the first series of Robot Wars Extreme under two separate incarnations. The original robot – which competed in the Tag Team Terror and Vengeance battles - underwent a rebuild which saw the titanium plough replaced with a reinforced steel one, while the robot itself was repainted black and red. Additionally, the 'mandibles' were replaced with a pair of thinner spikes, painted white with red tips. After getting badly damaged during the Tag Team Terror, Napalm was rebuilt again for its Vengeance battle, with David Crosby revealing to Craig Charles that he bolted the robot together with cable ties and sellotape for improved rigidity.
Napalm 2 (Extreme 1, Series 5)
[
]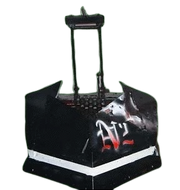 The second version, Napalm 2 (also shortened to N2 on its plough), featured a largely similar shape to the original machine, but with a lower profile, revised armour and a predominantly black and white colour scheme. Its hull was made completely out of titanium, while the robot featured a new axe weapon powered by wheelchair motors. This axe featured two distinctive heads; one with a set of four steel spikes and a decorative skull (Extreme 1), the other with a single spiked head (Series 5). Jonathan Pearce frequently likened the Extreme 1 version of the weapon to a 'garden pitchfork'. Napalm 2's top speed was significantly lower than that of its predecessor; 8mph according to Robot Wars: The Ultimate Guide.
Napalm 2 would compete in the Mayhem and Annihilator competitions of Extreme 1 alongside the original machine, and would replace Shadow of Napalm for Series 5. Maintaining continuity with the original robot, this incarnation was simply referred to as Napalm as well, although its full name appeared in battle and statistics boards during its Series 5 heat.
The Team
[
]
Main article: Dartford Girls Grammar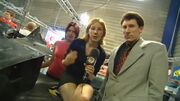 Napalm was entered into Robot Wars by representatives of Dartford Girls Grammar School. The team captain David Crosby was the lead builder of Napalm and its driver in Series 3, and Crosby was a technology teacher at the school. His students included Clare Greenaway, who was the driver of Napalm in Series 2, Victoria Allgood, Rebecca Glenn and Michelle Davey.
Rivalries
[
]
Mortis
[
]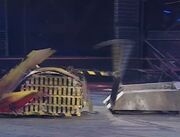 Napalm's most notable rivalry occurred in Series 2, where it held a brief grudge against Mortis following the controversy surrounding its elimination from the Semi-Finals. With Napalm scoring 65 points during its Pinball run, Mortis proceeded to have one of its tracks damaged by an arena spike during its initial run, leaving the latter with no points. Although this would have allowed Napalm to progress to the Arena stage under normal circumstances, the producers gave Mortis a second attempt, despite Rob Knight believing that a re-run would be unfair on the other competitors.[3] Under the controls of Ben Impey, who took over from Knight, Mortis scored 75 points during its re-run, a score listed as 100 points on the results table after the House Robots also knocked down 25 points worth of obstacles. This directly eliminated Napalm from Series 2, with the Dartford Girls Grammar team left visibly distraught by the outcome.
Later on, in the end-of-series special, The Grudge Matches, Napalm and Mortis fought each other in a Judgement Day battle, which was directly motivated by the Pinball controversy. Needless to say, Napalm lost the battle after sustaining damage from Mortis and driving itself into the pit. Clare Greenaway and Rob Knight made up for their teams' grudge by giving each other a 'consolidory kiss' during the post-battle interviews.
Robot History
[
]
Series 2
[
]
Napalm made its Robot Wars debut in Heat A of The Second Wars, where was the first competitor in that series to attempt The Gauntlet.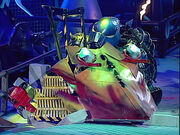 Napalm immediately ploughed through the wall of breezeblocks on the centre route. However, Napalm got stuck on the breezeblocks in the process; with David Crosby attempting to assist Clare Greenaway with the controls, it briefly backed away and moved forward for a run up the see-saw. However, it became beached on the breezeblocks again as Sir Killalot closed in. Sir Killalot lifted and pushed Napalm forwards over the breezeblocks, breaking its chainsaw off and gripping its rear armour in the process.
"Napalm, one of the heavyweight robots – well look at that, a lightweight... in the arms of Sir Killalot! And the chainsaw has come off! That's the weaponry gone! Sixteen inches long it maybe, but it's no opponent for Sir Killalot...."
— Jonathan Pearce as Sir Killalot attacks – and damages – Napalm
Despite Sir Killalot's interference, Napalm reached a distance of 7.5 metres during its run, enough for it to finish fourth overall in the Gauntlet standings and qualify for the Trial stage.
"We're gonna attack the triangle and enter it, knock as many skittles over as possible. Once we're inside that triangle, the House Robots cannot touch us!"
— David Crosby explains the team's tactics for Skittles
The Trial was revealed to be Skittles, where Napalm was once again the first competitor to take part.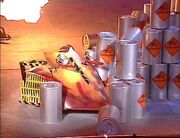 Again, Napalm was the first competitor to attempt the Skittles Trial. In the opening seconds of its run, it darted down the start ramp to brush past the left-hand barrel stacks, although it stopped after trying to turn round the outside of the triangle. Eventually, Napalm reversed, turned and charged through the left-hand stacks, clearing most of the barrels there before driving into the triangle again and getting stuck on a barrel. Napalm fired its 'mandibles' several times as Sergeant Bash and Matilda lingered nearby, but advanced no further before 'cease' was called. By the end of its run, it had knocked nine barrels down, enough for Napalm to finish second on the results table and qualify for the Arena stage.
In its Semi-Final, Napalm faced Panda Monium, in the Dartford Girls Grammar's first combat battle.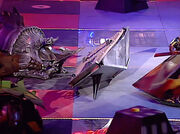 The battle began with both competitors charging towards and dodging each other, with Napalm seemingly slow to turn round as it briefly bumped Panda Monium's side. Sluggishly, it turned round on the fringe of the PPZ, and weathered a side-on ram from Panda Monium as the latter inadvertently drove in itself. With Panda Monium getting turned over by Matilda seconds later, Napalm emerged victorious, despite appearing to have been completely immobilised by its opponent's attack.
Craig Charles: "Are you feeling lucky?"
David Crosby: "We're feeling very lucky!"
— The post-battle interview
Through to the Heat Final, Napalm faced Demolition Demon, for a chance to progress to one of the series Semi-Finals.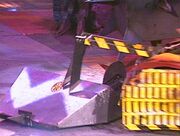 It sped towards and past Demolition Demon at the start, turning round and bumping into the latter's wedge in the process. Using its plough, Napalm got underneath and pushed Demolition Demon across the arena, into the PPZ and over the Flame Pit, before both competitors separated. Napalm weaved across the arena before driving sideways up Demolition Demon's wedge, re-entering the PPZ and allowing itself to be cornered by Shunt and Dead Metal. Despite this, it pushed Dead Metal back, before ramming Matilda and Demolition Demon as it escaped over the Flame Pit.
Napalm attempted to push Demolition Demon again, only to drive itself into the PPZ once more. It turned round, bumped into Demolition Demon, and was lifted a few times by the arena spikes as it drove into and underneath Dead Metal. At the same time, Napalm lifted and thrust its 'mandibles' down on Demolition Demon's shell, scoring two hits before being pushed around the centre of the arena by Demolition Demon. It drove forwards to evade Demolition Demon, but was rammed and pushed into the PPZ again by the latter after exposing its side. Napalm escaped once again, but was spun round by another ram from Demolition Demon, while its rear armour began to detach from the rest of the robot.
"Ooh, and the girls have lost their petticoat, look... of the back of Napalm! They've suffered damage... just about hanging on, that grid at the back!"
— Jonathan Pearce spots the damage done to Napalm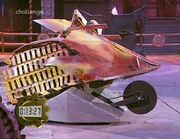 The grille tore off completely following a few more rams from Demolition Demon, with Napalm bumping Demolition Demon yet again before being pushed into and attacked by Shunt. However, Napalm backed away without sustaining much damage from Shunt's axe, before driving up Demolition Demon's front wedge again and withstanding a few more shoves and rams from its opponent.
"Goodness me, this is gonna go – very, very close – it goes to the Judges, and there's hardly a lick of paint, a smear of oil between the two teams! Very close!"
— Jonathan Pearce as the Heat Final draws to its conclusion
'Cease' was called, and the battle went to a Judges' decision. Despite its excursions into the PPZ and the damage it sustained, the decision controversially went to Napalm, to the displeasure of the audience and the Demolition Demon team. Craig Charles explained to both teams that the damage inflicted to Napalm was mostly caused by the House Robots, and that the Judges considered it to have been more aggressive throughout. As a result, Napalm progressed to the Series Semi-Finals, although it and Demolition Demon were attacked by the House Robots again during the end credits of Heat A.
Craig Charles: "Well they talk about 'women drivers', but it looked pretty spectacular to me, Clare!"
Clare Greenaway: "Well of course, we're only just our best, you know!"
Craig Charles: "You did sustain an awful lot of damage. Do you think your robot's going to be ready for the Series Semi-Finals?"
Clare Greenaway: "Yeah, we'll go and pick all the bits up and stick them back on again."
— The post-battle interview
In Semi-Final 1, Napalm was the first competitor to take on the revised Gauntlet course.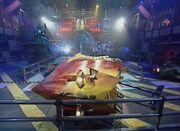 As before, it immediately chose the centre route, making an uninterrupted run up the see-saw ramp before bumping into Shunt. Undeterred, it pushed Shunt aside to cross the end zone, only to bump into and get turned onto its side by Matilda.
"Nippy Napalm; napping, nasty House Robots! They're through - what a run! Where were the House Robots?"
— Jonathan Pearce after Napalm's exceptional Semi-Final Gauntlet run
Having cleared the Gauntlet in only fifteen seconds, Napalm finished top of the leaderboard, comfortably securing its place in the Pinball Trial.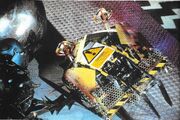 There, Napalm was the second Semi-Finalist to make its run, which it began slowly, bumping alongside the right-hand ramrig before turning round and knocking down one stack of bricks. However, Napalm became stuck on the set of barrels behind the bricks, before shaking itself free using its 'mandibles' and reversing away. It nudged the sphere back with one of the 'mandibles', before knocking down the stack of barrels, reversing again and turning round for a run up the see-saw. However, as Napalm drove up the see-saw, it suddenly veered to the right, falling off the side of the see-saw and getting itself stuck again.
"See-saw...ooh, Marjorie Flaw, there's a flaw in that run!"
— Jonathan Pearce as Napalm drives up – and gets stuck – on the see-saw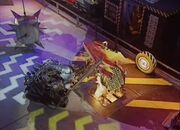 With its wheels spinning, Napalm was left helpless as Sir Killalot pushed the sphere into it. Eventually Sir Killalot dislodged one of its drive chains, before lifting Napalm onto its back, grabbing it by the chassis and holding it over the Flame Pit.
"This doesn't look good for Napalm... Napalm, burnt, frizzled!"
— Jonathan Pearce as Napalm is held over the Flame Pit
'Cease' was called, and Napalm's Pinball run came to an abrupt end. Having scored a total of 65 points, it ultimately finished fifth overall on the leaderboard, and was eliminated from the Second Wars.
Napalm would later make an appearance in the end-of-series special, The Grudge Matches, where it fought a Judgement Day battle against Mortis in response to its elimination from the Semi-Finals (see Rivalries).
Craig Charles: "Now, you think the Judges' decision went against you, and want a Grudge Match. But d'you think you can take [Random Violence Technologies] on? They've got a pretty hard robot, you know."
Clare Greenaway: "Yeah, so have we, I think!"
— The interview before Napalm's Judgement Day battle against Mortis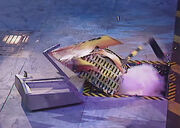 Upon 'activate', it drove straight up Mortis' front end, before advancing forward and getting rammed by the latter as it attempted to reverse. Napalm struck Mortis' armour a few times with its 'mandibles', but without causing any damage as both competitors shuffled back and forth. After rocking itself back and forth using the 'mandibles', Napalm was pushed sideways again by Mortis, before having one of its top 'eyes' hacked off by the latter's axe. Eventually, it spun slowly round next to the pit, leaving itself vulnerable to a side-on shove and more axe blows from Mortis before driving towards the PPZ. Napalm sustained more damage to its armour from Mortis' axe, losing one of its grilles in the process, before attempting to push Mortis back towards the pit. However, Mortis pushed Napalm towards the centre of the arena, with Napalm pursuing, turning round and toppling itself into the pit.
"In comes Napalm – oh, what on earth are they doing?! Oh Clare... what have you done, Clare? Oh dear, oh dear!"
— Jonathan Pearce as Napalm pits itself
With this, Napalm lost the Judgement Day battle to Mortis, with Clare Greenaway conceding that the latter was the superior machine.
Craig Charles: "He showed you, didn't he?"
Clare Greenaway: "Yeah, I think he's better than us."
— Clare Greenaway concedes defeat following Napalm's Judgement Day fight against Mortis
Series 3
[
]
Napalm returned for the Third Wars, unmodified and still featuring damage sustained in the previous series. Competing in Heat G, it faced newcomer Kater Killer in the first round.
Philippa Forrester: "And Napalm is the only robot that hasn't been modified since the last War..."
David Crosby: "It has not been modified at all. Like you say, we pulled it out of the pits the year after the fight with Mortis last year, put it in the form room at school, dusted it down [rubs and pats Napalm's plough] and back for this."
— David Crosby explains Napalm's lack of upgrades for Series 3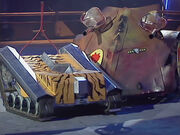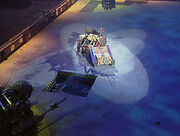 Napalm started the battle by ramming into the side of Kater Killer. The two robots stopped, before slowly pushing each other back and forth across the arena. Eventually, after being unable to gain any purchase using its plough Napalm resorted to pushing Kater Killer rear-first, using its 'mandibles' to hold Kater Killer in place as it pushed the newcomer around and towards the pit. Both competitors separated as Kater Killer turned away, with Napalm reversing before bumping and pushing Kater Killer away with the 'mandibles'. Napalm was eventually pushed from the side by Kater Killer as the competitors met again, with the two robots steering each other around until 'cease' was called. The battle went to a Judges' decision; Napalm was declared the winner, amidst booing from the audience.
"Girls and boys come out to play; wahey! Revenge for the junk jibe? I'm not too sure."
— Jonathan Pearce prior to Napalm's battle against Robopig
In the second round, Napalm faced another newcomer, Robopig.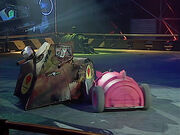 The two robots began by driving into each other, with Napalm momentarily getting underneath Robopig's front before pushing it aside and catching its front-right wheel. Napalm hesitated, before attempting to drive around Robopig; in doing so, it exposed its side to Robopig, allowing the latter to momentarily push it around. Both robots separated, with Napalm striking Robopig twice with the 'mandibles' as the latter charged into it and attempted to reverse; however, it struggled to move away following this attack.
"How powerful are those 'mandible' jaws... against a plastic piggy? Well, at the moment... the victory could be in the piggy bank!"
— Jonathan Pearce questions the effectiveness of Napalm's weapon against Robopig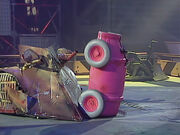 Napalm was slowly pushed into Shunt by Robopig; sustaining a few axe blows to its plough and losing one of its stickers in the process. After being bumped and pushed around by Robopig again, it escaped another attack from Shunt as Robopig inadvertently drove itself into him. Eventually, it proceeded to get underneath Robopig again as the latter attempted to attack it front-on, resulting in Robopig driving over Napalm's plough and getting itself stranded on its back. Napalm capitalised on Robopig's mistake by pushing its opponent around in circles while it attempted to re-right itself. Eventually, it shook itself using its 'mandibles' and emerged victorious as Robopig reversed and toppled itself onto its back.
"...and the Napalm team know they have this one – possibly by default, because of what's happened to Robopig...."
— Jonathan Pearce as Napalm's victory is made certain
With the House Robots leaving their CPZs to attack the inverted Robopig, Napalm proceeded to ram into Sir Killalot and Dead Metal, but was unable to stop them and the other House Robots from attacking its defeated opponent.
"Napalm the victors... I love the smell of toastin' bacon!"
— Craig Charles alludes to Apocalypse Now as Napalm is declared the winner
In the Heat Final, Napalm faced another newcomer – and original series reserve – Steg-O-Saw-Us. Before the battle, the Dartford Girls Grammar team hung one of Robopig's 'ears' around one of its top spikes, which they had retrieved in their previous battle, and expressed confidence about their prospects of winning.
"Can they make a silk's purse out of a sow's ear?"
— Jonathan Pearce prior to the Heat Final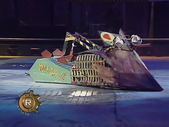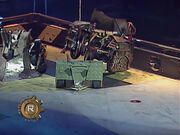 Straight away, Napalm drove towards and around the side of Steg-O-Saw-Us, the two competitors meeting in the centre of the arena. They separated and rammed into each other, with Napalm dodging a second charge from Steg-O-Saw-Us as it again struggled to drive away effectively. Napalm avoided Steg-O-Saw-Us for a few seconds, then hit Steg-O-Saw-Us with the 'mandibles' before the latter rammed it into Shunt's CPZ. The impact with the wall caused Napalm to be pushed on top of Steg-O-Saw-Us and parts of its armour to become damaged; a second ram from the latter caused its plough and top armour to flex.
"Napalm riding high up on Steg-O-Saw-Us - and crumpled! Well, it does look like a 'pile of old junk' when you think of it like that, Napalm. Doesn't look as if it'll be long before bits start falling off!"
— Jonathan Pearce as Napalm bears the brunt of Steg-O-Saw-Us' slams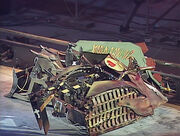 Napalm struggled to back away as Steg-O-Saw-Us bumped and pushed it from the side, with its top panel falling through the robot as it was lifted off the floor. Another violent slam sent Napalm spinning near the flamethrowers, before Steg-O-Saw-Us kept pushing Napalm along the wall and in circles. However, Napalm eventually succeeded in getting underneath Steg-O-Saw-Us with its plough, pushing and pinning its opponent against the wall. It proceeded to wedge Steg-O-Saw-Us on its side as Shunt and Sgt. Bash left their CPZs to separate the competitors, before eventually letting Steg-O-Saw-Us go. With its plough beginning to fall apart, Napalm withstood another few rams from Steg-O-Saw-Us – in turn causing its armour to flex once again – before being repeatedly dragged and pushed around by the newcomer. Another attack from Steg-O-Saw-Us resulted in Napalm being pushed into Sir Killalot, whose lance drilled through and buckled its left-hand side.
"Skimming over the top and straight... onto the grinding, lancing weapon of Killalot! Into the guts of Napalm... desperately trying to stay alive, but the writing... is not just on the front of Napalm, it's on the wall!"
— Jonathan Pearce as Napalm sustains severe damage from Sir Killalot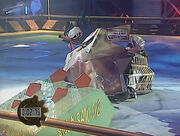 Napalm attempted to drive away, but was rammed against the wall and dragged back by Sir Killalot, its plough becoming severely buckled as it attempted to get underneath Steg-O-Saw-Us again. The two competitors struggled to move before Sir Killalot pushed them away, although Napalm momentarily managed to push Steg-O-Saw-Us back with its damaged plough. Backing away, Napalm struggled to evade another charge from Steg-O-Saw-Us, which caused the plough to fold and scrape along the floor as it drove forwards and sustained another side-on ram. With seconds to go, Napalm's plough almost detached completely as Steg-O-Saw-Us rammed it again, and folded as the two robots nudged each other for the last time.
"How is it still moving? What a brave effort from Napalm! Looks like some old car that's been through the mill... and crumpled in a wrecker's yard! And he's still going... just about – and on the attack, would you believe?"
— Jonathan Pearce as the Heat Final draws to a close
'Cease' was called, and the battle went to a Judges' decision. The Judges unanimously voted in favour of Steg-O-Saw-Us, eliminating Napalm from the Third Wars. The Dartford Girls Grammar team would return for the Fourth Wars with its successor, Shadow of Napalm, although the Heat Final would not prove to be Napalm's final televised appearance.
Extreme 1
[
]
Napalm made numerous appearances in the first series of Robot Wars Extreme, where the Dartford Girls Grammar team entered two versions into four competitions. The original version first entered the Tag Team Terror, where it was paired with Sir Chromalot and faced Suicidal Tendencies and The Steel Avenger in the first round.
Julia Reed: "Napalm, you think you're gonna do damage as a team?"
David Crosby: "Hopefully, we're gonna set them up; [The Hub Nuts] are gonna knock them down!"
— David Crosby expresses confidence ahead of Napalm and Sir Chromalot's Tag Team battle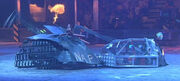 Napalm fought first, and slowly crawled along the arena before bumping plough-first into The Steel Avenger. It dodged The Steel Avenger's first axe blow, but sustained damage from the latter as it turned round and attempted to push its opponent back. Rocking itself back and forth with the spikes, Napalm was nudged back by The Steel Avenger, before turning round and being nudged a few more times by the Series 4 Heat Finalist. It was pushed into an angle grinder by The Steel Avenger, although not without striking the latter twice with the spikes, and backed onto a CO2 jet near Suicidal Tendencies' corner.
"…and I think Napalm will need to be tagged, because it looks flimsy, doesn't it?"
— Jonathan Pearce shortly before Napalm is attacked by Suicidal Tendencies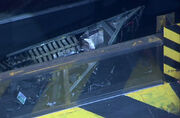 Napalm slowly moved away, but was unable to dodge a pursuing Suicidal Tendencies, which pushed Napalm into an angle grinder, crushed its side and dragged it back across the arena. Once Suicidal Tendencies let go, Napalm spun round on one wheel, before Suicidal Tendencies bumped and pierced through its plough. Napalm escaped, momentarily driving alongside Shunt, before having its right side armour crushed – and torn off – by Suicidal Tendencies. It was momentarily dragged over onto its side as Shunt pushed, axed and lifted it at the same time, but Napalm landed back on its wheels as it drove forwards and bumped into Suicidal Tendencies. Spinning in circles over the flame jet and into The Steel Avenger, Napalm almost had its entire right-hand side sheared off as The Steel Avenger axed it and Shunt rammed it at the same time, but escaped, backing away from Sir Killalot towards an entry gate. However, it was soon grabbed and lifted by Sir Killalot, who carried it across – and out of – the arena.
"Is that 'Napalm' written on the front in lipstick? I'm not too sure. Pretty in pink, whatever it is – Sir Killalot's come in... Napalm's being crumpled and err... out of the arena, and that's the end of them!"
— Jonathan Pearce as Sir Killalot carries and dumps Napalm out of the arena
With Sir Chromalot having become immobilised for a substantial portion of the battle, this resulted in Napalm and Sir Chromalot being eliminated from the Tag Team Terror competition.
Later on, Napalm 2 made its televised debut in Episode 11, where it fought a Mayhem battle against Wild Card Warrior entry The Spider and the clusterbot Gemini for a place in the second Annihilator. Before the battle, Team Tarantula expressed their intentions to attack Napalm 2 first, considering it to be 'weaker' than their own machine. The latter statement was quickly ridiculed by David Crosby, who responded by referring to The Spider's previous defeat at the hands of Behemoth.
Julia Reed: "Napalm... you are veterans of the Wars..."
David Crosby: "Ancient veterans, yes."
Julia Reed: "...and Spider have just called you 'weak'."
David Crosby: "Upstarts... upstarts! Have you seen their fight? Call it a fight? Pah! They were in there, four seconds flat and BOOF – out of the arena!"
Julia Reed: "So, we're not scared of them, then?"
David Crosby: "Scared? Scared of spiders? Arachnophobia? No chance!"
— David Crosby responds to Team Tarantula's statement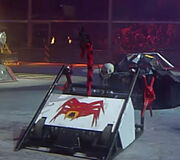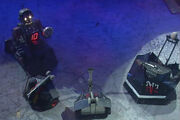 Napalm 2 was rammed by The Spider in the opening seconds, throwing its spikes down as it was buffeted by the latter's spinning weapons. It drove forwards and turned away, before bumping into one of the Gemini halves and nudging it seconds after it threw itself onto its wheelie bar. As this happened, The Spider drove one of its spinning blades into Napalm 2's sides, steering and pushing it into an angle grinder. Napalm 2 slowly backed away as The Spider drove itself onto the Flame Pit, where it became immobilised and was counted out. It proceeded to approach and get flipped twice by each of the Gemini halves – the second leaving it balancing on its side – but landed on its wheels both times, and survived as both Gemini halves flipped and stranded themselves on their wheelie bars.
"So Gemini... wobble, wibble, wobble, wibble, wobble! Is it going to be... Napalm, with victory on a plate...?! Well, somehow, Napalm... has contrived an unbelievable victory, without hardly doing anything! How on earth did that happen?"
— Jonathan Pearce as Napalm 2 emerges victorious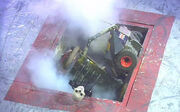 Napalm 2 shook itself with the spikes in celebration as Refbot counted Gemini out, before nudging one of the defeated Gemini twins back onto its wheels. It was promptly flipped back onto its side, before it and the Gemini twin were pushed into the pit by Shunt. Nevertheless, Napalm 2 secured its place in the second Annihilator, to the surprise of Jonathan Pearce, Craig Charles and David Crosby himself.
Craig Charles: "You're through to the Annihilator; but if you think about it... aren't you just going to be cannon fodder in that?"
David Crosby: "I've got no objection to that at all. We're used to it!"
— The post-Mayhem interview
In the second Annihilator itself, Napalm 2 faced Panic Attack, Fighting Torque, Spirit of Knightmare, The Steel Avenger and Disc-O-Inferno. Problems began in the first round, where its left-hand drive system malfunctioned, resulting in Napalm 2 having to be pushed sideways into the arena by Refbot as it was incapable of free movement.
"I worry about the defensive capabilities of this, in this sort of company...."
— Jonathan Pearce doubts Napalm 2's chances of success in the Annihilator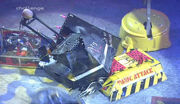 Napalm 2 remained motionless in the opening seconds of the battle itself, allowing Spirit of Knightmare to drive underneath, push and flip it against the wall. It was carried around by Spirit of Knightmare for some time, before all six competitors converged in the centre of the arena, with Panic Attack getting underneath Napalm 2 as Disc-O-Inferno and The Steel Avenger took turns in damaging its armour. Napalm 2 was eventually freed from the tops of Spirit of Knightmare and Panic Attack, and turned sluggishly away before being sandwiched between The Steel Avenger and Spirit of Knightmare. The latter pushed Napalm into Fighting Torque and over the flame jet, while The Steel Avenger axed Napalm 2's weapon before Spirit of Knightmare dragged it back towards Sir Killalot's CPZ.
Sir Killalot grabbed, pushed and lifter Napalm 2 aloft before lowering it onto the CO2 jet; however, Napalm 2 immediately turned round and crawled slowly towards Sir Killalot again, all while sustaining another blow from Disc-O-Inferno's disc. Very little was seen of Napalm 2 from this point onwards, although it later lingered close to the Floor Flipper and dodged another charge from The Steel Avenger. It was eventually left immobilised close to the centre entry gate, but survived as Refbot counted the also-immobile Fighting Torque out. However, David Crosby revealed afterwards that with Napalm 2 being unable to drive in a straight line, it could not drive in or out of the arena at all. Additionally, the robot had also sustained severe damage from Matilda's flywheel, although Matilda's attacks in the first round were not shown on television. Both factors resulted in Napalm 2 withdrawing from the second Annihilator; it was eliminated in the second round by default.
Julia Reed: "So there's no point in you going back in, because you'd be sitting ducks, and you don't think you can fix it in time?"
David Crosby: "We've got five minutes - we need about five days!"
— Napalm's withdrawal is confirmed
The original Napalm made its final appearance in a Vengeance battle shown in Episode 15, where it fought Thermidor 2. The grudge match originated from a 'sexist' comment made by David Harding of Team Lobster, which irked Julia Reed, Victoria Allgood and Clare Greenaway:
Julia Reed: "Thermidor... what's that you've been saying that Robot Wars isn't a place for women?"
David Harding: "That's right... girls are soft, and they're nice and friendly. It's a man's game, Robot Wars!"
Julia Reed: "Soft and friendly, you say?"
David Harding: "Yeah."
Julia Reed: "You haven't met Vicky..."
— The exchange leading to Napalm's Vengeance battle
Immediately, Napalm approached Thermidor 2, but was swiftly flicked upwards and onto its back by the latter's first two flips.
"Napalm against Thermidor, who believe the Napalm team should be back in the kitchen, broiling lobster, perhaps... and it's the lobster, at this moment in time, reaching boiling point... slam, bam and... thank you ma'am!"
— Jonathan Pearce as Napalm is flipped over early on by Thermidor 2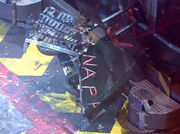 Seconds later, Thermidor 2 threw Napalm across the arena and onto the Flame Pit, with Napalm landing on its wheels and left immobilised as Thermidor 2 pushed and flicked it again. It was thrown into the air and against an angle grinder by Thermidor 2, before being rammed by Dead Metal and counted out by Refbot. Thermidor 2 immediately threw Napalm onto its side after the count-out, before flipping it out of the arena. With this, Napalm lost the Vengeance battle, although Team Lobster were still forced to apologise over Harding's earlier comment.
"I'm afraid all Napalm is worth now... scrap for pots and pans on that stove. Get back to the kitchen and start cooking up another machine!"
— Jonathan Pearce's call to the Napalm team following its defeat
Series 5
[
]
"This is our fifth successive War and this time we hope to do some real damage."
— Victoria Allgood during the team's introduction for Napalm 2
Napalm 2 made one more appearance in The Fifth Wars, where it competed in Heat E. In its first-round battle, it faced Warhog.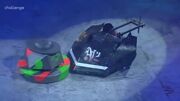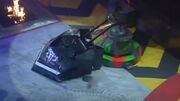 In the opening seconds, Napalm 2 drove slowly towards Warhog, before stopping short of the Flame Pit as it turned round and drove into the latter. The two competitors bumped into each other again; with Warhog's full-body spinning weapon not working, Napalm 2 turned round and fired its axe, although without hitting anything, before turning and reversing in pursuit of Warhog. As the two robots collided once more, Napalm 2 pushed Warhog towards Matilda, holding the former in place with its axe and causing it to roll into the House Robot's flywheel.
"It's all a little bit tentative – are we watching this in slow-motion?"
— Jonathan Pearce comments on the battle's pacing as Napalm 2 pushes Warhog into Matilda
Napalm 2 swung its axe down twice more as Warhog attempted to drive out of the CPZ; the second hit punching down on Warhog's 'hat'.
"Looks like one of those 'nodding donkeys' you see out in the oil fields of Texas... up and down, with a slow and steady rhythm..."
— Jonathan Pearce observes the motion of Napalm 2's axe as it lands a hit on Warhog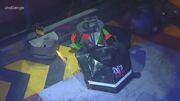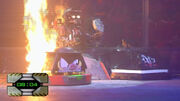 The two competitors drove away from Matilda's CPZ, with Napalm 2 again pursuing, bumping, axing and pushing Warhog back across the arena. It axed Warhog a second time as they embraced each other close to the wall, holding Warhog in place with the axe as Matilda left her CPZ to attack the latter again. Refbot came in to separate both competitors, pushing Napalm 2 close to the Flame Pit, but it became apparent that Napalm 2's mobility was limited. It steered itself over the Flame Pit and into an angle grinder as Refbot pushed Warhog away, but showed no signs of movement as Refbot came in to push it away from the grinder. Both competitors became immobilised in the closing seconds as Warhog drove itself onto the Flame Pit and caught fire, with the battle going to a Judges' decision.
"Not the sturdiest or most reliable of robots, these two. It'll go to the Judges... let's be honest, they don't need a pocket calculator to total up the points score, do they?"
— Jonathan Pearce as the Judges' decision beckons
As both robots became immobilised simultaneously at the end, the Judges made their decision based on the battle up to that point; on aggression, they ruled Napalm 2 the winner. Having seen Warhog's spinner working before the battle, David Crosby stated afterwards that he did not expect Napalm 2 to win, with the team relying on their strategy to ram Warhog into the walls and prevent its spinner from reaching its top speed. Crosby also informed Philippa Forrester in the Pits that attacks from the House Robots had pushed one of the robot's wheels out of alignment, hampering its forward movement.
Through to the second round, Napalm 2 faced the ninth seed – and previous series Semi-Finalist – Wild Thing.
"Napalm, stopped in its tracks... need to see some movement from Napalm... and Napalm is going nowhere very, very fast!"
— Jonathan Pearce as a temporarily-immobile Napalm 2 is damaged by Wild Thing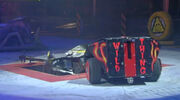 As before, it slowly moved across the arena before bumping into Wild Thing; the initial impact stunned Napalm 2, allowing Wild Thing to damage its side and front plough with the disc. Napalm 2 turned round, but struggled to move in a straight line, and was pushed from behind by Wild Thing before swinging its axe aimlessly. While the axe caught the top of Wild Thing as the latter pushed it around in circles, Napalm 2 was still unable to move freely as Wild Thing continued nudging and damaging it.
"Vicky, who loves her computer programming - trying to program a response from Napalm..."
— Jonathan Pearce
Seemingly immobilised, it was eventually pushed into the wall - and the pit - by Wild Thing, and was eliminated from the Fifth Wars. This battle marked the final appearance of either version of Napalm in Robot Wars.
Craig Charles: "Never really got going, did it?"
Victoria Allgood: "No, it wasn't working."
Craig Charles: "It wasn't working?"
Victoria Allgood: "No."
Craig Charles: "So you were just like 'lambs to the slaughter', basically?"
Victoria Allgood: "One way of putting it, yeah."
— The interview following Napalm's final battle
Results
[
]
NAPALM - RESULTS
Series 2
The Second Wars - UK Championship
Semi-Final, Trial
Heat A, Gauntlet
7.5m (4th)
Qualified
Heat A, Trial (Skittles)
9 Barrels (2nd)
Qualified
Heat A, Semi-Final
vs. Panda Monium
Won
Heat A, Final
vs. Demolition Demon
Won
Semi-Final 1, Gauntlet
Completed (1st)
Qualified
Semi-Final 1, Trial (Pinball)
65 points (5th)
Eliminated
The Grudge Matches
Judgement Day 2
Judgement Day 2
vs. Mortis
Lost
Series 3
The Third Wars - UK Championship
Heat Final
Heat G, Round 1
vs. Kater Killer
Won
Heat G, Round 2
vs. Robopig
Won
Heat G, Final
vs. Steg-O-Saw-Us
Lost
Extreme Series 1
Tag Team Terror
Competing with Sir Chromalot, Round 1
Round 1
vs. Suicidal Tendencies & The Steel Avenger
Lost
Other Battles
Vengeance
Vengeance
vs. Thermidor 2
Lost
NAPALM 2 - RESULTS
Extreme Series 1
Mayhem & Annihilator
Fifth Place in Annihilator
Mayhem
vs. Gemini, The Spider
Won
Annihilator, Round 1
vs. Disc-O-Inferno, Fighting Torque, Panic Attack,
Spirit of Knightmare, The Steel Avenger
Qualified
Annihilator, Round 2
vs. Disc-O-Inferno, Panic Attack,
Spirit of Knightmare, The Steel Avenger
Eliminated
NOTE: Napalm 2 had been so badly damaged in Round 1 that it was forced to withdraw. The competition proceeded to Round 3.
Series 5
The Fifth Wars - UK Championship
Heat, Round 2
Heat E, Eliminator
vs. Warhog
Won
Heat E, Semi-Final
vs. Wild Thing (9)
Lost
Wins/Losses
[
]
NOTE: Napalm's Gauntlet and Trial runs are not included. Napalm's withdrawal from the Annihilator is considered to be a loss.
Series Record
[
]
Gallery
[
]
Outside Robot Wars
[
]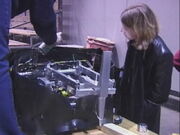 After its appearance in Series 5, Napalm 2 competed at the Dutch Robot Games in 2001[4], a rare live circuit appearance for the team. Napalm 2 was knocked out of the UK bracket in the first round by the eventual winner, Wolverine.
A sportsman featherweight replica of Napalm 2, Smell of Napalm, was completed by Trans-Cendant Robotics in 2021, first appearing at Robonerd in Wolverhampton and Robots Live! in Crawley[5][6][7]. Dartford Girls Grammar School had entrusted the naming and likeness rights to captain Reira Granger after the Napalm captain David Crosby had long retired from working at the school.
Trivia
[
]
According to Oliver Steeples, the Series 2 Napalm was the subject of a brief argument involving David Crosby during the weigh-in process. Despite its quoted weight being just under 5kg over the original 79.4kg limit for heavyweight competitors, it was nevertheless deemed to be eligible after Crosby mentioned that it had been weighed on his bathroom scales beforehand.[1]
A lifting device was designed and built for the front of Napalm 2, but was not installed.[8]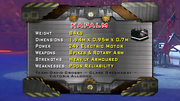 In its appearances in Extreme, Napalm 2 was displayed with the statistics of the original Napalm from earlier in the series, despite the images being changed.
David Crosby claimed that Napalm 3 was being developed for Series 6, along with an overhaul of the team's image.[8] It is unknown whether Napalm 3 was ever finished.
In Napalm 2's Series 5 introduction, Philippa Forrester stated that the team were competing with 'pretty much the same robot that they had last year.' However, this is incorrect, as Napalm 2 did not compete in Series 4, with Dartford Girls Grammar instead competing with Shadow of Napalm for the latter series.
Napalm was Sir Killalot's first victim when he debuted in Series 2.
Napalm is one of four machines Thrown Out of the Arena by both a competitor and a house robot (Thermidor 2 and Sir Killalot respectively). It shares this with Stinger, Vader and King Buxton.
References
[
]