Nerves of Steel was a competitor robot which attempted to enter Series 4 of Robot Wars, but failed to qualify. The robot was built by students from the University of Hull, but was ultimately not finished in time for auditions.
Design
[
]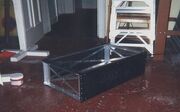 Nerves of Steel was an invertible box-shaped robot, armed with a front wedge and a vertically-mounted flywheel that would allegedly hit 5500rpm. The robot was black and white in colour, and was armoured in aluminium and steel. For drive, it utilised a pair of 24v motors as well a custom-built speed controllers.[1]
According to the team's first website, Nerves of Steel would have adjustable ground clearance, a unique addition for its time. The planned final design would also feature lights to dazzle the opposition.[2]
The team planned to make use of components they already had, but these were quickly deemed unsuitable for the robot. While photos prove Nerves of Steel was at least some way through construction, it is unknown whether the team applied for Series 5 or if the robot was even ever completed.[3]
"We realised at the beginning of June that we would not be able to make Series IV of Robot Wars with a worthy competitor. Therefore, we are now planning to enter Nerves of Steel in next year's Robot Wars."
— The team concede that they would not be ready in time for Series 4, but remained hopeful for Series 5.
Series Record
[
]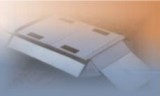 Trivia
[
]
Despite being built in Hull, the three team members originate from Coventry, Wakefield and Shrewsbury respectively.
The team's initial website jokingly lists David's cat Holly as one of the team members.[4]
External Links
[
]
References
[
]