Not to be confused with fellow New Blood Championship competitor Niterider.
"Has a mighty flipper, is stealthy under cover of darkness in the toolshed, but what happens in the flood-lit arena?"
Night Raider was a robot that fought exclusively in the New Blood Championship of Series 2 of Robot Wars Extreme. It did not achieve great success, being eliminated in its only battle. The team also competed with B.O.D. in Series 7, which was also eliminated in the first round.
Design
[
]
"Strong, with powerful weaponry at both front and back, a 200 kilo hoisting flipper and titanium spikes, it's fast enough to get out of any situation with top speeds of 18 miles an hour."
— Jonathan Pearce sums up Night Raider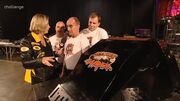 Night Raider was a large black wedge-shaped robot armed with a titanium spiked flipper. The flipper was capable of lifting 200kg, and the robot had twin roll cages on the back wedge to allow it to self-right, similar in principle to the roll cages found on Spawn Again's Series 6-7 incarnations. Night Raider also had a high top speed of 18mph, but the team admitted to being inexperienced and not as strong as flipping-wielding veterans like Chaos 2 and Bigger Brother.
Phillipa Forrester: "You're new to Robot Wars, but does it compare to them?"
George Towell: "Not quite as good as them, I don't think really, no."
Phillipa Forrester: "So you've got a little way to go in the evolution process."
— Pre-battle interview with Philippa Forrester
Qualification
[
]
Night Raider previously failed to qualify for the Sixth Wars, after it lost its qualifier against Derek 2 and Killer Carrot 2 after being immobilized by Killer Carrot 2[1].
"The fight started badly, Night Raider got wedged in the pits, once under way we ripped it's battery lead off and that was the end of it."
— Team Dangerous Vegetables website
It was selected for the New Blood Championship through open applications. Night Raider was then retired in favour of its successor, B.O.D.
Robot History
[
]
Extreme Series 2
[
]
Phillipa Forrester: "Best of luck, I hope you get a chance at the evolution process!"
George Towell: "So do we!"
Phillipa Forrester: "It could all end in tears very quickly!"
— In the pre-battle interview with Philippa Forrester
In Heat B of the New Blood Championship, Night Raider was drawn against Thor and Hell's Teeth in its first-round melee. However, it struggled to move in a straight line and out of the CPZ in its opening battle, as a drive train had already broken.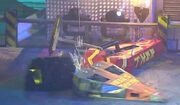 When the battle begun, Thor and Hell's Teeth both attacked Night Raider, but neither attack landed much damage. Night Raider was pushed against the side wall, but then pulled away and pushed Thor around. However, it took a direct blow from Thor which appeared to knock it out, before it was also bludgeoned by the hammer of Mr. Psycho. Night Raider was then counted out, thrown by the floor flipper and eliminated from the competition.
"So; pinched, bashed, crashed, squashed, crushed, all of them! Thrown, flipped, I mean it was stupendous!"
— Philippa Forrester describes the damage done to Night Raider using a series of verbs
Results
[
]
Wins/Losses
[
]
Series Record
[
]
Trivia
[
]
Both Night Raider and the similarly named Niterider appeared in back-to-back episodes, and failed to leave their starting positions after losing drive on one side at the very beginning of the battle.
References
[
]