"I feel that I would not have been able to enter my first two robots (oblivion1/2) without the help from TRINITY SCHOOL Croydon and more importantly the teachers in the DT department. Thank you for all your help guys!"
— Suren Balendran on the Team Supernova website
Oblivion was entered by Team Trinity into Series 2 of Robot Wars, later competing in Series 3 and 4. It was made by Trinity School, Croydon (now known as Trinity School of John Whitgift) as a sponsored project. It was fast at 12-20mph but lightweight at only 58.7kg. It was defeated in the Heat Final of Series 2, after being "pepper-potted" by Mortis.
Oblivion 2 failed to qualify for the main competition of Series 3, but did enter the Pinball Warrior Tournament that ran alongside the main series, finishing sixth overall with 75 points. However, it crashed out of its Heat in Series 4, in the first round. It was narrowly over the Heavyweight limit at the time.
Versions of Oblivion
[
]
Oblivion
[
]
"Oblivion was the lightest robot in group C and had no weapons apart from ineffective spikes. Is was powered by 2*C5 motors through chains to golf caddy wheels which seemed surprisingly good. All their electronics were housed in a steel box inside their robot which seemed quite good. They used 4QD's for speedos without the reverse track cut so they only had half speed reverse. Oblivion was designed to drive both ways up, except it only had castor wheels on one side."
— Oliver Steeples summarises Oblivion[1]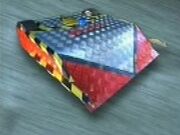 Oblivion was an invertible box shaped robot armed with a front wedge with hardened steel spikes. It was two-wheel driven, and was designed to push, with a comparatively high top speed of 12mph due to its two Sinclair C5 motors and two 12 volt batteries, though the team claimed that it could get up to 20 mph. The batteries were donated by Panasonic. It was chain-driven and used two golf caddy wheels, although it lacked castors on the top of the robot, somewhat compromising its planned invertible design. It was decorated with a red triangle pattern, and warning stripes. Using 4QD speed controllers without the reverse track cut, Oblivion had an uncommon issue in that it could only reverse at half of its top speed, but otherwise moved very efficiently in the arena.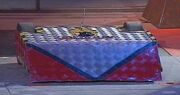 It was relatively light at 58.7 kilograms, amongst the lightest heavyweights of the series. Unusually, the interior frame was made of wood. The overall cost of the robot was £700. The hardened steel spikes were detachable, and despite being present in the robot's official photos and the team's introduction, they were not used in any of Oblivion's battles.
"A Trinity School project, but should they have added more weight? It's the lightest in the field at 58.7 kilos!"
— Jonathan Pearce whilst introducing Oblivion
Oblivion 2
[
]
"Built by two brothers at school, of titanium Dural and polycarbonate. The drive motors come from a C5, the armour from aerospace materials, and the electric axe can send anything to Oblivion!"
— Jonathan Pearce describes Oblivion 2 in Series 4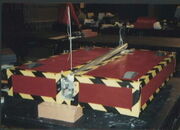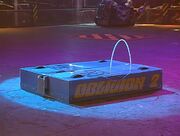 The team entered Oblivion 2 in Series 3, a low box design that was also invertible, armed with two spikes on the front and an electric-powered axe weapon that went below the line of the wheels on the top. The robot was inspired by Panic Attack and Mortis[2].
In Series 3, the robot was red and decorated with yellow hazard warning stripes around the perimeters of each panel, and was armoured in polycarbonate[3]. In Series 4, Oblivion 2 was repainted blue with Nuclear symbols. This version was made from titanium Dural, polycarbonate and aerospace-grade aluminium.
The drive motors were from a Sinclair C5, giving the robot a top speed of 10mph[4]. Between Series 3 and 4, the weight was increased by 1.5 kg, two spikes were added, and the ground clearance was reduced to 0m, though this proved to be its downfall, as the front casing bent on impact with Saw Point, lifting the wheels off the ground.
The Team
[
]
Main article: Team Supernova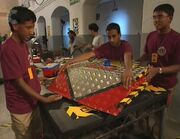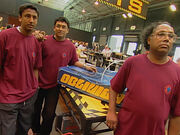 Oblivion was built as a sponsored project was entered by the Balendran family, with help from Trinity School in Croydon, which the team attended.
"...I watched Series 1, I saw Mortis, and I thought "Yeah, I've got to get involved in that!" ... That really got me into it, so I was around 16, and pretty much, when all the other kids were out playing football, I was in the workshop at lunchtime, making Oblivion."
— Suren Balendran on the origins of Oblivion, interviewed in 2020. [5]
Suren Balendran was the team captain, and the Balendram family were joined by Prasamna Arignadadam in Series 2, and Tom James in Series 3.
Qualification
[
]
Oblivion successfully qualified for Series 2 by attending the audition process. It was not finished, lacking the metal armour[6]. It navigated and completed various obstacle courses, as well as passing the relevant safety checks.
"...I went to the auditions, and I saw King Buxton then, and Robo Doc. And I saw all of these amazing robots, and from then on, I've kind of been obsessed with it!"
— Suren Balendran remembers the Series 2 auditions in 2021. [7]
It would later apply for Series 3 and run through the same process, although this time the returning Heat Finalist would not be selected for the main competition, being invited only to take part in the Pinball event.
"I can't remember exactly, I think it just didn't qualify as it was boring looking and there were a lot of boxy robots that year..."
— Supernova - Fighting Robot Facebook page on Oblivion's failure to qualify for the main competition of Series 3[8]
After its rejection for Series 3, Oblivion 2 went on to enter Series 4 by going through the untelevised qualifiers. It was placed against newcomers Anthrax.
"I was comforted by the fact that the only time i had seen it moving before, it could only move forward and backwards. It did seem to be held together by gaffer tape at the time."
— Suren Balendran describes how he felt about being drawn against Anthrax at the qualifiers
However, although Anthrax was able to drive into the arena, it strangely failed to move at all once battle commenced. Oblivion 2 proceeded to push Anthrax a little and strike several times with its axe, before the opponent began smoking internally, and got ruled out after thirty seconds of immobility. Oblivion 2 therefore was awarded a spot in Series 4[9].
"I think oblivion 2 is through, well thats what Bill Hobbins said. We beat Anthrax, well not really as they burst into flames when the fight started. Apparently the judges were impressed by our axe."
— Suren Balendran on the Robot Wars Discussion Board in 2000
Series Record
[
]
Series 2
[
]
In its first televised appearance, Oblivion took the left route in the Gauntlet stage of the heat, this being the route with the most house robots occupying it.
Suren Balendran: "We're not going for the brick wall, we're going down the side against Matilda. Hope to do fairly well."
Philippa Forrester: "So this blue light here, is it to call the ambulance after Matilda's got you?"
Suren Balendran: "No, hopefully not!"
— Pre-Gauntlet interview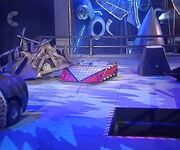 Oblivion started slowly, starting and stopping as it moved out of the starting zone. It soon started moving smoothly, and took the left route, but as it turned it drove into the top arena fence. It turned and drove down the route, but drove over an arena spike, which lifted it up a couple of times. Oblivion tried to drive past the spike, but the spike raised it up again, lifting its wheels off the ground. Shunt came over to block Oblivion, pushing it back and lifting it up with his scoop, but Oblivion fell off the scoop and drove forwards before Shunt could lower the scoop, getting underneath it, and when Shunt lowered the scoop, he lifted himself up on Oblivion. Oblivion managed to turn, and Shunt fell off, but Oblivion drove into the fence. It turned, but Matilda blocked it, reversing into it and using her chainsaw to cut into the top, whilst Shunt hit the top with his axe.
"One of the team, Suren Balendran, likes weightlifting, they'll need some weight to get away from Matilda!"
— Jonathan Pearce as Matilda cuts into Oblivion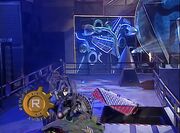 Oblivion reversed back into the fence, but when it tried turning, Shunt was ready to block it. It reversed, turned and tried to drive forwards, but with the House Robots blocking the way, it drove along the edge of the pit, getting one wheel stuck over the side, and Matilda used her tusks to lift Oblivion up, and it fell into the Pit of Oblivion.
"And you've got the Death Pit there as well! Oblivion awaits- literally! Oh, tottering, teetering, 'Tilda's tusks - ta ta!"
— Jonathan Pearce's line when Oblivion went into the Pit
However, Oblivion had already covered 5.8 metres, putting it through as Challenger had only managed 5.3 metres. It eventually finished 4th overall on the leaderboard.
Craig Charles: "Lads, what can I say? Shunted, pick-axed, chainsawed, and then sent to oblivion! It seemed to be able to stand up to a good bit of stick though, didn't it?"
Prasamna Arignadadam: "Yeah, we built it well!"
Craig Charles: "You might have done enough to make it through, you never know!"
— Post-Gauntlet interview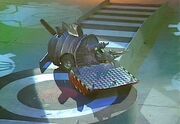 In the Trial stage, which was the Joust for this heat, Oblivion was the first robot to take on Matilda. Oblivion's run was over very quickly as it drove quickly up the ramp, straight at Matilda, but Matilda instantly got under it with her tusks and flipped it over. Oblivion couldn't get away, and it was swiftly pushed off the platform by Matilda.
"All about power and pace, Oblivion can get up to 12 miles an hour, but immediately flipped, and dangerously near to the edge of the ramp! If it goes off, the adjudicators will measure where it rests! Rusts in Pieces in other words!"
— Jonathan Pearce's commentary for Oblivion's brief Joust attempt
Oblivion had covered 5.6 metres, finishing 2nd overall on the leaderboard, therefore it easily went through after Challenger's minus number run.
Philippa Forrester: "[Gasps] The ambulance light!"
Suren Balendran: "It's a good thing we didn't turn it on actually, it would have shorted everything out! It would have been totally destroyed!"
— Phillipa Forrester on the broken blue light on top of Oblivion
This put Oblivion through to the arena stage of the Heat. In the Heat Semi-Final, Oblivion was placed up against previous heat semi-finalist Dreadnaut.
"Oblivion is the lighter and the forks, Dreadnaut has the fearsome forks..."
— Jonathan Pearce in the opening moments of the battle, before realising that Dreadnaut isn't moving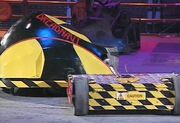 Oblivion charged at its opponent, but Dreadnaut didn't even move due to its power key being knocked out when the team put the shell back on. As Oblivion slammed into Dreadnaut's side, Dreadnaut was lifted up and down by an arena spike, and Oblivion reversed, then pushed Dreadnaut off the spike. AS the House Robots came in to attack Dreadnaut, Oblivion stayed away in the arena centre, briefly driving to the PPZ, where Shunt pushed it, but then went back after Dreadnaut, and Oblivion drove out of the PPZ. initially pushed its wedge against the lifeless Dreadnaut, and nudged it onto an arena floor spike where it bounced up a few times. Oblivion wisely made itself scarce as Dreadnaut was then completely wrecked by the House Robots, which meant Oblivion was put through to the Heat Final.
"No mercy at all! And they were smiling, they were smiling!"
— Dave Vowles, referring to how the Oblivion team acted whilst Dreadnaut was being attacked by the House Robots, after the battle
There, it was drawn against the heat favourite and the second seed Mortis. To ensure that Oblivion could withstand the blows of its opponent's axe, Arthur Chilcott gave Suren Balendran extra titanium armour panels to protect its internals. While Team Trinity were shown to be fitting those panels onto its chassis during their pre-battle interview, the televised episode did not acknowledge Chilcott's role in providing the panels himself.[10]
"Nothing's gone wrong, we're just trying to protect it, 'cause Mortis has got a reputation of going through things!"
— Thuvaaragen Balendran explains what the team were doing to the internals before the battle
At the start, the two robots drove towards each other, but then stopped. Cautiously, they approached each other, and Mortis quickly got in position to attack with the axe, and began hammering down on the top of Oblivion. After causing a few holes, Oblivion reversed.
"Mortis, the second favourite for the whole of this Robot Wars competition, against Oblivion, whose major hope is to avoid that blade... not doing a good job, the boys there!"
— Jonathan Pearce as Mortis axes Oblivion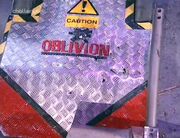 Mortis drove around, and drove at the side of Oblivion, which turned around to Mortis' side to avoid the axe, but Mortis turned and landed more axe blows on the top. Oblivion turned and reversed, but Mortis drove after it. Oblivion tried to drive past, but Mortis landed another axe blow, and as Oblivion tried reversing, Mortis kept after it, hitting the top again.
"Look at that! It's like a sieve!"
— Jonathan Pearce on the damage to Oblivion
Oblivion tried pushing Mortis back as it hit the front wedge and the top with the axe, but Mortis got the axe in the top and pushed Oblivion up the arena, towards the wrecking ball. Mortis turned around Oblivion, getting behind it and pushing it towards the pit, but when it pushed Oblivion to the side of the pit, Mortis reversed for another charge, allowing Oblivion to turn away from the pit, although it was moving slowly.
"Oblivion looking tired, and could be in the pit with the tyres!"
— Jonathan Pearce as Oblivion limps away from the pit
Mortis got at Oblivion's side and axed the top again, but didn't puncture this time, so reversed. Oblivion turned, and drove at the front of Mortis. Mortis landed more axe blows on the top, getting the axe caught in the top armour but Oblivion kept pushing, trying to force Mortis into Dead Metal. After a struggle, as Mortis pushed back, Oblivion got the advantage and forced Mortis back into the arms of Dead Metal, who pushed Mortis away from the PPZ.
"Hole-ly smoke, it looks like the end for Oblivion here! Mortis, being pushed back though! A brave battle by the boys from Trinity School! Their robot only cost £700, Mortis cost 10 grand!"
— Jonathan Pearce as Oblivion pushes Mortis into the arms of Dead Metal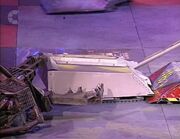 Oblivion kept pushing, pushing it to the edge of the PPZ again. The axe was still stuck in the top of Oblivion, and Dead Metal came out of the PPZ to push Oblivion, pushing it free of Mortis' axe. Oblivion tried pushing Mortis again, but time ran out. The battle went to the Judges, but Mortis was immediately declared victorious in the televised episode, eliminating Oblivion from The Second Wars.
"We had a few problems, but they didn't get right through, so I'm surprised with that. We were still working right at the end."
— Suren Balendran on Oblivion after the battle
Series 3
[
]
Oblivion 2 failed to qualify for the main competition of the Third Wars, but was granted a place in the Pinball Warrior tournament.
"Dominator, 160 points, Six Pac, the only worthy challenger really. Until Oblivion 2 perhaps!"
— Jonathan Pearce reviews the top of the table before Oblivion 2's run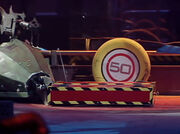 Oblivion 2 started by turning left and aiming at the barrels, driving behind them and turning into them, then driving through the barrels, knocking over five of them. Oblivion 2 then aimed at the 50 point target, guarded by Sergeant Bash, but as it drove over the spikes, it was lifted up, then accidentally turned into the wall. It quickly turned away from the wall and charged into Sergeant Bash, driving at his front and pushing him back to the edge of his semi-circle. Sgt. Bash pushed back, and Oblivion 2 reversed, then drove at Sergeant Bash's side as he reversed. Oblivion 2 then reversed into the 50 point target, but Sir Killalot charged over, pushing Oblivion 2 against Sergeant Bash. Sergeant Bash reversed, and Sir Killalot also reversed a little, allowing Oblivion 2 to get free, and it drove towards Dead Metal, but suddenly stopped.
"...and I think Oblivion 2, is out of this, they're immobilised! They've gone, and now they're just fodder for the House Robots; Killalot, Dead Metal. And Oblivion 2, what a disappointment. They were picking up points steadily, not spectacularly."
— Jonathan Pearce as Oblivion 2 stops moving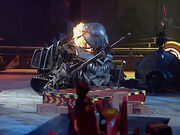 After a pause, Sir Killalot pushed Oblivion 2 into the arms of Dead Metal, who pushed it away. Sir Killalot pushed it back between Dead Metal's pincers, and Dead Metal pushed it by the car doors. With Oblivion 2 still immobile, Dead Metal turned around and reversed into Oblivion 2, prodding it with his rear spike, pushing it against the stack of bricks. Sir Killalot and Sergeant Bash came over to attack Oblivion 2, and Sergeant Bash fired his flamethrower, but accidentally set fire to Sir Killalot. Sir Killalot pushed Oblivion 2 against the remaining bricks, then reversed to the side of the arena for the fire to be extinguished. When cease was finally called, it was calculated that Oblivion 2 had scored a total of 75 points, placing it 6th out of the 10 participants overall.
"...Oblivion 2, not much better. Heading for oblivion in the Robot Wars history books."
— Jonathan Pearce reviews the first nine Pinball competitors, reaching Oblivion 2
Oblivion 2 stopped moving was because of a cable coming loose.
"Oblivion stopped in pinball because we used pushed on connectors for the speed controllers and one of the cables came loose causing the robot to stop."
— Supernova - Fighting Robot Facebook page[11]
}}
Series 4
[
]
"Oblivion 2 tested their robot on the street, the residents complained about the noise!"
— Jonathan Pearce at the start of the battle
Oblivion 2 had been modified for this series, and was built so that it had a very low ground clearance. However, this proved to be its undoing, for this cost it in the first round in the Fourth Wars. It competed in the penultimate heat of the series, and was placed up against the number 20 seed Aggrobot 2 and newcomer to the wars Saw Point.
"Our main weapon is this whopping great axe, which is powered by a seriously large motor. We're hoping to do some serious damage with that! So, what can I say, the House Robots better watch out!"
— Suren Balendran during Oblivion 2's introduction
Oblivion 2 charged straight at Saw Point, and Saw Point drove on top of Oblivion 2's front. Oblivion 2 fired the axe, but it couldn't push Saw Point off. Saw Point soon reversed off, and Aggrobot 2 rammed into Saw Point's side and pushed it away. However, Oblivion 2 had become immobile, as the front casing had been bent, lifting the wheels up from the arena floor, leaving Oblivion 2 unable to move as the robot had no traction on the arena floor. It fired the axe. Saw Point was knocked onto its side after being pushed by Aggrobot 2, but managed to turn itself back onto its wheels, then drove around Oblivion 2, driving over the top as Sergeant Bash gave it a little push. Matilda pushed Oblivion 2 against Aggrobot 2 as it drove past, and Aggrobot 2 turned to attack, but Saw Point drove into its side. Aggrobot 2 drove forwards so Saw Point could pass, then went back at Oblivion 2, reversing into it with the rear spike, puncturing the side. As Aggrobot 2 drove away, Saw Point drove over the axe. Aggrobot 2 rammed Saw Point, whilst the House Robots came out to attack Oblivion 2, with Sergeant Bash, Matilda and Sir Killalot surrounding it.
"Oblivion 2 seems to be immobilised right from the start here, the Balendran team, Suren and Thuvaaragen and Supphiah, their dad, a business stationer, and they're rather stationary, aren't they Oblivion?"
— Jonathan Pearce as the House Robots surround Oblivion 2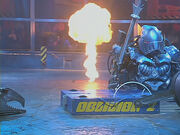 Matilda used her chainsaw to cut through the aerial, whilst Sir Killalot pulled off one of Matilda's wheels. Sir Killalot then grabbed the axe handle with his claw, crumpling it. Matilda used her chainsaw on the top of Oblivion 2, scratching the top, and Sir Killalot picked Oblivion 2 up and span it around, throwing it aside.
"...this is not what Oblivion 2 wants to see, because Killalot has it at its mercy; flings it, it discards it across the arena floor! They were immobilised right from the start, right from the very first crunch! What a shame for them after so much work!"
— Jonathan Pearce as Sir Killalot toys with Oblivion 2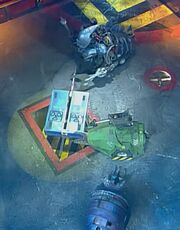 The pit opened, and Dead Metal grabbed Oblivion 2 with its pincers and pushed it against Sir Killalot. Dead Metal cut into the top of Oblivion 2 with its saw, then Sergeant Bash grabbed Oblivion 2 by the axe handle, dragging it over a flame jet, then dragging it towards the pit. Matilda helped Sergeant Bash push Oblivion 2 to the edge of the pit, but Sergeant Bash got his pincer stuck over the edge of the pit, and broke down. Sir Killalot took over, pushing Oblivion 2 into the pit.
"There's the axe of Oblivion 2, which never came into play and they are sent to oblivion, too! Built at Trinity School in Croydon and beaten by our own trinity of House Robots, the Balendran boys!"
— Jonathan Pearce as Oblivion 2 is pitted
After the battle, Suren Balendran revealed that the front casing of the robot had been bent down when Saw Point drove on it, lifting the wheels off the ground. He admitted that Oblivion 2 had intentionally been designed with a low ground clearance.
Julia Reed: "What about some more ground clearance for the next wars?"
Suren Balendran: "Erm, yeah, it would be a good idea, it's just there's a really fine tolerance, because you saw last year, Chaos 2 won by flipping people over, and so we thought we could overcome that this year by having a very low, low ground clearance, but it didn't work for us this year!"
Julia Reed: "You do need luck in Robot Wars, it's not all about tactics!"
— Post-battle interview
Results
[
]
Wins/Losses
[
]
NOTE: Oblivion's successful Gauntlet and Trial runs are not included in the tally
Series Record
[
]
Gallery
[
]
Outside Robot Wars
[
]
Shortly after competing on Robot Wars, both Oblivion machines were promptly recycled, making way for the build of Supernova.
Trivia
[
]
Suren Balendran was inspired to build Oblvion after watching Mortis in Series 1, and he would go on to fight Mortis in the Heat Final of Series 2. He later found out that they both went to the same secondary school, and team member Arthur Chilcott provided a lot of material for the building of Oblivion 2[12].
Oblivion was one of four heat finalists from the Second Wars that failed to qualify for the following series, the others being Demolition Demon, Ivanhoe and Inquisitor.

Oblivion 2 was the only one to appear after Series 3, although Team Ivanhoe would return in Series 4 with Splinter.

As well as Trinity School, Oblivion was sponsored by Ensigner, who provided polycarbonate sheet for the armour, Panasonic Industrial Batteries UK, who donated a box of 12 volt batteries, and Avon Holdings Group, who donated aluminium[13].
Curiously, Oblivion 2 was not given a recap of its past appearances during the Fourth Wars.
References
[
]
External Links
[
]