"A pneumatically-powered scooper, spikes at the rear, a srimech – this seems to have it all! A steel chassis, power from a forklift truck motor… get ready, for the Onslaught!"
— Jonathan Pearce introduces Onslaught in the Series 4 Southern Annihilator
Onslaught was a competitor robot from Bedfordshire which competed in Series 2-5 of the UK game show Robot Wars. One of the smallest heavyweight robots to compete on the show, it reached the Heat Final stage in its debut appearance in Series 2, losing to defending champion Roadblock. Onslaught also achieved significant success in the Series 4 Southern Annihilator, finishing runner-up to then-reigning World Champion Razer. However, its remaining appearances in the main competition brought less success: reaching the second round in Series 3, forfeiting its place in Series 4 due to mechanical issues and losing in the first round in Series 5.
Onslaught's name originated from the character in the X-Men comics, as suggested by David Wood.[1]
Design
[
]
"I got bitten by the robot building bug after watching Series 1 and saying "I can do better [than] that!" Easy to say but a lot harder to achieve!"
— Alan Wood on building Onslaught
Onslaught was a compact, four-wheeled robot armed with a stainless steel front scoop. The scoop itself was initially designed with a wedge-shaped profile, which was likened to a 'silver-shaped ski slope' by Jonathan Pearce during its Series 2 debut. Onslaught also featured a 15mm stainless steel bodyshell, aluminium wheels with thin tyres and a titanium rear axle, and was one of the few robots in the show's history to use car-style steering for the front wheels. The latter gave it a turning circle of two metres, and essentially made Onslaught two-wheel drive.[2] The rear wheels were driven by a 24V forklift motor weighing 25kg (alternatively 30kg in one episode of Robot Wars Revealed), which was mounted in the centre of the robot and took up much of its weight.[3] This motor, dating from 1967, was paired with a custom mechanical speed controller built by the team, and was reportedly larger than the drive motors used by Sir Killalot.[4]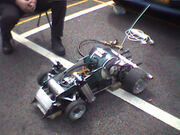 Onslaught was originally stated by its team to have a top speed of approximately 30mph in Series 2, although it was geared down to 8mph before competing. In addition to the scoop, the robot also featured a pair of mild steel spikes at the rear, which were integrated into a body panel with a tube section which protected the rear axle and wheels. For Series 2, Onslaught had two sets of interchangeable wheels, switching between rubber-coated tyres and more grippy, 'gnarled' wheels.
"The obvious thing about onslaught was the very big fork lift truck motor which drove the robot in a car like arrangement which is shown by the 2m turning circle. Some people and the house robot guys reported that when they went near Onslaught they lost control due to jamming or interference and this could be due to the motor. The scoop was made of stainless steel which they were always polishing. The wheels which they had about 2 sets of (rubber coated and gnarled?) were made out of solid bits of aluminium and must have cost a lot of money and looked very nice."
— Oliver Steeples on the Series 2 version of Onslaught[5]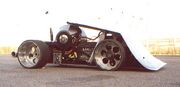 For Series 3, Onslaught's scoop was modified from a static weapon into a lifting type, using two pneumatic rams and a set of CO2-filled paintball bottles as the weapon's power source. The scoop in this configuration was capable of lifting a maximum load of 140kg 16 inches off the floor. The wheels also received new tyres. Onslaught was officially stated to cost £1,000 on its statistics boards in this series.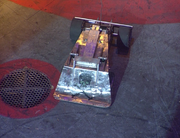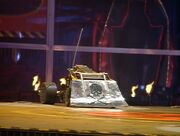 In Series 4, a front-hinged self-righting mechanism was added onto the scoop, which operated at a pressure of 1,000psi. The scoop was also redesigned with a more shovel-like appearance, also gaining a 'skull and crossbones' logo, and a revised pneumatics system was installed, taking up the same amount of space as an SLA battery[6]. An additional modification saw Onslaught's front wheels replaced with narrower ones, which also adopted thicker tyres.
With the upgrades it received, Onslaught's weight gradually increased from 76.1kg in Series 2, to 79.2kg in Series 3, and 80.2kg in Series 4. The latter put it 0.8kg over the original Heavyweight limit. By Series 5, Onslaught's weight grew again to 99kg, taking advantage of the increased weight limit introduced for this series.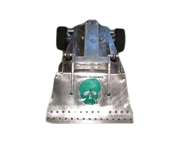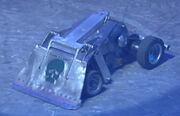 Onslaught received further modifications for Series 5, notably the adoption of narrower rear wheels (likely due to the damage they took during the Series 4 Annihilator) and the removal of the speed limiter. The latter resulted in the robot's top speed increasing from 12 to 20mph.
Onslaught was notable for being one of the smallest heavyweight robots to compete in Robot Wars, with maximum dimensions of 0.33m by 1.02m by 0.56m at the time of its Series 5 appearance.
Qualification
[
]
Onslaught successfully qualified for Series 2 and 3 by attending the obstacle course auditions, and also qualified for Series 4 via the touring qualification events.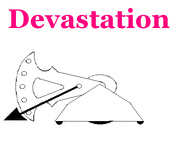 Team Onslaught planned to build a new robot called Devastation for Series 5, but these plans were put on hold when Onslaught successfully qualified for the latter series. Team Onslaught collaborated with Team Toaster to enter Series 8 pilot with Ka-Pow!, after not being selected for the main competition.
Alan Wood also became a member of Team KODOX in the second series of Dutch Robot Wars, competing with future UK Semi-Finalist Tough as Nails.
Robot History
[
]
Series 2
[
]
"A stainless steel shell, titanium rear axle and aluminium wheels may beef up Onslaught! The wedge weapon can flip and overturn, the mild steel spikes at the rear carry a sting in the tail, but a two metre turning circle looks sluggish for this family team."
— Jonathan Pearce introduces Onslaught in Series 2
Onslaught made its Robot Wars debut in Heat G of The Second Wars. It was the second robot in that heat to attempt The Gauntlet, following on from defending series champion Roadblock.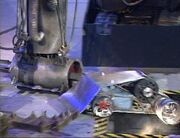 Immediately, Onslaught turned sharply and headed for the left-hand route, driving straight into The Sentinel's spiked club as it tried to make its way through. The Sentinel forced Onslaught against the wall, but Onslaught quickly reversed, avoiding one of the pits as it again tried to push past The Sentinel's club. However, it was briefly pinned against the wall once more, and struggled to turn away from the wall as The Sentinel proceeded to ram it into Dead Metal. Sparks flew as Dead Metal's saw repeatedly grazed the top of Onslaught's scoop, with the Bedfordshire machine still struggling for traction on its now-delaminated tyres. Briefly pinned between the wall and the House Robot's pincers, Onslaught's rear wheels continued spinning, allowing The Sentinel to force it into the other pit. Onslaught achieved a distance of 10.5 metres with this run, which was enough for it to finish fifth overall and secure its place in the Trial stage.
"Enough distance gained? The Sentinel, plucking and pushing into oblivion… 10.5 metres. I think that'll be okay."
— Jonathan Pearce as Onslaught's Gauntlet results are revealed
In Skittles, Onslaught was fitted with new tyres to replaced the set damaged in The Gauntlet, and was again the second robot to make its run.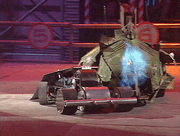 It began by turning and driving into Sergeant Bash, momentarily using its scoop to push him around in circles. Reversing, Onslaught knocked its first set of barrels down on the left-hand side of the exclusion zone; in the smoke, it turned round and into the exclusion zone, ploughing its way through the central stacks. Shuffling back and forth, Onslaught knocked down several more barrels in the bottom and top stacks, leaving the team confident about its overall performance.
"Young David Wood… loves Design and Technology, needs to get in there! Burrowing away with the barrels. He loves his basketball, he loves driving remote controlled cars… and that's good steering and good pace and good damage! Tremendous stuff here from the Onslaught team…"
— Jonathan Pearce as Onslaught ploughs through the barrel stacks
In the closing seconds, Onslaught left the exclusion zone, reversed and turned to ram Sergeant Bash again. Dead Metal rammed Onslaught's side just as 'cease' was called, with Onslaught having knocked a total of 57 barrels during the course of its run. This was enough for it to finish second on the results table and qualify for the Arena stage, behind fellow Series 2 debutant Killerhurtz.
Craig Charles: "Well you sorted out your grip problems from the first round, didn't you?"
Alan Wood: "A little bit, it seems a lot better at the moment. It's still twitching away, mind you - I'll have to find out what's gone wrong there."
Craig Charles: "That was an awesome performance!"
Alan Wood: "Yeah, good, excellent!"
— Craig Charles interviews Team Onslaught following their Skittles run
In the Heat Semi-Final, Onslaught faced Irish returnee from the First Wars, Nemesis, which had entered the battle decorated with a kebab.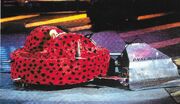 Upon 'Activate', it immediately drove to and rammed Nemesis with the scoop, momentarily pushing it aside. Onslaught dodged and reversed into Nemesis as the latter had its fur and kebab briefly singed by Sergeant Bash, before darting into and pushing under the swinging mace. While doing so, Onslaught drove itself into the PPZ, and was blocked by Dead Metal as it attempted to reverse out. This left it vulnerable to a combined attack from Sergeant Bash and Dead Metal, with the latter briefly dragging Onslaught back with his pincers.
"Shouldn't have gone in there, boys – you're in danger now! Dead Metal's got you in the pincers! Across here is the Sergeant – oh good speed out, taking on Nemesis again… with the onions! Marvelous stuff!"
— Jonathan Pearce as Onslaught escapes the PPZ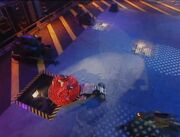 Nevertheless, Dead Metal let go, allowing Onslaught to reverse and ram Nemesis again, stunning the Irish machine for a few seconds. Avoiding the pit and momentarily bumping into Shunt, Onslaught drove around the arena to line up another attack on Nemesis, which had suddenly lost all mobility. Eventually, it pushed Nemesis into the pit, despite an attempted intervention from Sergeant Bash.
In the Heat Final, Onslaught faced a daunting draw against the reigning champion and first seed of the series, Roadblock.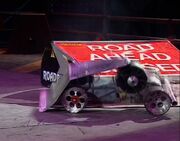 Problems began immediately, where despite being able to turn its front wheels, Onslaught could not drive away from its starting position. This left it vulnerable to a push from Roadblock, which resulted in Onslaught being repeatedly lifted by a nearby floor spike. Smoke billowed from Onslaught's motor as it was again pushed by Roadblock; the robot twitched, but moved no further, and was soon attacked by Dead Metal and Shunt.
"[What] can David Wood do for Onslaught, which seems immobilised. It's not moving here, there could be a problem. I think there is a problem! Look at that, it's smoking – and they know it, and they're punishing! If you're weak, you'll be victimised - it's as simple as that – by the deadly House Robots!"
— Jonathan Pearce as a smoking Onslaught is attacked by the House Robots
As the House Robots attacked, Onslaught caught fire, and lost the battle without having moved at all. With this, it was eliminated from The Second Wars.
Alan Wood: "Think that it had a mind of its own off the start. Jumped backwards… we managed to get it to move forwards, and that was as far as it went."
Philippa Forrester: "Why do you think that was?"
Alan Wood: "Probably something like wiring, I would think."
— Post-battle interview following Onslaught's elimination from Series 2
Series 3
[
]
"[The] Onslaught team are back as well. New here is this lifting mechanism, and the burnt-out motors from last year… thrown in the bin! We don't need to see those any more!"
— Philippa Forrester introduces Onslaught in Series 3, Heat I, while disposing of its burnt-out electronics
With its burnt electronics replaced and the scoop upgraded into a lifting type, Onslaught returned for the Third Wars, competing in Heat I. In its first-round battle, it faced the axlebot newcomer Armour-Geddon.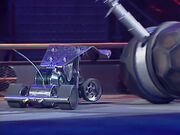 Onslaught began by driving into, ramming and toppling Armour-Geddon over near the side wall. Onslaught reversed, using its scoop to turn Armour-Geddon onto its other wheel, before pushing its Huntingdon-based opponent towards Sgt. Bash's CPZ. While attempting another push, Onslaught momentarily drove itself into the wall, before reversing and bumping one of the arena spikes as it drove away. It reversed once more, bumping into Armour-Geddon again, and hesitated before driving forwards and reversing into Armour-Geddon. Using its rear spikes, Onslaught pushed Armour-Geddon into Sgt. Bash once more, grazing the wall as it turned towards the centre of the arena.
"…and Onslaught's doing all the work here. It's a busy little robot… nippy, also aggressive… Onslaught turning away."
— Jonathan Pearce as Onslaught pressures Armour-Geddon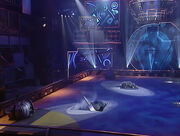 Another few bumps and pushes ensued, with Onslaught momentarily stopping before shuffling and reversing in a half-circle. However, it did not attack Armour-Geddon again for some time as the latter drove towards and got its spiked arm stuck over the edge of the pit. Onslaught manoeuvred close to the stranded Armour-Geddon as Sgt. Bash and Matilda closed in, the latter freeing Armour-Geddon using her tusks. As the two competitors met again, Onslaught scooped Armour-Geddon up, steering it towards the pit seconds before Armour-Geddon drove itself in. Afterwards, the team reported to Philippa Forrester that Onslaught's steering had been bent, resulting in it being unable to drive in a straight line for much of the battle.
"…as tenacious and nippy as a Jack Russell terrier! Constantly on the attack, worrying, gnawing…"
— Jonathan Pearce reflects on Onslaught's Round 1 performance during the Series 4 Southern Annihilator
Through to the second round, Onslaught next faced Beast of Bodmin, the successor to Roadblock built by Bodmin Community College. This battle effectively served as a rematch between the two teams following their Series 2 encounter.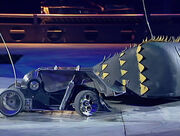 Immediately, Onslaught darted around the front of Beast of Bodmin, speeding its way towards and onto the Flame Pit. Reversing, Onslaught dodged Beast of Bodmin's wedge, the two competitors momentarily rubbing each other's sides. Onslaught rammed and momentarily lifted Beast of Bodmin off the floor, reversing away before both robots rammed each other again. Once more, it got underneath the side of Beast of Bodmin and lifted it, before pushing the Cornish machine around in circles.
"In underneath now, Onslaught. Team captain Alan Wood has a very well-designed robot here, around the arena floor…. is leading Beast of Bodmin a merry dance!"
— Jonathan Pearce as Onslaught lifts and pushes Beast of Bodmin
Reversing again, Onslaught turned away and dodged Beast of Bodmin a few more times. However, as it turned past Dead Metal's CPZ, Onslaught drove up the wedge of Beast of Bodmin, flipping itself over in the process.
"And there goes Onslaught, OOOOHH and up on it's top! Onslaught – now, has it got a srimech – ah, ha, ha, ha, ha! Magnificent stuff, a wink of the eye… terrific stuff from Beast of Bodmin, but… Onslaught ran itself onto the ramp of Beast of Bodmin, really. Can it get itself self-righted?"
— Jonathan Pearce as Onslaught turns itself over, shortly before Beast of Bodmin 'winks' at the camera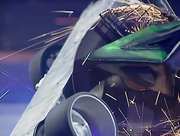 Onslaught bounced on its back and lifted its scoop, but was unable to self-right as Beast of Bodmin 'winked' and 'blinked' in victory. Dead Metal eventually collected and began cutting into Onslaught's chassis with his saw; sparks flew as Onslaught continued to lift its scoop in vain, sustaining a large gash in its chassis. 'Cease' was called, and a damaged Onslaught was eliminated from the Third Wars.
"I actually fancied that one to win this heat, but it was the 'wink' of Beast of Bodmin that told the story."
— Jonathan Pearce references Onslaught's performance during a recap of Beast of Bodmin's first two rounds
Series 4
[
]
"They very proudly told me earlier that they've got the biggest physical-sized motor here, which I thought was great – bigger than the House Robots, even! And then they told me… that was because it was from 1967…"
— Julia Reed introduces Onslaught, referencing its forklift drive motor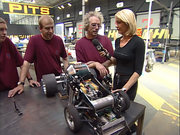 Equipped with a self-righting mechanism and an upgraded pneumatics system, Onslaught was set to return for the Fourth Wars, competing in Heat P. There, it was due to face newcomer Terror-Bull and eighteenth seed Cerberus in its first-round battle; it was revealed by Julia Reed that Onslaught and Terror-Bull were to team up against the Third Wars Heat Finalist. However, Onslaught encountered technical issues prior to the battle - the official team website suggested a 'sub-systems failure' caused by a faulty relay – and was forced to withdraw when the team could not make the required repairs in time[7]. As a result, it conceded its place in the main competition, which was taken by reserve robot V-Max.
Julia Reed: "What's the story, team?"
Alan Wood: "I'm afraid it's ceased to function – reasons totally unknown I'm afraid, at the moment, and not enough time to fix it. Even after a whole year's worth of work – again – it's packed up."
Julia Reed: "It's getting on a bit really, isn't it?"
Alan Wood: "It's died – it is, yes. It's a bit like me."
Julia Reed: "Well, we would've liked to see you fight – you've been a great team. Come back for the next Wars."
Alan Wood: "I hope so. Thank you."
— Onslaught's withdrawal is confirmed
Despite this, Onslaught would make appearances in two side competitions held throughout the Fourth Wars - the Sumo Basho and the Southern Annihilator. Its Sumo Basho run was broadcast in Heat B, against Shunt.
"That's interesting, up and over Shunt… just holding on! Wheels spinning… this is a good run. This is a very good run!"
— Jonathan Pearce as Onslaught avoids being pushed off the Sumo Basho ring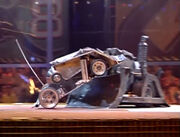 Onslaught began by moving tentatively towards Shunt, then ramming him scoop-first. Onslaught was lifted onto its rear wheels as a result, but survived being pushed off as Shunt manoeuvred it towards the edge of the ring. Shunt reversed, allowing Onslaught to break free and turn into him a second time. Again, Onslaught drove up Shunt's scoop and reversed, almost causing the House Robot to drive himself off the edge. Onslaught rammed Shunt in an attempt to force him off, but ended up driving off the ring completely as Shunt reversed out of the way.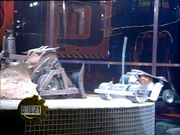 "Darting away… good speed, manoeuvrability – oh dear, oh dear, what are you doing, boys? You had it there! You drove off the Sumo Basho ring!"
— Jonathan Pearce as Onslaught tries – and fails – to push Shunt off
With this run, Onslaught lasted a total of 17.31 seconds, enough for it to lead the Sumo Basho standings for some time. By the end of the competition, this time was enough for the Bedfordshire robot to finish fourth overall.
"And very soon, we should be going out into the arena with five other robots. Hopefully, we'll be able to beat the whole lot of them!"
— Confidence from Alan Wood ahead of the Southern Annihilator
In the Southern Annihilator, Onslaught was a comparative underdog as it fought the reigning World Champion Razer, and World Championship runner-up Behemoth, alongside Attila the Drum, Vercingetorix and tenth seed of the Fourth Wars, Spawn of Scutter.
The first round began with all six competitors scrambling towards the centre of the arena; Onslaught turned and twice rammed Behemoth, getting underneath the Series 2 Semi-Finalist's sides each time. The two competitors fired their scoops as Onslaught reversed and Behemoth attacked Razer; moments later, Onslaught lifted Behemoth from behind and drove into Vercingetorix. The Bedfordshire and Hertfordshire machines briefly pushed each other back before Onslaught was pushed away by Razer; however, Onslaught retaliated by trying to push Razer from the front.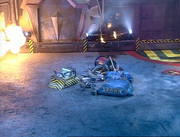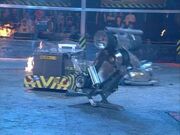 As Vercingetorix proceeded to push and axe Razer, Onslaught engaged in a brief pushing match against Spawn of Scutter, which in turn was lifted by Behemoth. Onslaught proceeded to nudge Behemoth again as the latter lifted Razer and Vercingetorix; seconds later, it helped Razer lift Vercingetorix high off the arena floor. As Vercingetorix dropped on its scoop, Onslaught reversed, before lifting Behemoth as the latter attempted to attack Vercingetorix and Razer again. This attack resulted in all three opponents briefly being lifted at once and Behemoth being tipped on its front. However, Spawn of Scutter drove underneath Onslaught and flipped it onto its back using its pneumatic spike; the same attack also resulted in Onslaught being thrust into Behemoth.
"Last time they didn't have a self-righting mechanism. They said they did this tiiiiiiiiime and they do! Away from Razer in spectacular fashion, look at that! The Onslaught self-righting mechanism does work this time around!"
— Jonathan Pearce as Onslaught uses its srimech for the first time
As Razer closed in, Onslaught fired its self-righting mechanism a few times, eventually succeeding in tipping itself forwards and back onto its wheels. Onslaught drove across the arena, still with its self-righting arm open, and briefly helped Spawn of Scutter pin Vercingetorix in place – however, it was unable to lift the Isle of Wight machine. Onslaught drove away from an approaching Behemoth, and was tipped over a second time by Spawn of Scutter, once again forcing it to self-right. Briefly landing on Behemoth, Onslaught manoeuvred across the arena in pursuit of Attila the Drum, dodging Sgt. Bash along the way. Moments later, it tipped Behemoth forwards as the Team Make Robotics machine lifted Spawn of Scutter, temporarily leaving its wheels suspended off the floor.
"…and look at little Onslaught! Behemoth had a go at Spawn of Scutter – "Anything you can do, I can do better!" That was magnificent! Little Onslaught on the attack on Behemoth – and again! They will not give up, the Onslaught boys from Bedford!"
— Jonathan Pearce as Onslaught lifts the considerably larger Behemoth
Onslaught bumped both Behemoth and Spawn of Scutter shortly before the battle concluded; the then-immobilised Vercingetorix was the first robot to be eliminated, advancing Onslaught to the second round.
"In comes Onslaught… oh ho, as plucky as ever to take on Razer!"
— Jonathan Pearce as Onslaught rams Razer at the start of the second round
In the second round, Onslaught started more hesitantly, manoeuvring close to the flame jet before ramming Razer into Spawn of Scutter. It proceeded to lift Spawn of Scutter off the floor with its scoop, and briefly locked weapons with Behemoth as the Team Make Robotics entry closed in. Onslaught drove away towards the centre of the arena, briefly reversing into Behemoth, before using its scoop to lift Razer and Spawn of Scutter simultaneously. Seconds later, Behemoth drove into and lifted Spawn of Scutter; in turn, Onslaught helped Behemoth push and tip Spawn of Scutter and Razer onto the Flame Pit.
"…and look at Onslaught! The wheels may be spinning; the hearts, though, of Razer fluttering under the attack of Onslaught – tremendous!"
— Jonathan Pearce as Onslaught and Behemoth team up on Spawn of Scutter and Razer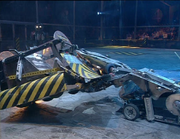 Onslaught reversed as Behemoth momentarily held their interlocked opponents in place; it proceeded to harry Attila the Drum and lift Spawn of Scutter again as the latter was separated from Razer. Seconds later, Onslaught flipped Razer as the latter tried to self-right, causing Razer to be left stranded on its right-hand side. Onslaught proceeded to attack Razer again as it grabbed the underside of Behemoth's scoop, and lifted both opponents off the floor at once. This – combined with a ram from Spawn of Scutter – was enough to separate Behemoth and Razer, which proceeded to attack Onslaught individually. Onslaught escaped both times and sped away, before eventually turning Razer onto its side with its scoop. However, it was promptly flipped over by Behemoth, and self-righted under pressure from Spawn of Scutter.
"Onslaught, snapping away there once again! Onslaught and Razer both toppled! Who can right themselves the quickest? Onslaught are up – Razer not far behind them, there! Look at this – Onslaught, one, two, three, up and over she blows!"
— Jonathan Pearce as Onslaught flips Razer, and is forced to self-right after getting flipped by Behemoth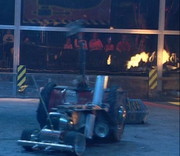 With its self-righting arm open, Onslaught dodged Spawn of Scutter and drove into the inverted Razer, before momentarily driving away from all of its opponents. However, it proceeded to push Razer as the reigning World Champion crushed behind Behemoth's scoop, and bumped Attila the Drum twice. Onslaught continued to manoeuvre across the arena for the remainder of the round, ramming Razer, Spawn of Scutter and Attila the Drum again before 'cease' was called. The resulting Judges' decision ruled that Spawn of Scutter had been immobilised, securing Onslaught's place in the third round.
Prior to the third round, Behemoth was forced to withdraw from the Southern Annihilator after Team Make Robotics discovered that one of its gears had slipped. Onslaught therefore automatically progressed to the fourth round against Razer and Attila the Drum.
"Onslaught through the flames… 12mph top speed – too quick for Razer, it would seem!"
— Jonathan Pearce as Onslaught outmanoeuvres Razer in the opening stages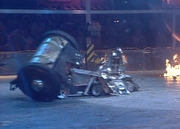 It began by dodging Attila the Drum and Razer's initial lunges. It continued to dodge Razer for some time, lifting it a few times with the scoop, and avoided a blow from Attila the Drum's flail as it pushed Razer around in circles. Onslaught reversed into Attila the Drum, knocking the axlebot off-balance, before resuming its duel with Razer. Momentarily, it was scooped up by Razer, but avoided getting crushed, and proceeded to attack and pursue Attila the Drum as the latter drove towards Sir Killalot's CPZ. Another ram from Onslaught allowed it to turn Attila the Drum over on a nearby CO2 jet, before Onslaught steered Attila the Drum towards the flame jet and an approaching Razer. It rammed, bumped and dodged Razer a few more times, momentarily getting stuck on the edge of the Flame Pit. The three competitors converged in the centre of the arena, with Onslaught bumping into Attila the Drum and Razer a few more times.
At one point, Onslaught got underneath Razer again, but was unable to use its scoop to lift it. It proceeded to push and buffet Attila the Drum over the closed pit, before slamming into Razer a few more times. Onslaught pushed Attila the Drum again, this time into Sir Killalot, with Razer also attempting to damage Attila the Drum's wheel before Sir Killalot held the latter aloft. From this point on, Onslaught and Razer continued driving around until Sir Killalot lowered Attila the Drum outside the CPZ. Onslaught immediately pushed Attila the Drum back; Attila the Drum's drive had been damaged, resulting in it re-entering the CPZ and sustaining another attack from Sir Killalot.
Onslaught rammed the side of Sir Killalot in an attempt to free Attila the Drum, but was unable to lift the House Robot. It was momentarily gripped by Razer, but moved slowly forwards towards the edge of the now-vacated CPZ. In an attempt to drive away, Onslaught bumped one of the wall spikes, allowing Razer to briefly grab its rear panel and drag it back. With its rear tyres delaminated, Onslaught shot forwards into Matilda, and was flipped onto its side by the House Robot's tusks as it lingered near the wall. Razer grabbed Onslaught, folding one of its side panels in just before 'cease' was called.
"Onslaught very nearly into peril… and they are in peril now! Razer… now you can see the crushing beak! And it'll go to the Judges again – will they survive?"
— Jonathan Pearce as Onslaught is attacked by Matilda and Razer in the closing seconds
Nevertheless, Onslaught survived to a Judges' decision, which ruled that Attila the Drum was immobilised and would be eliminated. In The Pits, it was revealed that in addition to the dent in its rear panel, Onslaught also had the side of its chassis bent as a result of Razer's attacks. Nevertheless, Onslaught entered the final, a head-to-head against the reigning World Champion.
Julia Reed: "Now, have we got a message for Razer? Come on – it's the finals!"
David Wood: "Be gentle!"
Julia Reed: "Be gentle? I think I'm going to leave you – you need tactics, really, don't you? I mean, have you thought of anything? How are you going to approach this?"
Alan Wood: "Run!"
— Interview with Team Onslaught prior to the Southern Annihilator final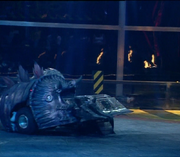 The final round began with Onslaught dodging Razer's initial charge, preventing the third seed from getting its crusher to good effect. However, it drove straight towards and around Matilda, speeding through her CPZ and alongside the flame jet. Onslaught advanced towards Razer again, but Razer pushed it sideways and into Matilda; Onslaught momentarily pushed the House Robot forwards in the process, only to drive towards her again. Moments later, Onslaught drove straight up Razer's wedge, allowing Razer to clamp it as Onslaught dragged the reigning World Champion back. The two robots briefly separated, before Onslaught reversed into Razer, which rammed Onslaught into the wall while trying to crush its right-rear wheel.
"There was an attack of the beak weapon. [Razer's] got Onslaught by the tyre, by the wheel – a crush! And Onslaught… well, the tyre slightly, only slightly shredded, and it looks to me as if they've got full power and momentum. Or have they?"
— Jonathan Pearce as Onslaught is attacked by Razer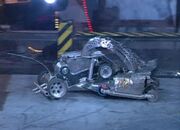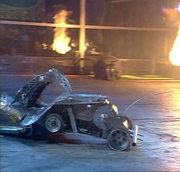 Again, the two competitors separated, but Onslaught struggled for traction on its now-worn tyres, and was pushed once more by Razer before retreating. However, Onslaught drove straight up Razer's wedge again, this time pushing Razer along the entry gates, past Dead Metal and over the Floor Flipper. Both robots pushed each other to and fro, just as Onslaught's left-rear tyre delaminated and fell apart completely.
"…the tyre now fully shredded, so the damage was done! Look at that, the tyre… which had been shredded in the earlier attack, seemed to be okay, but no it wasn't! And that will be a major problem now for Onslaught's traction on the arena floor!"
— Jonathan Pearce as Onslaught's tyre delaminates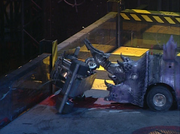 Razer raised its beak, allowing Onslaught to break free and reverse. However, Onslaught was collected, clamped and pushed back by Razer, and reversed into Matilda. Driving over the flame jet, Onslaught proceeded to manoeuvre across the arena and into Matilda once more, where the House Robot lifted it onto its side against the wall.
"Oh, what are they doing?! What are they doing?! Straight back into the CPZ – in comes Razer – Onslaught on its side! And I mentioned beforehand… if it was flipped over, it could srimech, self-right, but not on its side, I don't think so…"
— Jonathan Pearce as Onslaught is flipped against the wall by Matilda
However, Onslaught could not fire its scoop or srimech, and was left stranded as Razer proceeded to cause severe damage to Matilda. With Sir Killalot also distracted by Razer, Sgt. Bash and Dead Metal attacked the immobile Onslaught, which was still unable to self-right as the latter eventually pitted it. With this, Onslaught finished runner-up in the Southern Annihilator.
Craig Charles: "When you're fighting a robot like that, what do you think? What's your strategy? What's your plan?"
Alan Wood: "Keep away as much as possible, I think!"
Craig Charles: "You didn't! You kept driving up its ramp!"
Alan Wood: "Well, in the end, you have to go for them, don't you? They're certainly better than we are, much better."
Craig Charles: "It's a right little terrier of a robot, yours, though, isn't it?"
Alan Wood: "Oh yes, it's tough."
Craig Charles: "It keeps on going… and his spike wasn't really penetrating you that much, that sort of evil claw they've got."
Alan Wood: "No, it's quite tough in places, but they managed to find a couple of places where it wasn't quite so tough."
— Craig Charles and Alan Wood discuss Onslaught's performance against Razer
Series 5
[
]
"Car type steering, single drive motor. Front suspension. Spikes to rear. A one hundred and forty kilo lift ramming wedge. The fastest in the heat at twenty miles an hour."
— Jonathan Pearce
Onslaught made one last appearance in The Fifth Wars, competing in Heat I. There, it faced Paul Snook's new robot Tetanus (the successor to Flip Flop Fly) in its first round battle.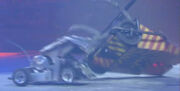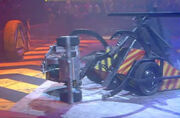 Onslaught started by darting across the arena and over the Flame Pit, before getting underneath Tetanus' forks and lifting it. However, it bumped the edge of the pit panel, allowing Tetanus to briefly push Onslaught sideways before the Bedfordshire machine escaped. Onslaught responded by trying to push Tetanus back against the wall, but drove up the newcomer's forks and got lifted off the floor. Tetanus pushed and tipped Onslaught onto its side as a result, with Onslaught firing its scoop as it was being pushed around in circles.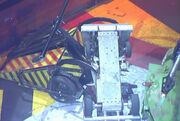 Onslaught eventually fell onto its back as Tetanus pushed it again towards the angle grinder; it attempted to self-right, but landed on the wall, with Onslaught being tipped upside-down again as a result. Onslaught struggled to get either its scoop or its self-righting arm into position, with Tetanus pressing Onslaught against the wall as it opened its self-righting arm again. Onslaught fired its scoop several more times, causing it to twitch against the wall, but this was to no avail as Sgt. Bash closed in.
"You can feel for Onslaught and David Wood, the eighteen-year old driving – just can't get out of the clutches of Tetanus!"
— Jonathan Pearce as Tetanus repeatedly prevents Onslaught from self-righting
Tetanus continued to clamp and push Onslaught around the nearby CO2 jet; Onslaught rocked on its side and almost threw itself back onto its wheels, but without success.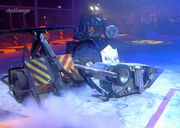 As it fell onto its scoop, Onslaught was speared by Tetanus again; after firing its scoop a few more times, it was left stranded upside-down, its self-righting mechanism no longer functioning. Onslaught was rendered helpless as Tetanus attempted to bump it towards the Flame Pit. However, Tetanus became immobilised by the nearby CO2 jet, resulting in both robots being counted out by Refbot. 'Cease' was called, and the battle went to a Judges' decision. Despite its strong start, the decision went against Onslaught as it spent the majority of the battle upside-down.
Craig Charles: "It was like a tortoise, really, wasn't it, trying to get up. Onslaught, slaughtered!"
Alan Wood: "It was, yep."
Craig Charles: "The thing is, tetanus injections are supposed to, you know, stop you getting lockjaw - it gave you lockjaw!"
Alan Wood: "It did, yeah."
Craig Charles: "But did you enjoy it, though?"
Alan Wood: "Certainly, yeah."
— Post-battle interview
Onslaught was therefore eliminated from the Fifth Wars, which proved to be its final appearance on Robot Wars.
"So it's Tetanus through. Goodbye to Onslaught."
— Jonathan Pearce
Results
[
]
ONSLAUGHT - RESULTS
Series 2
The Second Wars - UK Championship
Heat Final
Heat G, Gauntlet
10.5m (5th)
Qualified
Heat G, Trial (Skittles)
57 Barrels (2nd)
Qualified
Heat G, Semi-Final
vs. Nemesis
Won
Heat G, Final
vs. Roadblock (1)
Lost
Series 3
The Third Wars - UK Championship
Heat, Round 2
Heat I, Round 1
vs. Armour-Geddon
Won
Heat I, Round 2
vs. Beast of Bodmin
Lost
Series 4
The Fourth Wars - UK Championship
Withdrew
Heat P, Eliminator
vs. Cerberus (18), Terror-Bull
Withdrew
NOTE: Onslaught withdrew due to a faulty relay and was replaced by V-Max.
Sumo Basho
4th (out of 16)
Sumo Basho
17.31 seconds
4th
Southern Annihilator
Runner-up
Round 1
vs. Attila the Drum, Behemoth, Razer,
Spawn of Scutter, Vercingetorix
Qualified
Round 2
vs. Attila the Drum, Behemoth, Razer, Spawn of Scutter
Qualified
Round 3
vs. Attila the Drum, Behemoth, Razer
Qualified (by default)
Round 4
vs. Attila the Drum, Razer
Qualified
Round 5
vs. Razer
Lost
Series 5
The Fifth Wars - UK Championship
Heat, Round 1
Heat I, Eliminator
vs. Tetanus
Lost
Wins/Losses
[
]
Onslaught's successful Gauntlet and Trial runs, and the third round of the Series 4 Southern Annihilator where Behemoth forfeited, are omitted from the Wins tally. Similarly, Onslaught's withdrawal from the main competition of Series 4 is omitted from the Losses tally.
Series Record
[
]
Gallery
[
]
Outside Robot Wars
[
]
Onslaught regularly attended live events held during the original run of Robot Wars, where it appeared as an active competitor and as a static display. It achieved varying degrees of success in combat-oriented events, notably fighting Series 3-4 champion Chaos 2 at the Robots@War event in 2000, but losing after its self-righting mechanism malfunctioned.[8] Onslaught continued to make appearances at live events for some time after its final appearance on Robot Wars, before being retired and succeeded by the team's later machine, Ka-Pow!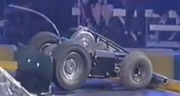 A weaponless version of Onslaught also competed in the spin-off show Techno Games, under the name of Wipeout. Appearing in the 2003 edition, Wipeout competed in the Football and Sumo competitions – sporting a rear ramming plate, a black and grey colour scheme and larger pneumatic tyres – losing in the first round of the latter to British Bulldog.
In 2016, one of the lifting scoops formerly used by Onslaught was included among items sold in a charity auction organised by Team Toon, in aid of Cancer Research UK. The scoop itself raised £100, contributing to a final total of £3,907.66.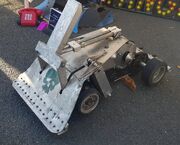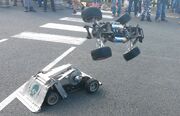 Onslaught still remains in the possession of Alan Wood, who occasionally drove it around on tarmac for fun while equipped with pneumatic tyres. However, the robot itself has been retired from combat, with Team Onslaught considering it too fragile to fight against more modern heavyweights[9]. Onslaught attended Robonerd in August 2019 and performed a test drive, using its shape to overturn an RC buggy repeatedly. It would subsequently appear at the Robots Live! Stevenage event alongside Ka-Pow!, albeit as a static display.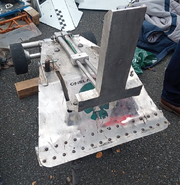 In June 2021, team member David Wood organised a fundraiser for a brand new Onslaught machine to be built, dubbed Onslaught 2.0.[10]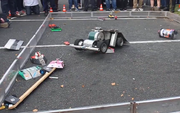 Onslaught would appear again at Robonerd on September 4th, 2021. A static display for much of the event, Onslaught was drafted in to replace Panic Attack and take on an army of still-functional beetleweight robots in attendance. These included Social Media Frenzy, a tribute to US competitor FrenZy, former Bugglebots competitor Hello There! and Choppy Boi. After immobilising many of the smaller robots, Onslaught would eventually end up high-centred, handing the win to the beetleweights.
Appearances in Merchandise
[
]
Trivia
[
]
Even while being equipped with a srimech, three of Onslaught's losses involved it being flipped over and unable to self-right.
Onslaught was the only robot from Bedfordshire to compete in Series 2 and Series 5.
Even at just .14m3 Onslaught was not the smallest heavyweight robot to compete in Robot Wars. The smallest was Gyrobot at just under .08m3.
Onslaught cost around £1,500 to build.
In both of Onslaught's odd-numbered series appearances, it fought in Heat I.
Razer is the only robot to beat Onslaught and not get beaten in turn by Team Jurassic Park, as both Tetanus and Team Roadblock lost to them at some point.
Although actually remaining at 24V throughout its appearances, the quoted power output of Onslaught's forklift motor varied in between series:

During its team introduction in the Series 4 Southern Annihilator, Alan Wood stated that the motor in this series had an output of one kilowatt.
On Onslaught's statistics boards in Series 5, the motor was stated to run at 36V.
References
[
]
External Links
[
]