Orac's Revenge was a heavyweight robot that competed in Series 3 of Robot Wars. It was quickly dumped in the pit in the first round of its heat by eventual Grand Finalist, Steg-O-Saw-Us.
Orac's Revenge was the successor to ORAC.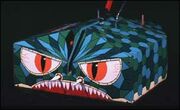 Orac's Revenge was a box-shaped robot that was armoured in 4mm aluminium, strengthened in vulnerable areas with thick polycarbonate and armed with a red pickaxe with interchangeable blades. It featured a green scaly design with a large face on the front. It also had two front spikes. The pickaxe was quick in activation, as was the robot itself, but its damage output was still low.
Qualification
Edit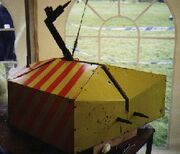 Orac's Revenge was originally named Hammerhead, and its body was painted yellow with red stripes rather than green, and its spikes were not painted. In this form, Mentorn initially rejected it from Series 3, but for unknown reasons it later managed to qualify, possibly after the rebranding. Another robot called Hammerhead also qualified for the Third Wars.
Orac's Revenge attempted to enter Series 4, where it was virtually unchanged from its Series 3 design. However, it failed to qualify.
Robot History
Edit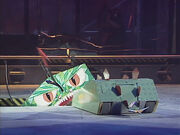 Orac's Revenge was originally intended to battle T-Wrecks, but a late withdrawal saw Orac's Revenge instead fighting reserve entry and future Grand Finalist Steg-O-Saw-Us. The latter resisted Orac's Revenge axe, despite it coming down constantly at such a rate, and Steg-O-Saw-Us was ramming it into the arena walls with little to no resistance. Steg-O-Saw-Us then quickly pitted Orac's Revenge. Despite this, the House Robots still came in to cause more damage to the pitted Orac's Revenge.
Wins/Losses
Edit
Series Record
Edit
Outside Robot Wars
Edit
Orac's Revenge made various appearances at live events away from Robot Wars, including a battle with Splinter.
In 2016, the team stated that they would have liked to be part of the new series, but would be unlikely to build a robot in time. They still own both versions of ORAC.
"I received an email to my robot website about the new series from Mentorn today. Had a look at Orac and Orac's Revenge sitting in the garage, looking in a very poor state. Will probably have to make something new, but 2 months is a very tight timescale, not sure if I could build anything presentable."
— Peter Reynolds on the FRA forum
After Series 4, the team built a autonomous submarine powered by renewable energy.
"We are designing a small autonomous submersible craft to cross the Atlantic ocean and return using only renewable energy. We have 4 engineers/scientists working on the project so far and we estimate it will be a 2 year project. Basically we are going to chuck it off brighton pier and it will page us 7 months later when it gets back!!"
— The Oracles on their autonomous submersible[1]
References
Edit
Community content is available under
CC-BY-SA
unless otherwise noted.