PacifieR was a heavyweight robot which qualified for Series 9 of Robot Wars, but ultimately withdrew due to a minor short circuit problem. The team were best known for building the second Dutch champion, PulverizeR, and PacifieR was later repurposed to compete in BattleBots as Petunia.
Design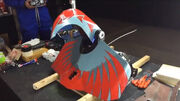 PacifieR was a red, blue and black, two-wheel drive robot with a design bearing a close resemblance to that of PulverizeR. Instead of PulverizeR's flywheel, however, it was equipped with a large and powerful vertical hydraulic crusher as its main weapon, which also acted as a self-righting mechanism[1]. PacifieR was partially invertible, capable of driving on its back end, although its claw could be rendered ineffective when the robot was inverted, and it had to use its weapon to self-right when it was completely upside-down. Its crusher boasted 10 tonnes of crushing force, and crushed into its own wedge for maximum damage output, at the expense of range. Its broad range was also highly resistant to horizontal spinners, due to its broad nature and HARDOX material.
Robot History
Series 9
PacifieR was drawn into Heat 4, where it should have faced Pulsar, Ironside3 and Crushtacean in its opening melee. However, PacifieR suffered from a minor issue with its circuitry, making the robot unable to participate in the battle. PacifieR withdrew from the battle, where it was directly replaced by Apex. Although PacifieR joined the reserve list and its circuit was fixed only minutes after the issue occurred, PacifieR never made it to the arena.
PacifieR appeared in the background in Heat 1, on a workbench near the testing arena, while Sabretooth was testing its weapon.
Series Record
UK Series
Dutch Series
Outside Robot Wars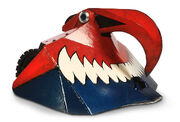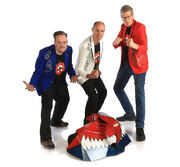 PacifieR never made a combat appearance outside of Robot Wars. However, for the 2018 season of BattleBots, aired on Discovery Channel and Science Channel, Team P.C.P. converted PacifieR into a new design, Petunia. In its first battle, it fought the two horizontal spinners of RotatoR, and initially took damage, until RotatoR lost the use of its weapons. After this, Petunia controlled RotatoR around the arena, used its crusher, and held RotatoR over the arena saws to earn a win via judges' decision.
Trivia
At filming, Team P.C.P. were dressed as babies, in homage to the pacifier theme of the robot.
If PacifieR had entered the arena, Team P.C.P. would have fought Crushtacean in two consecutive battles, after PulverizeR lost to it in the Third World Championship.
References
External Links
Community content is available under
CC-BY-SA
unless otherwise noted.