"Owner Pete Collier once built a go-kart with shaky wheels. He went to France to buy these to create… Panda Monium! The outer coating's expanding foam polypropelene. Watch out for the two cold, chisel ramming spikes!"
— Jonathan Pearce introduces Panda Monium
Panda Monium was a robot which competed in Robot Wars: The Second Wars, the first in the line of robots built by Team Panda. Originally a reserve robot, it was chosen to replace eventual series runner-up Cassius on the second day of filming, in a similar manner to fellow competitor Griffon.
In its solitary appearance, Panda Monium reached the Arena Semi-Final stage of Heat A, becoming the first competitor of Series 2 to complete The Gauntlet in the process. However, it lost at that stage to eventual heat winner Napalm.
Panda Monium was subsequently succeeded by More Panda Monium which attempted to apply for Series 3 and Series 4.
Design
[
]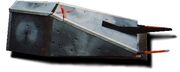 Panda Monium was a grey two-wheel drive robot with an angular wedge-shaped body made from expanding foam polypropelene. This plastic material was chosen early into Team Panda's build and deemed to be 'very, very impact resistant' when being cut for the machine's panels.[1] Aluminium strips were used to fix the panels onto the robot's steel chassis, which in itself was made out of a wheelchair salvaged from a scrapyard.[2] [3] The latter was also used to provide Panda Monium's wheels, in spite of its statistics board claiming that the wheels were 'imported' from a 'French hypermarket'.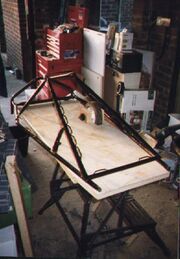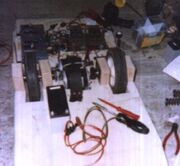 From the start, the team had intended to run Panda Monium on a drive system incorporating two 12V batteries and electric motors. Wheelchair motors were initially considered, but dropped after Team Panda's agreement with their intended supplier fell through and they considered the cost of a replacement pair too expensive.[1] Prior to its acceptance as a reserve, the original motors were replaced by more powerful Sinclair C5 motors, which only arrived one week prior to filming.[4] Coupled with the 12V batteries, these gave Panda Monium a respectable top speed of 8mph.
"It's got a large fence post on the front which is designed to raise... and hopefully take out some nasty cutting gear."
— Chris Loader explains Panda Monium's main weapon
The robot's armament consisted of a large front lifting spike (described as a 'fence post' by Chris Loader on television) accompanied by two smaller static spikes with red tips. These were among the various weapons Team Panda had considered during the build process, including an axe (the original concept later revisited by Hot Pants)[5] and a prototype 'twin cutting disc device' assembled by Pete Collier.[6] Collier expressed in his build diaries that a number of weapons were to be included and assessed at Panda Monium's weigh-in, including the discs, but due to time constraints only the spikes were fully completed.[4]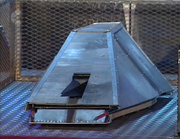 At 84.1kg, Panda Monium weighed 4.7kg over the original Heavyweight limit (79.4kg).
Etymology
[
]
Panda Monium's name was a pun on pandemonium, combined with "panda", the namesake of the team.
The Team
[
]
Main article: Team Panda
Panda Monium was entered into Series 2 by a team based in Burgess Hill, West Sussex. The two-man team were known as Team Panda, and was captained by Pete Collier, the lead builder and driver of the robot. He was accompanied by Chris Loader.
Qualification
[
]
"Saturday arrived and we bundled Panda into Chris' car and set off for London. We took a toolbox and spare batteries as well as a box of parts of weapons to be included in the weigh-in. We arrived early and were told to sign in, sign release forms (it was being filmed) and go and set up the gear on table 10. We had our pictures taken and Panda did too - from her best side!! Then we weighed her and they finally let us through to the technical check."
— Team Panda's diary for their Series 2 audition[6]
As with other Series 2 applicants, Panda Monium was required to attend auditions in the hope of securing a place on the televised show. The night before leaving for the Docklands studio in London, the team had encountered issues getting the robot to drive at an optimal and controlled speed. Compounded by its lack of a failsafe, an issue raised by Mat Irvine while performing its technical check, this would lead to severe control issues that would affect Panda Monium's performance in the test area.[6]
"We moved Panda into the test area and started her up. After a few moves, Mat told us to switch off the transmitter. The result was that Panda turned towards the security barrier and charged at full pelt. I couldn't stop her in time and she hit the barrier at full speed. She pushed it about 1.5 feet backwards and stopped. Chris shut the system down, but the chassis and shell had been ripped off. This meant we had to clear the debris and run again without the top."
— Pete Collier's account of Panda Monium's initial test on the Team Panda website[6]
On its first attempt, Panda Monium drove uncontrollably into the safety barrier after the team were prompted to disable its transmitter. The robot damaged itself in the process and was required to make another test drive without the bodyshell.
"This time, Chris stayed in with her. He switched on the power and she just shot off!! I didn't even move the stick. This time she out-ran Chris and eventually smashed into the wall on the far side of the arena. DOH! The batteries were torn from their mountings and Chris had to carry the pieces back."
— Team Panda website, Panda Monium encounters more testing issues[6]
Further tests proved equally disastrous. On its second attempt, Panda Monium rammed the wall again immediately upon activation, damaging its battery mounts. Other runs were cut short by Panda Monium losing mobility due to drive issues, a recurring fault being a slipped chain caused by the motor mounts shifting. Though disheartened by their own performance, Team Panda received encouragement from Irvine and Derek Foxwell, the latter helping to replace the battery for their receiver after their second test.[6]
A week after the audition, Panda Monium was initially confirmed to not be selected for the main competition, instead taking part in an unspecified heavyweight battle which was also to be televised. Team Panda had nevertheless already committed to improving their driving skills as well as making several modifications to their robot, among them the addition of a failsafe, the Sinclair motors and a new MDF baseplate.[4]
One month later, Mentorn requested that Panda Monium attended filming as a reserve, potentially enabling it to fight in the UK Championship after all. Though uncertain about its true performance in the arena, Team Panda duly accepted, satisfied that the rebuilt robot drove considerably better than in its initial audition.
"We haven't had time to paint her, but we have run her in the Ericsson car park and she goes well - smooth, controllable, powerful: everything Panda MkI wasn't. We don't know what will happen in London, but we are as ready as we could be given the circumstances. It's showtime!!"
— Team Panda website[4]
Robot History
[
]
Series 2
[
]
Panda Monium was present for The Second Wars as one of the designated reserve robots for the series. Initially uncertain about the extent to which they would be involved, Team Panda were called up on the second day of filming to perform an arena introduction, then were approached to replace Cassius in the main competition line-up.
"We returned to the pits, still not knowing what was going on. After lunch, we were out for a stroll when Mary-Jane (Evans, assoc. producer) came after us. "You're on. A robot (Cassius) has dropped out and you will take their place. Get ready to film the Gauntlet." We rushed around getting outfits and giving people details before getting Panda out of the House robots pit and onto the main pit table for filming the introductions."
— Team Panda, on the experience of substituting for Cassius early into filming[7]
Technical issues delayed the appearance of Rex Garrod's entry to a later stage of filming, allowing Panda Monium to compete in Heat A.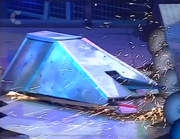 On television, Panda Monium was shown as the second robot in that heat to face The Gauntlet, but in actuality its run took place shortly after Caliban's ill-fated attempt.
"We'd seen Killalot in the pits, and we'd also seen what he'd done to Caliban - totally destroyed. Perhaps we won't go that way. I wasn't convinced about the clearence for the ramp, so that left angle-grinder alley! We climbed to the control area and waited to start."
— Team Panda, evaluating their options for The Gauntlet[7]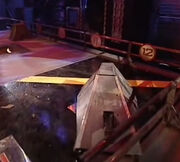 Aware of the risks involved in confronting Sir Killalot and possibly getting beached on the see-saw ramp, Team Panda immediately advanced their machine down the right-hand route. A steady start lead to brushes with the Ramrig, sparks flying as the angle grinders made contact with Panda Monium's front end. Panda Monium raised its main spike before again being caught by the Ramrig. After a few seconds, it surged forwards over the Flame Pit, past Matilda and into the end zone amidst shouts of encouragement from Chris Loader.
"Waiting their time. Chris Loader once wore a plastic biking outfit… and it's gone through with the power… of Thor's hammer! And they're through! Great run!"
— Jonathan Pearce as Panda Monium completes The Gauntlet
Panda Monium thus became the first competitor in The Second Wars to complete The Gauntlet, though Demolition Demon and Victor would later set faster runs in the same heat.
Regardless, all three would comfortably secure a place in the Skittles Trial alongside Napalm and Piece de Resistance. As with The Gauntlet, Panda Monium was the second robot after Napalm to begin its run, in both filming and televised orders. However, Team Panda expressed concerns beforehand that due to its low ground clearance, their machine would get stranded descending the entry ramp which all remaining competitors had to negotiate.
"The next task was Skittles - knock down as many barrels as possible. Matilida, Killalot and Sgt. Bash were ready to 'help'. Then, disaster! We found out from David Crosby (Napalm) that we had to come down off a ramp! We had a look at it - no chance. we'd get grounded! We spent 2 hours frantically fitting extra casters on the back so that when Panda grounded she would ground onto castors and drift down. Derek had said that if we got stuck, Killalot would 'help us down'! Hmm, no thanks!"
— Team Panda encounter an unforeseen issue prior to their Skittles run[7]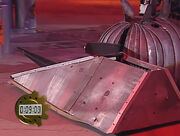 To avoid getting beached by its low ground clearance, a set of extra castor wheels was fitted to the rear of Panda Monium to allow it to coast down the ramp. This worked in allowing it to drive off and plough speedily into the front stack of barrels without difficulty. Panda Monium reversed, but struggled to knock down more barrels and was attacked by Matilda's chainsaw a few times as it backed up for another charge. Having initially struggled to get a hold of its plastic armour, the chainsaw eventually left a sizeable gouge in Panda Monium's aluminium strips before time ran out.[7]
"Doesn't want to leave the barrels. There's that steel spike for attack. Oh ho, and its losing weight! No wonder… Matilda was there. And now, away from the barrels, got to be closer than that! That's a poor finish."
— Jonathan Pearce as Panda Monium is attacked by Matilda
Unseen on the televised episode, Panda Monium retaliated by knocking off one of Matilda's tusks, resulting in further attacks from the House Robot.[7] Its score of nine barrels was enough, however, for it to finish third once more and progress to the Arena stage.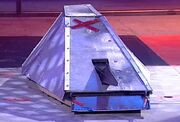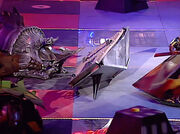 Panda Monium faced Napalm in its Semi-Final, its battle scar from the Trial covered over with a steel plaster.[8] Straight away, it charged past Napalm before pirouetting around and reversing, grazing the Dartford Girls Grammar machine's plough with its left spike. Spinning over a grille, Panda Monium prepared to ram again, but its lifting spike glanced off the front of Napalm as it shot forwards and inadvertently entered the PPZ. This proved fatal as Matilda turned a slow-retreating Panda Monium over with her tusks, eliminating it from The Second Wars after just twenty seconds.
"Here's Panda Monium circling, coming in, with the front spike. That's dangerous driving, though, because Matilda's tusks are in the PPZ! And it's all over – that was Panda Monium!"
— Jonathan Pearce as Panda Monium is overturned by Matilda
In his Robot Wars 101 build diaries, Pete Collier believed that the House Robot's attack was 'revenge' for the damage inflicted by Panda Monium in Skittles.[8] David Crosby of the Napalm team was also quick to consider his own robot 'very lucky' to win when interviewed by Craig Charles in the televised heat. Though Chris Loader was initially disappointed with the Semi-Final's outcome, Collier expressed that he and Loader enjoyed their first appearance on the show.
"It was a great experience and I look forward to the future events. We learnt so much, that we HAVE to do this again. Next time, Matilda, yo' ass is mine!!!!"
— Peter Collier, reflecting on Panda Monium's Series 2 appearance[8]
Results
[
]
Wins/Losses
[
]
NOTE: Panda Monium's successful Gauntlet and Trial runs are not included
Series Record
[
]
Trivia
[
]
Jonathan Pearce incorrectly stated Panda Monium's loss to Napalm as having taken place in Series 3 while commentating on Team Panda's first round battle in Series 6.
References
[
]
External Links
[
]