The Panic Attack Minibot was one of several minibots released as merchandise, and was part of the first generation of toys. It is based on the Series 4 version of Panic Attack as this does not include a decal of the team's website on the sides.
Like most of the first generation minibots, this minibot had no moving parts. The forks are not active and were not flush to the ground, so it proved difficult to get underneath other minibots during play. These forks were also oversized compared to those of the real machine. The top panel, which acted as a srimech on the actual robot is also static.
However, the rounded parts on the top of the minibot can help simulate a srimech if you press between the rear wheels when the toy is upside down.
The warning stripes along the skirts and the name decal are both accurate to that of the real machine. The decals on the front, top and back of the toy are also well-replicated, though can appear slightly off due to the scaling issues on the toy.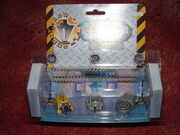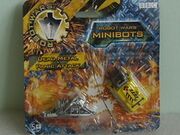 As part of the original wave of pullback releases, this minibot was released in a two-pack with the Dead Metal minibot, a three-pack with Hypno-Disc and Dead Metal, a five-pack with Shunt, Matilda, Chaos 2 and Dead Metal, and as part of the Smash 'N' Crash Playset, along with Dead Metal once again.
Due to the number of different releases containing a Panic Attack minibot (alongside a Dead Metal minibot in all four cases), Panic Attack is among the more common competitor minibot toys.
Differences to the real robot
Edit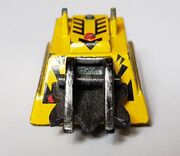 This minibot toy was taller and narrower than the real robot, likely due to the pullback motor that was universal across most minibot toys. Like the pullback and pitstop toys, this minibot did not feature the spider decal that became synonymous with Panic Attack throughout the show. This toy is also missing the "II" decal that sat behind the "Panic Attack" text along each side on the Series 4 incarnation of this machine.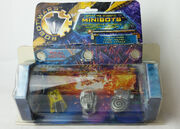 The three-pack containing the Panic Attack, Dead Metal and Hypno-Disc minibots would later be updated in 2002 to use more contemporary packaging.
All three releases of the Panic Attack minibot, including its two-pack, three-pack and five-pack releases, consistently contained a Dead Metal minibot.
Community content is available under
CC-BY-SA
unless otherwise noted.