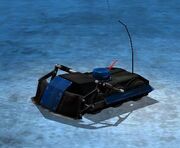 "Panzer Mk 4, capable of giving and receiving tremendous punishment. Beware of this robot from across the Pond"
— Jonathan Pearce's in-game commentary
Panzer Mk 4 was a six wheeled box-shaped robot from the United States of America. It has a very successful career in Robot Wars: Extreme Warriors, winning Seasons 1 and 2. The robot's lifting wedge and six wheel drive gave it great pushing ability, reflected in the game.
Appearance and Armament
Edit
Robot Wars: Extreme Destruction (PC/Xbox) was one of the Robot Wars video games that Panzer Mk featured in. This game was based on Robot Wars Extreme: Series 1, concurrent to the first series of Extreme Warriors, which was won by Panzer Mk 2. However, instead of Panzer Mk 2, the game instead features Panzer Mk 4, the incarnation that would go on to win the second series of Extreme Warriors. The resemblance to this robot is remarkable, carrying across the rough size, speed and pushing power, although the in-game Panzer Mk 4 features a powered pneumatic-style flipper instead of the real machine's slow and precise lifting wedge.
Strategies
Edit
Using Panzer Mk 4
Edit
Panzer Mk 4 can use its flipper to lift robots off the ground, and can then use its pushing ability to shove robots around the arena, whether the robot is pushed into the house robots or another arena hazard, this will prove the most successful tactic. Panzer Mk 4 can't self-right with its flipper, so avoiding any flippers whenever possible will be a smart move.
Against Panzer Mk 4
Edit
Panzer Mk 4 is flippable, so if you are operating a robot with a flipper, this will be the most successful tactic. However, Panzer Mk 4 can be easily pushed from the side as well. Avoiding the flipper will help, as Panzer Mk 4 can try to lift you up, hold you there, and drag you towards the pit.
Differences from Real Life
Edit
The real robot's lifting wedge is represented more like a pneumatic flipper, closer in function to Panzer Mk 2 than Panzer Mk 4. It is capable of flipping robots out of the arena in-game, which would be infeasible for the real machine's lifter.
Despite always being the captain of Team Revelation, driver Todd Mendenhall is not listed as a team member on the battle board.
Community content is available under
CC-BY-SA
unless otherwise noted.