"We've got a single spike at the back, two single spikes at the front, they're going to be used for pinning an opponent, whilst we attack them with our circular saw."
— Andrew Kettle on the weaponry
Penetrator was a heavyweight robot that entered Series 2 of Robot Wars. It was unsuccessful, being eliminated in the Trial stage of its heat.
"...Penetrator carries twin spikes on the front and another at the rear, with an extending cutting disc, under that forward steel-plated bot. The four motors come from a child's go-kart"
— Jonathan Pearce introduces Penetrator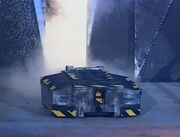 Box-shaped in design, Penetrator featured three ramming spikes; two at the front and one at the rear, and had an extending saw blade. The armour of Penetrator consisted of steel plates that overlapped for maximum protection. Penetrator's motors and wheels originated from a child's go-kart, and had six 6-volt batteries for power. There was a strobe light on the top for decoration.
Robot History
Edit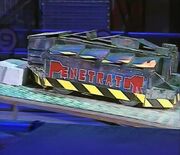 Penetrator started by slowly charging at the brick wall, but despite knocking down a number of bricks, could not push past the bricks. It reversed for another charge, this time getting up more speed, allowing it to push the bricks. It tried to get up the see-saw, but two bricks from the wall were in its way. After a couple of pushes, Penetrator managed to push past them, and climbed the see-saw, pushing one of the bricks along as it did.
"Steady, if slow progress."
— Jonathan Pearce
Penetrator crossed the see-saw, however Shunt blocked its path. Shunt axed the top of Penetrator, and Penetrator tried to drive around him, only for Dead Metal to come from behind Shunt, grabbing Penetrator and pushing it back.
"They may have done enough already, I think now it's a question of damage limitation..."
— Jonathan Pearce as Shunt axes Penetrator
Dead Metal pushed Penetrator against the fence and tried cutting into it, then pushed Penetrator further up the course, into a pyramid. However, the 5.2 metres Penetrator had covered was still enough distance to qualify for the Trial.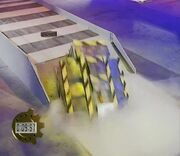 The Trial was Tug of War, but Penetrator didn't have enough power to pull Matilda back, and Matilda's first tug pulled it dangerously close to the pit. Penetrator struggled back, but Matilda tugged again, pulling Penetrator to the very brink of the pit. Penetrator was stuck on the edge, so one last pull from Matilda dragged it into the pit. Penetrator had lasted just under 10 seconds, and as a result it was eliminated.
Phillipa Forrester: "What we sadly are going to miss is the Penetrator team. When are you going back to Halifax?"
Andrew Kettle: "Yeah, we're not going back 'til tomorrow now though."
Phillipa Forrester: "Oh really? Robot Wars is so much fun they just have to linger!"
— Post-Trial interview
PENETRATOR - RESULTS
Series 2
The Second Wars - UK Championship
Heat, Trial
Heat J, Gauntlet
5.2m (5th)
Qualified
Heat J, Trial (Tug of War)
9.75 seconds (5th)
Eliminated
Series Record
Edit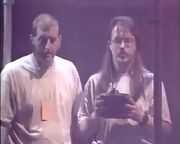 Team member Andrew Kettle formerly designed missile guidance systems for the Ministry of Defence.
Penetrator is one of 20 robots never to fight in robot combat, having only ever been in the Gauntlet or Trial.
Community content is available under
CC-BY-SA
unless otherwise noted.