Phantom is a design concept for a heavyweight robot which applied to compete in Series 8-9 of Robot Wars, but was not chosen to compete in either. It was designed by Matt Smith, the current owner of Eric, who would later compete in Series 10 with Hobgoblin.
Design
[
]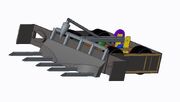 Phantom was to be a narrow wedge-shaped robot running on a two-wheel drive system, with its wheels being protected by disposable bumpers for spinners to rip away. The robot has two weapons; the first being a front-hinged lifter, which can pin robots against the wall, while the other is a circular saw on an overhead arm. The two weapons do not work in conjunction with each other, although they were designed to work together in Phantom's first application for the show.
The original concept for Phantom was for a four-wheel drive, box-shaped robot with a combined lifter and grabbing arm, similar to BattleBots competitor Complete Control.
Series Record
[
]
Outside Robot Wars
[
]
Matt Smith regularly competed at live events in the featherweight and beetleweight categories. His most successful machine to date is FHQWHGADS, an innovative dustpan-style machine with HDPE extensions which won the inaugural UK Beetleweight Championship in 2015 as well as the 2016 Burgess Hill Tag team Championships.
Matt Smith's featherweights have included:
Hardwired 3+, A tiny, compact two-wheel drive vertical spinner on a wedge. Hardwired 3+ was sold to Ethan Wall of Kings Heath Colliders Robotics in 2019.
Hardwired 3, a two-wheel drive robot armed with a drumette
Hardwired 2, a simple two-wheel drive rammer.
Overdrive, a second two-wheeled drum spinner of a similar kind to Hardwired 3, which competed exclusively in the 2015 World Featherweight Championships. After breaking its own weapon motor shaft during the competition, the drum was removed and replaced with an inflatable banana, resulting in the robot being renamed Banana Overdrive.
Wipeout, a robot inspired by Whiplash, featuring a four-wheel drive system and a combined lifting/spinning weapon. Wipeout entered the 2018 King of Bots UK International Championships, but only competed in one match after encountering transport and scheduling issues, late delivery of parts and technical issues immediately before one of its melees.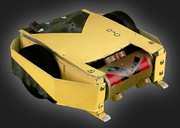 Matt Smith has also competed with a beetleweight invertible drum spinner, The Berg, which competed in the web-series Bugglebots under the captaincy of Charlie Dangerfield. There, it lost all of its battles in the main competition, as well as the 'Dung Beetle' melee and its battle against WeeWoo in the 'UK vs Rest of the World' special. Under the captaincy of referee Tim Rackley, The Berg also fought in a one-off 'Ref Rumble' against Saw Loser and Shane Lale during the end-of-series 'Whiteboards' episode. There, it emerged victorious after repeatedly hitting and eventually immobilising Saw Loser with its drum.
In early 2019, Matt Smith formally retired from combat robotics.
External Links
[
]