"Will Phoenix rise from the ashes in a fiery battle with victory?"
— Jonathan Pearce
Phoenix was a heavyweight robot which entered Series 2 of Robot Wars. It managed to cover almost nine metres in the Gauntlet, but this wasn't enough to get it into the Trial stage, therefore it was eliminated. This gave it the dubious record of being the best performing robot to lose in the Gauntlet.
Design
[
]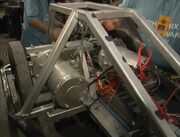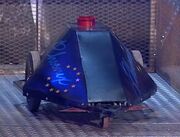 Phoenix was an angled box wedge-shaped, two-wheel driven robot, with tungsten tipped blades at the front of its body for weaponry. It was very fast at 15 mph thanks to its 800W industrial motors, although this ultimately sacrificed control in the Gauntlet. Phoenix featured a star pattern similar to the logo of the European Union on its armour, and a siren on top.
Etymology
[
]
Phoenix was named after the mythical bird known for its constant death and birth cycle.
Robot History
[
]
Series 2
[
]
Phoenix competed in Heat K, and started by running the Gauntlet.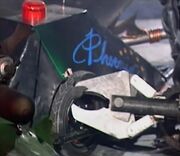 Phoenix went for the middle route in the Gauntlet, after some questionable steering, it managed to go up the ramp and after pushing through the barrels it fell of the ramp and temporarily became stuck on the side of the ramp. It was then freed by Sir Killalot pushing the large ball onto Phoenix. Phoenix then turned around and charged into Sir Killalot, but was then trapped and one of its tyres was cut up by Sir Killalot's cutting arm. Phoenix travelled far, but not quite far enough and was eliminated.
Results
[
]
PHOENIX - RESULTS
Series 2
The Second Wars - UK Championship
Heat, Gauntlet
Heat K, Gauntlet
8.9m (6th)
Eliminated
Series Record
[
]
Trivia
[
]
Phoenix is one of 20 robots never to fight in robot combat, having only ever been in the Gauntlet or Trial.

Phoenix is the robot to travel furthest in the gauntlet and be eliminated at that stage.

Phoenix suffered failure of its electronic motor control system the day before the event and it had to be replaced by a mechanical servo driven variable resistor system as there was no backup.
During the construction of Phoenix, modifications to the tyres made using an angle grinder caused so much smoke that people in the neighbouring office called the fire brigade.
Phoenix traveled the furthest in the Gauntlet without qualifying for the Trials, traveling 8.9 m.