"The bug-eyed Piece De Resistance is the lightest competitor tonight - don't take it too lightly though, with its lifting blade made from a snow shovel. Its chassis is an old microwave oven, and it's driven by windscreen wipers from a Mini!"
— Jonathan Pearce
Piece De Resistance was the original entry from Team Death that competed in Series 2 of Robot Wars.
Due to Piece De Resistance progressing past the Gauntlet stage of its heat, it is the only robot from Team Death to progress past the first round of its heat.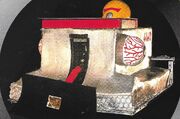 Piece De Resistance was constructed from an old microwave - to insert motors, the team had to open the microwave door - and featured a flexi-lifting blade which originated from a snow-shovel. This means that despite the wonky appearance, the weapon was fully functional, and could bend into other shapes, which it frequently did.
"The car jack shovel weapon proved to be less than useless and only proceeded to buckle the microwave frame each time it operated."
— Colin Scott on the FRA forum[1]
It also featured spike weapons at the back and ran on tricycle wheels powered by windscreen wiper motors from a Mini.
Etymology
Edit
The name Piece De Resistance originates from a French term which translates into English literally as "piece of resistance", referring to the best part or feature of something (as in a meal), a show-piece, or highlight.
Qualification
Edit
"We arrived at the warehouse somewhere in London and carried our robot inside, I recall around 20 tables set out occupied by a dozen robots, in a adjoining room some robots were been put through their paces on a makeshift obstacle course. Back in the first room the competitors were checking out the competition and my teammate told me they referred to my bot as Outside Toilet Technology, which at the time annoyed me... but then again Outside Toilet Technology is reliable and a doddle to fix if it goes wrong. OK its my turn for the safety check and a go on the obstacle course, I recall Panda Monium was enjoying the obstacle course... mainly crashing into the walls and not showing great control while mine was examined by Derek Foxwell, I was advised to fit failsafes, otherwise OK and good to go. So although it was sluggish at 4mph it knocked down some barrels did a 180 turn and drove up and over a tipping bridge. I remember Roadblock soon followed my go and they looked far superior so I wasn't confident of getting my call up papers but was delighted to be chosen. I like to think that Piece de Resistance influenced other roboteers in some way -even if it was promote the idea- I can do better than that!"
— Colin Scott on the FRA forum (edited)[2]
Piece De Resistance, like every robot that attended the Series 2 auditions, had to run the obstacle course in order to qualify. It took the course slowly, but still managed to qualify.
Robot History
Edit
Philippa Forrester: "You've got toy tricycle wheels. Will you be able to get over the bricks on your toy tricycle wheels?"
Colin Scott: "Yes, because I've got the shovel to lift the bricks out of the way."
— Colin Scott's explanation on how Piece De Resistance will clear the bricks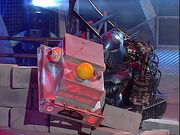 Piece De Resistance started with a series of rams to try and knock down the brick wall. Three attempts failed to get through the wall, and Matilda and Sir Killalot came at it from both sides, with Matilda raising it off the ground with its tusks. Sir Killalot picked up Piece De Resistance and lifted it over the wall.
"Sir Killalot, picks it up, like a piece of fluff...the hopes of Colin Scott - they're hanging by a thread!"
— Jonathan Pearce, as Sir Killalot demonstrates his power for the first time.
This gave Piece De Resistance a very small distance of 3.92m, which still managed to beat Caliban's, and put Piece De Resistance through.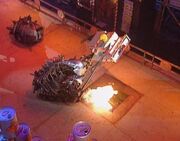 Craig Charles: "You didn't seem to have the power to break down the wall, and then you got caught in a pincer movement."
Colin Scott: "Well it was Piece De Resistance, and that's a piece of scrap."
— After the Gauntlet
Piece De Resistance moved sluggishly forward at the beginning of its Trial and despite the claim of its power being increased for this run, it was unable to make any impact on the skittles. It was attacked by Matilda and flipped on its side, leaving it with a score of zero, which cost it the place in the tournament.
PIECE DE RESISTANCE - RESULTS
Series 2
The Second Wars - UK Championships
Heats, Trial
Heat A, Gauntlet
3.8 m (5th)
Qualified
Heat A, Trial (Skittles)
0 pins (5th)
Eliminated
Series Record
Edit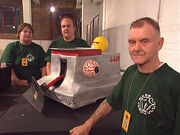 Although Team Death did not enter any series after Series 7, Colin Scott's creation, Chimera, competed in Series 8 under ownership of a new team, who also entered Chimera2 into Series 9.
Outside Robot Wars
Edit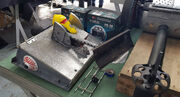 In March 2019, Colin Scott converted his featherweight robot No Imagination into a modern-day Piece De Resistance, entered into the Robodojo live event in Yorkshire. The robot is a steep wedge armed with an electric lifting spatula, interchangeable with a 'wonky wedge' weapon much like its Robot Wars equivalent, and the new Piece de Resistance was decorated to resemble its heavyweight counterpart. Colin Scott considered naming the robot Piece De Resistance Deux, to continue with the French naming theme. The new featherweight was unsuccessful in competition, losing all four of its fights, which saw it fight Barghest, Luna-tic, and Fruitcake.
Piece De Resistance was more successful at the May 2019 Robodojo event, which it entered alongside the team's new robot Barnsley Bruiser. Piece De Resistance collected its first ever victory against Crota, after Crota lost traction to the arena floor. It then won a second consecutive bout, after The Tragic Roundabout suffered from a loose speed controller, and severed its own receiver cable. Although Piece De Resistance was then defeated by Amnesia and Forge Master 2, it completed the event on a 2-2 record overall.
Piece De Resistance is one of 20 Robot Wars heavyweights never to fight in robot combat, having only ever been in the Gauntlet or Trial.
References
Edit
Community content is available under
CC-BY-SA
unless otherwise noted.