Point Blank was a robot which qualified for Series 9 and 10 of Robot Wars and arrived at the studio on both occasions, before it failed its tech checks and was forced to withdraw from both competitions.
Design
[
]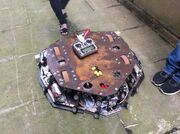 Point Blank is an invertible, four-wheel drive robot with an octagonal-shaped chassis and a pneumatic spike as its weapon. The spike activates at a speed of 60m/s, with 2kJ of kinetic energy behind it, and Grant Cooper praised its spike weapon for its originality. The robot was fast at 15mph, using its sensored brushless drive. In testing, Point Blank's spike punctured 5mm steel and a Wi-Fi router[1].
Etymology
[
]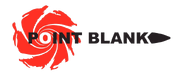 The term 'point blank' refers to a weapon which requires close aim, such as a gun or bow and arrow, being within a close enough proximity to its target that it would make contact with little effort involved. This directly references the spike weapon of Point Blank, which is thin in nature, but would always make contact with opponents if the robot was close enough.
The Team
[
]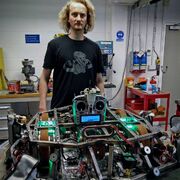 Point Blank was built by the Cambridge-based roboteer Alex Gee, who was previously part of the Infernal Contraption team in Series 8. For Series 9 and 10, he was joined by his fellow Infernal Contraption teammate Douglas Young, alongside new teammates William Salmon and Henry Fletcher. The Point Blank Facebook page also credits two additional team members who were not present at Robot Wars, Georgina Koffler and Jenny Stoneman.
Robot History
[
]
Series 9
[
]
Point Blank was intended to compete in Heat 5, where it was initially due to face the eventual champion Carbide, as well as Crank-E and Glitterbomb in the first round.[2] However, when Point Blank was tech-checked, there were concerns over the use of multiple dump valves to vent the pneumatic circuit. The issue was corrected with a mechanical linkage and Point Blank finally passed this stage of the tech check, but the weapon failed to function reliably and the robot lost its slot in the competition. Point Blank's position in the Group Battle was filled by Crackers 'n' Smash, which was originally intended to compete in Apollo's melee. Trolley Rage and Meggamouse were also substituted into the final draw of the battle, in place of Crank-E and Glitterbomb.
Series 10
[
]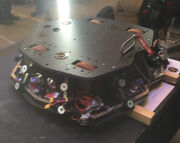 Point Blank was intended to compete in Heat 5, where it would have faced Magnetar and Push to Exit in its Group Battle. However, when the pneumatic spike failed to function once again during tech check, Point Blank was replaced by Hobgoblin, and was withdrawn from the competition.
Series Record
[
]
Outside Robot Wars
[
]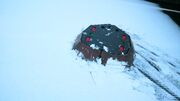 After its withdrawal from Series 9 and 10, Point Blank began to appear on the live events circuit. In October 2017, it attended the Robots Live! event in Stevenage, which marked the robot's competition debut. Competing in the concurrent FRA UK Heavyweight Championship, it lost its first-round battle to Iron-Awe 7 after getting flipped against the wall by the latter.
In April 2018, Point Blank fought Eruption, YOTON and Meggamouse at an Extreme Robots event, but damaged its own piston while attacking the HARDOX armour of Eruption. Point Blank also competed at the Extreme Robots event in Guildford, held in June 2018, winning a head-to-head battle against Deadlock, after immobilising it on one side.
Point Blank's most recent appearance came at the 2019 Robots Live! event in Stevenage, attending the Sunday shows only and taking part in two whiteboard melees.
Trivia
[
]
The first public image of any part of Point Blank came as part of Team Toon's charity auction in 2017, where Alex Gee donated the robot's piston, and some targets used in practice.
When Point Blank became the final withdrawal from Series 10, only three robots were available to replace it, with one of the options being Alex Gee and Douglas Young's previous entry to Series 8, Infernal Contraption.
References
[
]
External Links
[
]