Pressure was a competitor robot that appeared in the second series of Robot Wars Extreme. It fought exclusively in the New Blood Championship, reaching the Heat Final before losing to Cedric Slammer. A heavily-revised version of the robot also attempted to enter for Series 7 of Robot Wars, but failed to qualify after losing its qualifier battle.
Team captain Mike Hamilton-Macy would later join Team Big Brother when they entered The Swarm into Series 10.
Design
[
]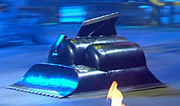 Pressure was a black, semi-cylindrical robot with a 2mm steel shell and chassis (3mm baseplate), inline four-wheel drive and five CO2-powered pneumatic weapons. These weapons included a front flipper (toothed on the top and bottom) with a lifting capacity of 110kg, a rear lifter, a pair of self-righting panels on each side, and a pair of interchangeable axes concealed within a fin-like plate on the robot's top panel. Both the flipper and lifter featured spiked tips which could allow them to cause light damage to opponents, while the flipper also featured sharp teeth on its underside so it could grip opponents and act as a clamp when closed. According to the Team Wind Bags website, the axes could be swapped between a short 'cleaver' or a full-length 'club'.[2].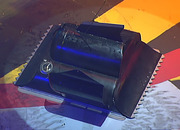 Pressure also initially featured a set of six spikes along each of its self-righting panels, although these were removed before fighting as they put the robot 1kg over the weight limit. The self-righting capabilities of the panels in question remain unproven. Pressure also featured side skirts to prevent flippers from getting underneath. At the time of its first battle, Pressure was completely untested.
Etymology
[
]
The robot was named Pressure (also written on the team's shirts as The Pressure) primarily in reference to its weaponry, powered by pneumatic pressure. The robot's somewhat submarine-like design may also create links to the theme of depth pressure.
The Team
[
]
Pressure was entered into Robot Wars by the Wind Power team, a family team from Marks Tey in Essex. The team originally wished to be called The Wind Bags in reference to their bouncy castle hire company, but were not allowed to use this name due to the show's advertising and sponsorship policy. The team captain and lead builder was Mike Hamilton-Macy, who was joined by his son Adam and 12-year old daughter Charlotte. In battle, Charlotte Hamilton-Macy drove the robot while both Mike and Adam would operate the weaponry.
After competing in Extreme 2 with Pressure Mike Hamilton-Macy would later compete on Robot Wars fifteen years later in Series 10 with The Swarm as part of Team Big Brother.
Qualification
[
]
Work on Pressure began in 2000, and the robot was originally intended to enter Series 5 and built for the 80kg weight limit. Upon hearing the producers had increased the weight limit from 80kg to 100kg, the Wind Power team decided not to enter Pressure until Series 6, so they could bring the robot's weight closer to the new limit[6].
However, Pressure also failed to enter Series 6, as the Wind Power team missed the qualifying deadline due to making various repairs and improvements to the robot's weapons and drive systems, including the switch from eight- to four-wheel drive[8]. Mike Hamilton-Macy still attended Series 6 in a non-competitive capacity, but Pressure would not apply for a series of Robot Wars until the New Blood Championship during Extreme 2, for which it was among the 24 robots selected.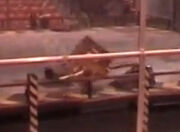 Following its appearance in the New Blood Championship, Pressure was rebuilt for Series 7 to feature just two lifters (the front one being made larger) and a larger 180 degree axe, as well as being repainted blue, yellow and red to make it 'show up better in the arena'[9]. In its qualifier[10], it fought Thunderpants, King B Powerworks and M2. Pressure started promisingly, driving into M2 and lifting it up. It pushed the sluggish Thunderpants across the arena, although this gave M2 an opportunity to throw Pressure straight onto the top of Thunderpants. M2 tossed Pressure forwards, and King B Powerworks edged it backwards. Pressure fled, but was shoved into the arena wall by King B Powerworks. Pressure took time to lift the beaten Thunderpants and push it into the arena wall, but this afforded M2 the opportunity to throw Pressure over, against the wall. Pressure was up-ended against the side of Thunderpants, and had to flip repeatedly to free itself, over twenty seconds later, self-righting with its axe. Pressure held off, only attacking King B Powerworks when M2 was distracted. This cost it dearly, and M2 flipped Pressure onto the arena wall, from where it could not self-right.
Pressure was rebuilt twice during Robot Wars' hiatus, but the team did not enter Series 8 because they believed that their robot was not up to current standards, and did not have the time to upgrade Pressure for the new series.[11]
Robot History
[
]
Extreme 2
[
]
In the first round of the final Heat of the New Blood Championship, Pressure was placed up against Bash Gordon and Cedric Slammer. This was to be the first time Pressure had ever been driven, as it was completely untested.
Pressure started slowly in the battle, this being the first time that Pressure had ever been driven, it proved very sluggish as it scraped along the arena floor, failing to involve itself in the opening stages until it was bumped by both Cedric Slammer and Bash Gordon. Backing away slightly, Pressure started to turn around and bring its rear weaponry into play, whilst Cedric Slammer barged Bash Gordon into the arena wall and tore through its armour. Whilst this was happening, Pressure ground to a halt entirely and was bashed across the arena by Cedric Slammer repeatedly cutting into its rear side. Pressure could not defend itself as a loose receiver left Pressure totally motionless, but in a stroke of fortune, Bash Gordon opened the pit and had lost mobility to one side, so it turned in circles until it crab-walked onto the pit it had just opened. Although Pressure had been cut up quite badly by Cedric Slammer, and would take further damage from Mr. Psycho off-screen causing critical damage to its axe weapon[14], Bash Gordon was pitted by Cedric Slammer having put itself in danger. The judges did not interject to declare Pressure's earlier immobility and it survived to the next round alongside Cedric Slammer.
In the second round, Pressure was drawn against Piranha.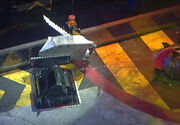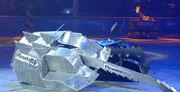 Largely repaired from its previous bout, Pressure started much more promisingly and drove under Piranha, dodging its axe blow and lifted Piranha up, slamming it into the arena wall at the far side. Pressure held Piranha in place here and as it was on the lip of the CPZ, Matilda closed in with her flywheel and flayed the side armour of Piranha. After holding Piranha in place, Pressure attempted to swing its axe, but was still struggling with lasting damage initially caused by Mr. Psycho, and eventually its swing missed and allowed Piranha to break free. Pressure then reversed into Piranha and turned around to lift it up for a second time, edging it back a short distance.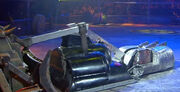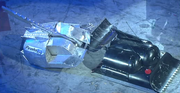 However, Pressure then missed with another lift, which opened it up to a series of attacks from Piranha's axe weapon. While landing repeated blows, Piranha also pushed Pressure back towards Shunt, with the House Robot causing more damage using its own axe as the two teamed up. Pressure seemed slowed by these attacks, with Shunt also directly striking Pressure's own axe, with Pressure using its side srimech to push the House Robot's axe away. Pressure then turned its back to Piranha and used its rear flipper (with a greater lifting height) to raise Pressure up by the opponent's damaged armour, leading to both machines executing attacks including another lift from Pressure, and a few axe swings from Piranha. Pressure released Piranha and then hounded it with a continuous side-on push, maintaining aggression.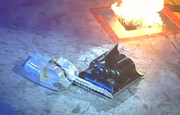 Pressure spun Piranha in circles, seemingly attempting to lift but could not do so. Visibly starting to slow down now, Pressure meandered around and allowed Piranha to land a direct hit to Pressure's front flipper. Piranha edged Pressure back towards the flame pit, with Pressure attempting to fire its axe, but could not complete the full swing. Instead, Pressure lifted Piranha back up and held it in place. Piranha took repeated swings at Pressure from this position, but Pressure was also able to carry out its only successful axe attack in the competition, directly hitting Piranha.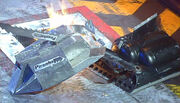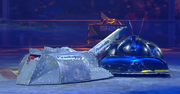 With its weapons raised, Pressure backed away but was pursued by Piranha and sustained another attack, albeit only a slow swing from a tired opponent. Pressure tried to use its front lifter again but simply jammed under the weight of the off-centre Piranha, and in its escape attempt, exposed its side to Piranha. However, it also seemed that Piranha could no longer use its own weapon, and the two robots gently drove into one another until the full five minutes elapsed and the battle was sent to a Judges' decision.
The battle ended in a close judges' decision in favour of Pressure, due to the damage Piranha sustained from Matilda. Craig Charles remarked that he was surprised Piranha hadn't won the decision, which the Piranha team and Adam Hamilton-Macy of the Pressure team all agreed to, but nevertheless Pressure had won unanimously and moved on to the Heat Final.
Within the Heat Final, Pressure fought Cedric Slammer for the second time. The fight itself was brought forwards in the filming schedule by several hours, preventing the team from making their intended changes to Pressure's steering sensitivity[18].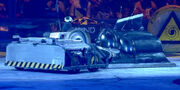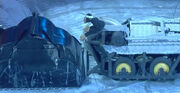 Pressure took the initiative in this Heat Final and approached Cedric Slammer, but tried to navigate to the sides of Cedric Slammer for an attack and could not find an opening, instead going to press the Disc of Doom button, although this did not activate the hazard. Pressure instead resorted to a head-on attack, but its buckled front scoop was easy for Cedric Slammer to damage further as it churned away at Pressure, completely buckling the front flipper. Pressure was instead forced to rely on its rear scoop for flips, but aggressively charged into the front of Cedric Slammer anyway and forced it into a vacant CPZ, before bringing it back to the centre of the arena whilst Sir Killalot was catching up to the empty CPZ. Pressure backed into Cedric Slammer to push it back further, its own side weaponry being forced open by the contact with Cedric Slammer's spinner, but Pressure held the control advantage. Cedric Slammer then found its way to the side of Pressure, but as the front forks of Cedric Slammer were not low enough to drive under Pressure's side skirts, the vertical spinner could only graze at Pressure's armour.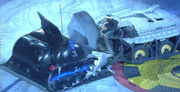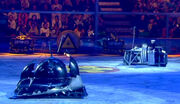 This defence held firm until Pressure fired its own side srimech into Cedric Slammer's disc for somewhat self-inflicted damage. Pressure then suffered a heavy blow to its back end from Cedric Slammer and was temporarily motionless. The House Robots closed in on Pressure while Cedric Slammer held off, seemingly suffering its own drive issues - Pressure was able to inch towards the flame pit, but only eventually could it back into Cedric Slammer. Pressure did so somewhat aimlessly and fired its rear scoop directly into the attack range of its opponent, sustaining minor damage, although at this point Cedric Slammer had also slowed down significantly. With the two robots nearing Sir Killalot's CPZ, the House Robot pinched the ailing Cedric Slammer and Pressure remained in the area to pin it against an angle grinder. Although Refbot was closing in to separate the two, Pressure maintained its pinning attack with Sir Killalot also forcing its lance into Cedric Slammer.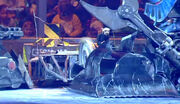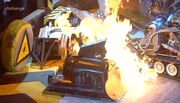 With Pressure refusing to give Cedric Slammer any breathing room, Sir Killalot forced its way under Cedric Slammer to lift it up with the lance, and eventually push both robots towards the Disc of Doom button. Pressure continued to park in front of Cedric Slammer's escape route, and although the latter tried to press its spinner against Pressure and escape, Sir Killalot hooked under Cedric Slammer entirely to carry it over to the flame pit via his lance, holding Cedric Slammer over the flames and burning it before completing a spinning throw on it, all while Pressure held back and watched. Time expired on the five minute bout, with Cedric Slammer not having the opportunity to demonstrate its mobility as 'cease' had already been called.
The battle was sent to a Judges' decision, and despite Pressure's concentrated control in the latter half, the judges deemed that the damage it had sustained was too severe, and Cedric Slammer unanimously won the decision. This eliminated Pressure at the Heat Final stage of the New Blood Championship.
Results
[
]
Wins/Losses
[
]
Series Record
[
]
Outside Robot Wars
[
]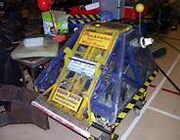 Pressure has been rebuilt twice since Robot Wars. The first time was in 2005, when Pressure was turned into a trapezoid shaped, polycarbonate-armoured robot with a single flipper. This version was retired in 2007 because of damage cause by Kan-Opener and Terrorhurtz. Later that year, the team created a new version, a tall wedge with a powerful flipper, which competed at live events such as Robots Live! and the 2008 edition of Mechatrons. The team has also won two events with their featherweight machine Skink.
They have also fought in events with Puck, a round robot made from a tyre and they also bought Iron-Awe 3 in 2007 and renamed it L and then White Knight. This was for the team's other member Erik Martens to drive at events. The Wind Power team fought with this robot on the live circuit until April 2016 when they sold it to Team Shock.
Robot Wars Live Events
[
]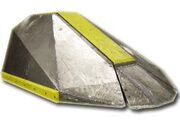 The latest version of Pressure made its first appearance at the new Robot Wars live events in Colchester in April 2013. It fought Behemoth and TR2 in the first round of the main competition but it didn't last very long as it was flipped out the arena by TR2, but it did reach the final of the Tag Team competition held at the same event paired with Ripper where they finished runners-up to Kronic & Maelstrom.
Trivia
[
]
Pressure was the only New Blood Heat Finalist that did not compete in Series 6, and one of the two to not appear in Series 7.
When it was first built, Pressure weighed 110kg, even though the weight limit at the time was still believed to be the 80kg limit of Series 4[21].
References
[
]
External Links
[
]