Project Two: Hex'em was a robot that competed in the second series of Dutch Robot Wars. It did not enjoy great success, being eliminated in the first round after suffering steering and radio interference problems.
Project Two: Hex'em was the successor to Project One, Team Mad Science's entry in Dutch Series 1. However, it was actually built by a different team, as Team Mad Science temporarily split after Dutch Series 1 when it proved difficult for their Dutch and Belgian-based members to meet together to work on building robots. Mario "Maddox" de Jongh and Babeth van Son formed Team Warlocks along with Dirk "Zoltan Carno" to build Project Two, while original team captain WJ Dijkstra worked mostly alone to build his own robots such as Gravity. However, the two new teams still united to share components for each other's robots, including the electronics of Project Two, which were provided by Dijkstra.
As Maddox was also part of Team KODOX, which entered Tough as Nails in Dutch Series 2, the team were joined by "Sideshow Jezus" or "Jesus Christ!" a US artist who was invited to fill the team's vacant space.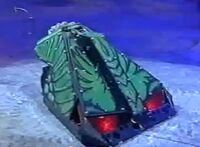 Project Two: Hex'em was a tall wedge-shaped robot painted green with red 'eyes' to resemble a monster, and armed with a powerful rear-hinged pneumatic flipper. The flipper was theoretically capable of throwing robots out of the arena, but did not manage to do so in its only battle. The robot's drive system was unique, in that it only featured one wheel, the wheel being used to drive the robot forwards and backwards and pivoted by a windscreen wiper motor in order to make the robot turn. However, this system resulted in the robot suffering severe steering problems, which cost Project Two: Hex'em in its only battle, although its armour was thick and resilient.
Robot History
Edit
Dutch Series 2
Edit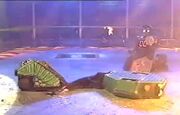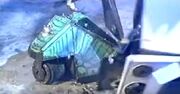 Project Two: Hex'em had a tough first round draw, where it faced Dutch Series 1 runner-up, Lizzard, and entered the arena with gas leaking. In the battle, Project Two appeared to have steering issues with its one wheel drive system, radio interference being the biggest factor, and was pushed around the arena by Lizzard. Lizzard pushed it into Shunt, who axed Project Two twice inflicting only cosmetic damage to the 16mm thick armor. Lizzard pushed the pit release button while shoving Project Two. Sergeant Bash and Shunt attacked Project Two, but released it into the middle of the arena, where Lizzard attacked by spinning on the spot. Project Two: Hex'em became immobilised and was counted out, before it had a cooker dropped on it. The House Robots then pushed it into the pit.
PROJECT TWO: HEX'EM - RESULTS
Series 2
Dutch Championship
Heat, Round 1
Heat A, Round 1
vs. Lizzard
Lost
Wins/Losses
Edit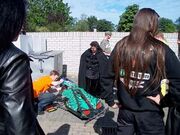 Series Record
Edit
Community content is available under
CC-BY-SA
unless otherwise noted.