"The chrome-effect aluminium has a mirror finish - Matilda can admire herself in it! Eurgh! Prometheus has an angle grinder at the front, a forklift at the rear, the motors come from the cooling fans out of scrapped cars. Six months of work went into this from Nigel Sealey and Sarah Burton."
— Jonathan Pearce introduces Prometheus
Prometheus was a robot entered by Team Carnage in Series 2 of Robot Wars. The team later went on to build General Carnage and its successor General Carnage 2, which entered, respectively, Series 3 and 5 of Robot Wars.
Design
[
]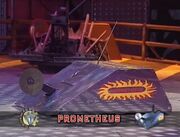 The robot was a silver box-wedge with a chrome-effect aluminium shell with a mirror finish. The motors came from four cooling fans out of a Mk2 Cavalier and featured a circular saw and lifter powered by two windscreen motors as its weapons. However its four car cooling fan motors resulted in a lack of power, which meant it had trouble climbing slopes.
"Prometheus to me was a well made robot with an excellent lifting arm mechanism I have to get a picture of but the classic case of not enough motor power. It used 4 car cooling fan motors which were not even powerful enough to get it up the incline during the joust. It was very unfortunate as with the right motors it would have been good."
— Oliver Steeples praises Prometheus' potential with different motors[1]
Qualification
[
]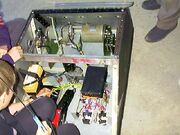 Prometheus appeared more-or-less complete by the time of the Series 2 rehearsals, however, it lacked any decoration or painted logos. It was successful in qualifying for the main competition, and would be succeeded by General Carnage for Series 3.
Robot History
[
]
Series 2
[
]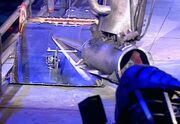 Prometheus started its Gauntlet run by trying to go up the ramp, but it slid back down it. It then opted for the Sentinel route. With a quick burst of speed Prometheus nearly got past the Sentinel, but was pinned. Sir Killalot then came in and pushed Prometheus back and almost into the pit. However Prometheus covered 6.8 metres which was just enough to take it into the Trial.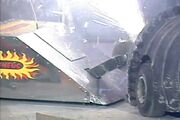 The Trial was the Joust event. Here, Prometheus suffered from a lack of power and like in the Gauntlet, could not climb the ramp. Matilda then pushed Prometheus back and almost to the starting gate, meaning Prometheus went backwards by 2.1m. It looked like Prometheus would be eliminated, but Rottweiler went backwards by 2.8m, meaning Prometheus scraped through.
"We didn't have the power to make it up the incline"
— Nigel Sealey
Sarah Burton: "We knew it was going to be hard, we didn't think we were going to be annihilated."
Philippa Forrester: "It did go into minus figures really, didn't it?"
Sarah Burton: "Yes, just slightly."
— After the battle
In the Arena stage of the heat, Prometheus' luck ran out, as it was placed up against All Torque. In the battle, All Torque immediately rammed Prometheus onto the flame pit and then almost pushed it down the pit. Its circular saw then fell off and as Prometheus turned it got stuck on the edge of the pit and All Torque swiftly pushed it down, eliminating Prometheus from the competition.
"Prometheus, the Greek God of fire, but it's you who have ended in flames"
— Craig Charles
Results
[
]
Wins/Losses
[
]
NOTE: Prometheus' successful Gauntlet and Trial runs are not included
Series Record
[
]
References
[
]