Armament! This Robot Wars article is in need of rewriting to bring it up to a higher standard. You can help Robot Wars Wiki by rewriting it.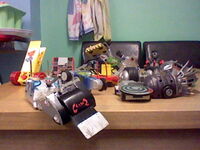 The Pullbacks were small plastic replicas of competitor robots and house robots. These toys had moving weapons and a pullback motor, meaning they would move forward on their own once pulled back along the ground. They were usually £10 in price (Mr. Psycho notably cost more) and came with accessories, for example parts from the Pinball arena. Some of the robots are quite fragile, with Mr. Psycho's arms being a suspect, along with a small block in Chaos 2's flipper. The weapons were activated in many different ways, such as pressing a button to activate a flipper, or by simply running a robot's front wheels along the ground to utilise a spinning disc. The Firestorm and Wheely Big Cheese pullbacks were notorious for having two small front wheels which were not present in real life, thus decreasing any effectiveness the weapons had.
Two robots did not have pullback motors: Stinger, activated using a launcher, and Sir Killalot, who used a friction motor.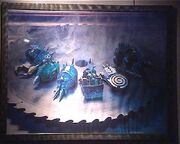 The Phase 1 house robots and Hypno-Disc came with interchangeable parts, like Hypno-Disc's rear armour and Matilda's chainsaw and flywheel. Parts that weren't on the actual robots included the hammer with Sir Killalot and the top of his lance with Dead Metal. Later Phase 1 and the Phases 2 and 3 robots didn't have interchangeable parts apart from X-Terminator 2 and Tornado.
Competitor Robots
Edit
House Robots
Edit