Purple Predator was a British heavyweight that took part in the third series of UK Robot Wars, losing in the first round to Toecutter, the team would later built the infamous Granny's Revenge. As this was the first Robot Wars video game, and Purple Predator was retired at the end of Series 3, this is Purple Predator's only video game appearance.
Appearance and Armament
[
]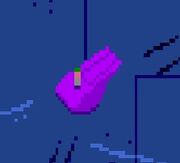 Robot Wars: Metal Mayhem was the first Robot Wars game and as such Purple Predator was one of the first competitor robots to be playable. Due to the Game Boy Color's comparatively low-resolution graphics, the arenas and robots could not be very detailed, and the same goes for Purple Predator.
Purple Predator is by no means the worst replica on this game, perhaps down to its relatively simple design and block colour. Even the team's mascot is included, but outside of the Robot Selection screen, this is little more than a clump of pixelated dots on the top of the machine. Like all other flipping weapons, the flipper on Purple Predator acts like an axe, as robots cannot be flipped. Also missing altogether is the circular saw on the back of Purple Predator, which fell off at the beginning of its first battle in Series 3.
Differences from Real Life
[
]
The flipper acts like an axe and swings all the way forward, as robots can't be flipped in this game.
The circular saw is omitted.