"With its choice of attacking position and destructive circular blade, Pussycat is no kitten, no matter what size! This pullback version is no exception. Pit your skills against other pullbacks or the destructive power hammer (included), testing both speed and timing!"
— Official description from the Robot Wars Online Shop[1]
The pullback toy of the robot Pussycat was made in the image of its real life counterpart, and was released as part of the second wave of pullback toys.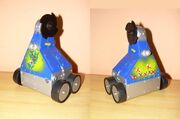 It is based upon the Series 4 version of the robot and features crossed out images of its defeated robots (Reptirron, Milly-Ann Bug, Robochicken and Razer) on one side. The robot's cutting disc was grey and black in the show, yet despite being grey and black on the packaging, it is all black in the toy, and is powered by a spring, which when pulled back would cause the disc to spin forwards. However, the spring was so fragile that the back of the box warns against forcing the spring too far back, which would cause the spring to break. Only one caster wheel runs, which makes the saw spin downwards instead of the usual upwards spin.
Accessories
Edit
Included with the Pussycat toy was a unique, never before seen prop called the Powerhammer. This may have been a rejected idea for the Pinball tournament. The idea of it is that a robot needs to get under the hammer without being hit. The hammer could be set lower for robots with a low centre of gravity.
Differences from real life
Edit
While sitting in the correct position to use the pullback motor, Pussycat's blade spins downwards, instead of upwards.
Pussycat's blade is completely black instead of being black and silver.
The official advertisement shows Pussycat with a Silver and black blade, with the teeth slightly close together and smaller in comparison to the final product where the blade was completely black with larger teeth.
References
Edit
Community content is available under
CC-BY-SA
unless otherwise noted.