RCC (which stood for Radio Controlled Carnage) was a Dutch heavyweight robot, and the first robot built by Team RCC which entered in the first series of Dutch Robot Wars. RCC lasted just 15 seconds in the first round against PullverizeR, and withdrew from the losers' melee.
Design
[
]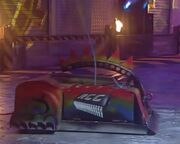 RCC was a multi-coloured robot with three different weapons; an axe described as "mohawk-looking" by the team captain, a pair of pincers at the back, and flippers on the sides which were also used for self-righting. The robot was very large, and was quite slow, but had more durable armour than many Dutch competitors.
Etymology
[
]
The name RCC stood for Radio Controlled Carnage. The full 'Radio Controlled Carnage' name was used on the robot's statistics board in Dutch Series 1, but otherwise used simply RCC on the battleboards and elsewhere, becoming the robot's more commonly used name.
Qualification
[
]
RCC was selected for Dutch Series 1 after attending the auditions and passing relevant safety checks.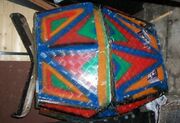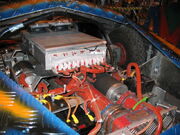 The team built a new version of the robot called RCC 2 with the intention of entering it in Dutch Series 2. However, the robot was not finished on time, so Team RCC participated with their other robot, Blackdevil Warzone. Instead the team attempted to enter RCC 2 into UK Series 7, alongside their other recently acquired robot Splinter, but they did not qualify with either machine.
Robot History
[
]
Dutch Series 1
[
]
Competing in Heat B, RCC's first battle was against PullverizeR.
Bridget Maasland: "The question is of course, can you handle PullverizeR with this… mohawk? Will that be enough?"
Leo van Miert: "I've seen many other teams who are doing a really good job, but I think I have the most respect for PullverizeR, and I think if you were to ask PullverizeR's team, they'd say the same about our robot!"
— Pre-battle interview with Bridget Maasland (translated from Dutch)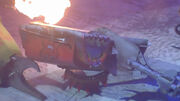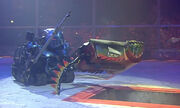 PullverizeR held back at the beginning, allowing its flywheel to get up to speed, whilst RCC drove towards it. As RCC got close, PullverizeR drove forwards, hitting RCC with the flywheel, but PullverizeR merely bounced off. RCC fired the axe as PullverizeR hit it, but missed because PullverizeR bounced off. RCC turned around to try and use its pincers, but PullverizeR got at the side, hitting the wheelguard with its flywheel. As RCC reversed, Pullverizer turned away and drove around for another attack. PullverizeR drove at RCC, which turned around to use its axe. As PullverizeR hit the front of RCC, RCC fired the axe, but this had no effect. After this hit from the flywheel, RCC broke down due to electrical problems[1], and PullverizeR hit the side with its flywheel, then drove away. Refbot came over to count RCC out, and after it was counted out, Sir Killalot picked it up by the axe and carried it to the arena flipper. RCC was thrown across the arena, landing on its back, and PullverizeR landed another hit, this time on the rear. Sir Killalot picked RCC up again and help it up for Sgt. Bash to toast with his flamethrower, then carried it to the pit and dropped it in.
Bridget Maasland: "It could still happen, right?"
Team RCC: "You bet."
Bridget Maasland: "Though uhh, I gave it a good look and it's properly damaged!"
Team RCC: "That's caused by the House Robots"
— Post-match interview after the defeat against PullverizeR (translated from Dutch)
RCC was due to take part in the losers' melee against Scraptosaur and Pyramid of Chaos. However, RCC was still suffering issues with its electronics, and was forced to withdraw from the battle, and the competition as a whole.
Bridget Maasland: "Well this just… completely sucks balls, no?"
Team RCC: "This is completely ass, yeah."
Bridget Maasland: "What in God's name happened here?"
Team RCC: "Well, our electronics gave in the moment we wanted to drive into the arena. We've been busy for an hour, an hour and a half, trying to repair it, but yeah, we're still not completely sure what the problem is. And at some point, you just have to admit it's not going to work out, and then you just have to end it there."
— Team RCC withdraw from the competition (translated from Dutch)
Results
[
]
Wins/Losses
[
]
Series Record
[
]
Dutch Series
[
]
UK Series
[
]
Outside Robot Wars
[
]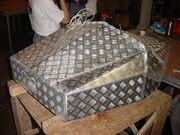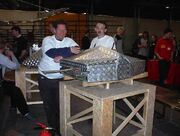 Between Dutch Series 2 and the Seventh Wars, RCC 2 made its combat debut at the Dutch Robot Games in 2003. Its first-round battle was a melee against Dantomkia and Hammerhead 2, although Dantomkia promptly pitted RCC 2 and won the battle[2], eliminating RCC 2. It also fought in a non-competition rumble against Toe Cutter 2 and Spike, with Spike winning the battle[3].
Trivia
[
]
RCC is the sole competitor in Dutch Series 1 to only have one fight on Robot Wars.
References
[
]