RCC (which stood for Radio Controlled Carnage) was a Dutch robot built by Team RCC and entered in the first series of Dutch Robot Wars. RCC was a multi-coloured robot with three different weapons; an axe described as "mohawk-looking" by the team captain, a pair of pincers at the back, and flippers on the sides which were also used for self-righting. The robot lasted just 15 seconds in the first round against PulverizeR, and withdrew from the losers' melee.
The team built a new version of the robot called RCC 2 with the intention of entering it in Dutch Series 2, but it was not finished in time so they only entered their other robot Blackdevil Warzone. Instead the team attempted to qualify the robot for UK Series 7 alongside the recently acquired Splinter, but they did not qualify with either robot.
Robot History
Series 1
RCC's first battle was against PulverizeR. RCC charged in and used its axe, but it bounced off harmlessly. RCC swung its axe again, and connected with PulverizeR's flywheel. The impact knocked out RCC. It was flipped by the floor flipper and dropped into the pit by Sir Killalot. RCC was due to take part in the losers' melee, but it was having problems with its electronics, and was forced to withdraw.
Results
RCC - RESULTS
Series 1
Dutch Championship
Heats, Round 1
Heat B, Round 1
vs. PulverizeR
Lost
Heat B, Losers Melee
vs. Pyramid of Chaos, Scraptosaur
Withdrew
NOTE: Before the battle had started, technical problems forced RCC out of the competition, leaving Pyramid of Chaos and Scraptosaur to fight alone.
Wins/Losses
Series Record
Dutch Series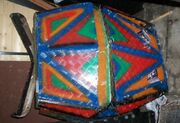 UK Series
Series 1-6: Did not enter
Series 7: Failed to qualify with RCC 2 and Splinter