"Because of the weight limit, we're allowed 200 kilos, so obviously it's a big advantage … it means we can have bigger weapons."
— Andrew Lovelace
RT81, alternatively RT 81, was a walkerbot which fought in the New Blood Championship, broadcast as part of the second series of Robot Wars Extreme. In its only appearance, it lost in the first round to Chip and Edge Hog.
"190 kilos, the centre stand turns 360 degrees, the separate top turret also turns. It has an electric hammer, is protected by a lorry rear tyre for protection, but slow."
— Jonathan Pearce describes RT81
RT81 was a circular shaped walkerbot, with a chassis made out of a lorry road tyre and armed with a large electric-driven hammer mounted on a 360-degree turret. The robot also featured side skirts around the base of the tyre, but was extremely sluggish with a top speed of only 2mph. RT81 was painted yellow and black in its New Blood appearance.
Etymology
Edit
The name derives from its owner, Andrew Lovelace's involvement with the Round Table, hence RT81. The robot's statistics table specifically styled the name as RT 81. The robot was originally known as RT80 when it attempted to enter Series 6.
Qualification
Edit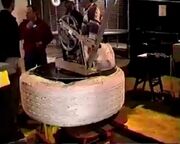 RT81 originally attempted to qualify for Series 6 using a white colour-scheme, at the time known as RT80. However, it did not win its qualifier battle, and instead earned a place in the New Blood Championship through direct application.
Robot History
Edit
Extreme 2
Edit
"RT81 can only get up to 2mph, so don't expect Grand Prix speeds."
RT81 was placed in Heat B of the New Blood Championship, and was pitted against Chip and Edge Hog in its first round battle.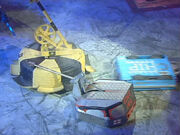 In the battle however, RT81 moved so slowly that
Mr. Psycho
had to push it out into the middle of the arena, roughly where Edge Hog and Chip were currently fighting. After that, RT81 suffered numerous axe blows from Edge Hog, and soon began smoking. Edge Hog punctured the rubber armour of RT81 and got its axe stuck. Chip slammed RT81 multiple times, but did not cause any visible damage.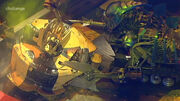 After Edge Hog eventually got loose, RT81 was pushed against the arena side wall by Mr. Psycho. RT81 was clearly immobilised by now, so despite Edge Hog having also lost mobility on one side, it was attacked by the claw weapons of Mr. Psycho and
Sir Killalot
, before being put under the Drop Zone, where a cooker landed on it. 'Cease' was eventually called, and RT81 was eliminated from the New Blood Championship.
Wins/Losses
Edit
Series Record
Edit
Community content is available under
CC-BY-SA
unless otherwise noted.