For the Swedish competitor, see Rawbot.
"Will they be Larry the lamb, or a wolf in sheep's clothing?"
— Julia Reed before Rambot's first round fight
Rambot was a heavyweight robot which competed exclusively in Series 4 of Robot Wars. It performed strongly in its opening battle where it showed plenty of aggression against its opponents, but despite its impressive performance and powerful drive set-up, Rambot was eliminated in the first round on a close judges' decision.
Design
[
]
"Two steel spikes at the front and back act as lifting devices here, the outer shell is aluminium, the inner titanium for extra protection, and at speeds of 20mph as we've heard, this can really ram and slam!"
— Jonathan Pearce introduces Rambot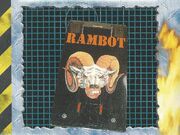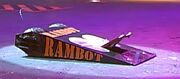 Rambot was a long and wide black robot with its whole body serving as a wedge, also being very low in height. It featured a small plate at the front that could be lifted, this plate featuring spikes on the top and talon hooks underneath. Two more static spikes were lined on the rear of the robot. Rambot had an aluminium outer shell that was padded with titanium plates on the inside, though these were partially stuck together with glue. It was two-wheel driven with its wheels being exposed on both sides, this making Rambot fully invertible. It was powered by modified Bosch motors and ran on the largest batteries the team could find to give it a top speed on 20mph, making Rambot one of the fastest robots in the competition. The robot had its name written on its top and sides in orange lettering and featured the head of a ram in the middle of its wedge shape although its underside was completely blank. Though Rambot's design and strategy was promising, its high top speed combined with its two-wheel drive and long wedge made it difficult to control. Rambot took seven months to build.
"Inside we've got the biggest batteries we could get our hands on, and the biggest motors in the business, so we know we're going to do some damage with this robot!"
— David Johnson
Etymology
[
]
Rambot's name referred to its tactic of ramming into opponents while also referencing a male sheep, with a head of a ram being featured on its body.
The Team
[
]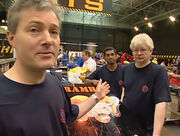 Rambot was entered by Team Challenge from Hertfordshire. The team was captained by electrical engineer David Johnson, who was joined by Muthanthan Thangeswaran (mostly referred to as "Warren") and Tim Denyer. Team Challenge would later enter Series 6 with Double Trouble, which saw slightly more success by reaching the second round. However, Tim Denyer did not return in Series 6, with David and Warren being the only members of the team.
Robot History
[
]
Series 4
[
]
In Heat N of the Fourth Wars, Rambot was placed up against Arnold, Arnold Terminegger and the number six seeds and fellow Hertfordshire robot Behemoth in the first round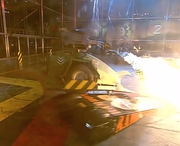 As the battle started, Rambot struggled to get involved in the action as it was having trouble maneuvering around the arena. Not long afterwards, Rambot finally approached its opponents, sliding under Arnold, Arnold Terminegger as it lifted Behemoth. Rambot then backed away from the action once more but then lightly bumped into Behemoth, before lining up a drive and reversing into Behemoth and hitting it with its spikes. Behemoth tipped Arnold, Arnold Terminegger onto its side and Rambot rammed into the latter, knocking it back onto its wheels. Rambot slid underneath Arnold, Arnold Terminegger and pushed it towards the CPZ, but Arnold, Arnold Terminegger escaped. Rambot went into the CPZ, reversed out and reversed back in again, though it quickly escaped, sliding right under Sergeant Bash as it drove out.
"Very quick, Rambot, 20mph, low centre of gravity, speedy, look at that underneath Sergeant Bash with the wedge"
— Jonathan Pearce after Rambot slides under Sergeant Bash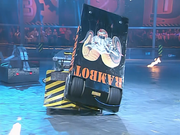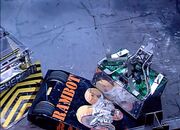 Rambot drove head on into Behemoth and rode up onto its scoop. Behemoth rolled Rambot over once and then again to put it back onto main side. Rambot again left the action momentarily and then reversed into Arnold, Arnold Terminegger, stabbing it with its spikes before crashing into the arena wall. Rambot charged at its two opponents, sliding under Behemoth first and then Arnold, Arnold Terminegger, where it got wedged on the wall. Behemoth came in and lifted Rambot up from behind, but let go, allowing Rambot to escape. Behemoth caught Rambot side on and turned it over but Rambot quickly attacked Behemoth with its rear spikes, puncturing its side.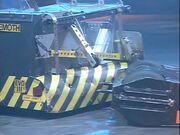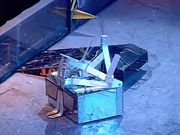 Rambot ran at Arnold, Arnold Terminegger and rushed it to the arena wall. Unfortunately, Rambot crashed into the wall itself and got wedged temporarily, but quickly escaped and ran around the arena trying to attack its opponents. Rambot tried to regain control as the time began to tick down, but was not able to get another attack in, and the battle ended and went to a judges' decision.
"We've seen aggression from Rambot all the way through, but have we seen great driving control by Rambot? Too quick for its own good perhaps?"
— Jonathan Pearce as the battle reaches its end
In what proved to be a very close decision, the judges put Behemoth and Arnold, Arnold Terminegger through to the next round. This eliminated Rambot from the competition, despite it fighting a good battle.
"Power is nothing without control."
— Julia Reed on Rambot's loss
Results
[
]
Wins/Losses
[
]
Series Record
[
]
Outside Robot Wars
[
]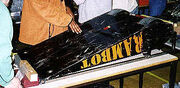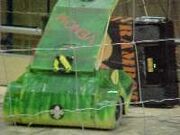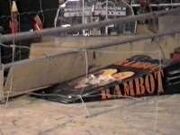 Rambot made a one-off live event appearance at the Debenham Robot Rumble in 2000. In the morning session, it fought VenoM and was flipped at least once before losing. Rambot later competed in the afternoon session, this time against Humphrey. Rambot got stuck under the arena wall, much like it did in its Series 4 appearance, and was immobilised, ultimately losing both of its battles at the event.
Trivia
[
]
Although Rambot was named after rams, the male sheep, rambots would later become a term popularised by Team Tornado, referring to any robot which uses a wedge or brute force as its primary weapon.
Like Double Trouble, Rambot's loss involved a former or future semi-finalist.
Team Challenge was one of only two teams from Hertfordshire to win a battle. The other was Team Make Robotics.

Both teams fought each other in Series 4.