Rampage was a robot that competed in Series 2 of Robot Wars. It was entered by 15-year old Robert Whittall and his uncle Peter Wearing. It was eliminated at the Gauntlet stage after covering just 3.0m.
Rampage was a triangular wedge-shaped robot armed with a 7" cutting disc on the rear, and mild steel rammers on the front. It had a mild steel chassis underneath a stainless steel and aluminium shell with a Derby County Football Club rams motif. The robot was powered by two 12 volt batteries, giving it a top speed of 8mph. The motors were from a wheelchair. It took 3 months to build, costing over £300. It was 3kg over the weight limit for heavyweight robots at the time.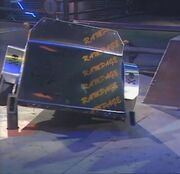 Rampage tried to take the Sentinel route in the Gauntlet, but as it drove down the route, an arena spike came up and punctured one of Rampage's tyres. This left Rampage spinning around on one wheel.
"They've got to get off that! … They're stuck here, on one of the spikes!"
— Jonathan Pearce
As Rampage span on the spot, the spike continued lifting it up. This made Rampage spin around on one wheel. Dead Metal and Sir Killalot came in, and together, the two House Robots pinned Rampage in the top corner. As Dead Metal held it, the House Robot brought down its circular saw, ripping up the top of Rampage's front shovel. Time ran out, and Rampage had managed to travel just 3 metres.
"Hardly a rampage!"
— Jonathan Pearce on Rampage's run
This left Rampage last on the leaderboard and it was eliminated.
"Rampage? Ravaged, more like! You spent all that time polishing it!"
— Philippa Forrester inspects the damage after the Gauntlet run
RAMPAGE - RESULTS
Series 2
The Second Wars - UK Championship
Heat, Gauntlet
Heat H, Gauntlet
3.0m (6th)
Eliminated
After its only appearance in Series 2, Rampage remained in Robert Whittall's shed. Over the years, parts of the robot were used for other projects, which eventually led to it being taken apart. Despite this, Robert Whittall still owns the stainless steel front of Rampage[1].
Rampage is one of twenty robots never to fight in robot combat, having only ever been in the Gauntlet or Trial.
↑ Private correspondence between RobotManiac and Robert Whittall in 2020
Community content is available under
CC-BY-SA
unless otherwise noted.