"An ultra realistic version of one of the most destructive robots ever!! Both wings and piercer work to create an extremely desirable pull back. Watch it fly through the air, and cause ultimate destruction with the ramp and barrels included. A must have for those that know and appreciate the true essence of roboteering."
— Official description from the Robot Wars Online Shop[1]
The pullback toy of Razer was made, based on the Series 4 version of Razer, and was released as part of the second wave of pullback toys.
It is armed with a spring powered claw that is moved by pressing a button on its side or when another pullback drove up its wedge and pushed a slider on the wedge up. Its self-righting mechanism was operated by moving a slider on the back of the claw.
There are many ways that the pullback could be broken including the wings snapping off, the claw snapping off, the claw refusing to stay up and much more. This was the only pullback robot to have two pullback motors.
Accessories
Edit
Razer's accessories were a ramp and three yellow barrels. The barrels resembled those used in the Pinball event on the show, but the ramp was not part of the Pinball trial on the show, unlike most of the accessories that came with the pullbacks.
Razer was also available as a gift set with Chaos 2, two trophies including The First World Championship trophy which corresponds to Razer, and a copy of The First World Championship on video.
Differences from real life
Edit
On the narrow front wedge, there is a red bar which is not on the actual robot.
The real robot is slightly longer overall than the toy portrays.
The toy's claw is much faster than the real robot's, as the toy snaps shut instead of crushing.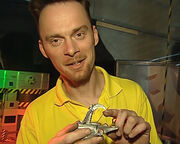 Main article: Razzler
Shortly after the pullback's release, Ian Lewis purchased one of these pullbacks and made minute construction on it, adding tiny working engines for the wheels and motors. The result was Team Razer's antweight competitor, Razzler, which participated in the Antweight Melee in Robot Wars Extreme: Series 1.
References
Edit
Community content is available under
CC-BY-SA
unless otherwise noted.