It has been suggested that this robot may be a match with another similar Super Heavyweight robot which attended the auditions for Series 2, Harm. However, it has not been verified if the two machines are indeed the same, or if the similarities are coincidental.
Reckless Endangerment was a tracked competitor robot that appeared in Series 2 of Robot Wars. It was originally intended to compete in the main series, but was replaced by Griffon at the last minute, and entered into the Super Heavyweight Championship, also known as the Super Showdown, in which it was the lightest entrant. However, it lost its qualifier to eventual champion Kick Robut, which itself was never fully televised.
Design
[
]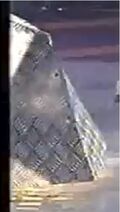 Reckless Endangerment was a tracked, cuboid-shaped robot with checker-plated armour and a steep front wedge. It is unknown whether the wedge was its primary weapon, as very little of the robot was shown during its appearance in the Super Showdown qualifier.
Robot History
[
]
Series 2
[
]
After being forced to forfeit its place in the main Series 2, Reckless Endangerment was entered into the Super Showdown, and fought fellow super heavyweights Minotaur and Kick Robut in its qualifier. Very little of it was seen in the battle, as it approached the stalled Minotaur before the latter was lifted and toppled over by Kick Robut. Kick Robut proceeded to attack Reckless Endangerment and win the qualifier, securing its place in the Super Showdown final as Reckless Endangerment was eliminated.Citation?
Results
[
]
Wins/Losses
[
]
Series Record
[
]